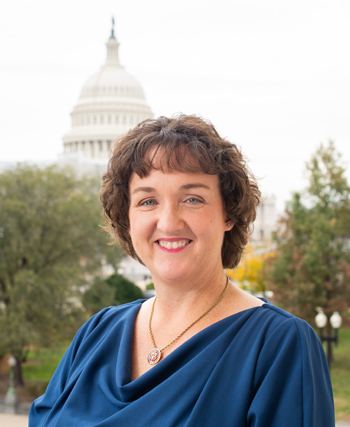 U.S. Rep. Katie Porter – an Iowa native who represents California's 45th Congressional District and has earned a reputation for her tough questioning and use of visual aids during congressional hearings – gave a virtual presentation on Feb. 26 as the Spring 2021 Mary Louise Smith Chair in Women and Politics.
Rep. Porter presented "Truth to Power" via Webex. The lecture, which free and open to the public, was sponsored by the Carrie Chapman Catt Center for Women and Politics through the generous support of donors.
"We are so happy to have Rep. Porter join us in February," said Karen Kedrowski, Catt Center director. "She is a role model and an inspiration."
Rep. Porter was first elected to Congress in 2018, defeating a two-term incumbent to become the first Democrat to represent the district with 52.1 percent of the vote. She was re-elected this fall with 53.5 percent of the vote.
As a member of House Financial Services Committee and the House Oversight and Reform Committee, Rep. Porter asked tough questions of bank CEOs and administration officials to hold them accountable to the American people. She has also been a key supporter of legislation to reduce the influence of dark money in politics and restore ethics to Washington.
A single working mom, Rep. Porter introduced bipartisan legislation to allow families to set aside more pre-tax income for dependent care and has continued to press for a repeal of the limits on the State and Local Tax (SALT) deduction.
Before coming to Congress, Porter spent nearly two decades taking on special interests. As California's independent watchdog against the banks, she made sure the big banks that had cheated Orange County homeowners followed through on their promise to help affected families get back on their feet. As a consumer finance expert, Rep. Porter helped Congress pass the original Credit CARD Act in 2009, which enacted federal protections from abusive credit card fees.
Porter graduated from Yale University with a Bachelor of Arts in 1996 and graduated magna cum laude from Harvard Law School with her Juris Doctor in 2001.
A recording of Porter's presentation, including a transcript of her lecture and the question-and-answer session, is available on the Lectures Program website.

Porter is the 33rd prominent woman leader to visit Iowa State University through the sponsorship of the Mary Louise Smith Chair in Women and Politics. The chair was established in 1995 to honor the Iowa native and longtime political and civic leader. Smith – the first woman to chair the Republican National Committee – was a mentor, friend and role model to many in the world of politics and civic, government and community affairs. The purpose of the chair is to bring nationally known political leaders, scholars and activists to Iowa State to enrich the experiences of students and educate citizens about the role of women in the political process.
Published: March 1, 2021