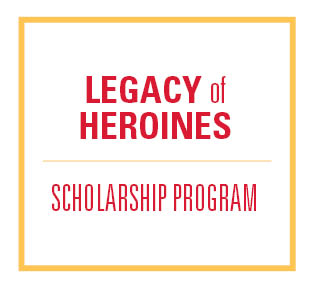 The Legacy of Heroines program provides scholarships to outstanding students who seek involvement in and knowledge about gender and politics, the political process, public service and women's leadership. The scholarships are supported by a number of generous donors. Scholarship awards are based on academic merit, leadership, and specific criteria established by scholarship donors.
As part of the criteria set by donors, Legacy of Heroines scholarship recipients are required to participate in mentoring and leadership development programs through the Carrie Chapman Catt Center for Women and Politics. These programs include field trips, dinners with speakers, campus activities, and skills development workshops.
---
How to Apply
When completing your OneApp general application, be sure to look for the scholarship opportunity called "Carrie Chapman Catt Legacy of Heroines Scholarships" to ensure you are considered for a Legacy of Heroines scholarship.
Apply for a Legacy of Heroines scholarship
Application deadline: March 1, 2024
---
2023-2024 Legacy of Heroines scholars
Avery Carlson – Helen Jensen Howe Legacy of Heroines Scholarship for Women in Science
Jordan Cunningham – Meylor Family Legacy of Heroines Scholarship
Kaija Dahlberg – Dr. Lauren S. Hughes Legacy of Heroines Scholarship
Stacia Drey – Political Science Alumni Legacy of Heroines Scholarship
Caitlin Henriksen – Claire B. Andreasen Legacy of Heroines Scholarship
Abigail Iversen – Claire B. Andreasen Legacy of Heroines Scholarship
Ellie Jermier – Phyllis Davis Legacy of Heroines Scholarship
Shay Kent – Phyllis Davis Legacy of Heroines Scholarship
Mia Kawamitsu – Sharon and Alice Rodine Leadership and Advocacy Legacy of Heroines Scholarship
Linsey Kitt – Helen Jensen Howe Legacy of Heroines Scholarship for Women in Science
Jessica Kowalski – 30th Anniversary Legacy of Heroines Scholarship
Julia Litecky – Haselhoff Family Legacy of Heroines Scholarship
Kayla Morrissey – Kedrowski and Fitzgerald Family Legacy of Heroines Scholarship
Yen Nguyen – Jane Greimann Legacy of Heroines Scholarship
Brianna Rivera – James R. and Lauri K. Young Choral Music Legacy of Heroines Scholarship
Alyssa Rodriguez – Kedrowski and Fitzgerald Family Legacy of Heroines Scholarship
Danielle Sanders – Katherine Bruntlett Annin Legacy of Heroines Scholarship
Aliah Sow – Elizabeth Hoffman and Brian R. Binger Legacy of Heroines Scholarship
Jaelyn Tigges – Beth Bierbaum Legacy of Heroines Scholarship
Hope Ung – Helen Jensen Howe Legacy of Heroines Scholarship for Women in Science
Estelle Venable – Elizabeth Hoffman and Brian R. Binger Legacy of Heroines Scholarship
Clare Vilmont – Phyllis Davis Legacy of Heroines Scholarship
Ulrich Wolfe – Maxine M. Burch Legacy of Heroines Scholarship