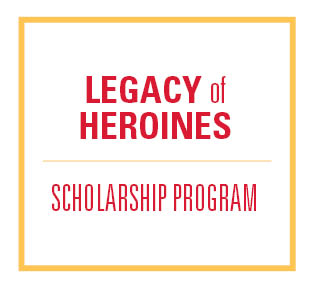 The Legacy of Heroines program, launched in 1996, provides scholarships to outstanding students who seek involvement in and knowledge about the political process and public service. Since its inception, the program has provided scholarships to 266 students. The scholarships are supported by a number of generous donors.
Scholarship awards are based on academic merit, leadership and specific criteria established by scholarship donors.
As part of the criteria set by donors, Legacy of Heroines scholarship recipients are required to participate in mentoring and leadership development programs through the Carrie Chapman Catt Center for Women and Politics. These programs include field trips, dinners with speakers, campus activities and skills development workshops.
---
How to Apply
By completing the OneApp general application, you will be considered for ISU Office of Student Financial Aid scholarships, college scholarships and department scholarships. When completing your application, be sure to look for the scholarship opportunity called "Carrie Chapman Catt Legacy of Heroines Scholarships" to ensure you are considered for a Legacy of Heroines scholarship.
Apply for a 2021-22 Legacy of Heroines scholarship
Application period: Sept. 15, 2021 – March 1, 2022
---
2021-2022 Legacy of Heroines scholars
Jaden Ahlrichs – Meylor Family Legacy of Heroines Scholarship
Heather Baier – Phyllis Davis Legacy of Heroines Scholarship
Molly Blanco – James R. and Lauri K. Young Choral Music Legacy of Heroines Scholarship
Megan Brown – Jane Greimann Legacy of Heroines Scholarship
Alyannah Buhman – Maxine M. Burch Legacy of Heroines Scholarship
Kathryn Burns – Political Science Alumni Legacy of Heroines Scholarship
Delaney Conrad – Claire B. Andreasen Legacy of Heroines Scholarship
Nyamal Diew – Helen Jensen Howe Legacy of Heroines Scholarship for Women in Science
Morgan Fritz – Katherine Bruntlett Annin Scholarship
Teagan Gara – Sharon and Alice Rodine Leadership and Advocacy Internship
Meg Grice – Elizabeth Hoffman and Brian R. Binger Legacy of Heroines Scholarship
Peyton Hamel – Elizabeth Hoffman and Brian R. Binger Legacy of Heroines Scholarship
Grace Jakes – Claire B. Andreasen Legacy of Heroines Scholarship
Grace Johnson – Phyllis Davis Legacy of Heroines Scholarship
Rachel Junck – Rice-Neville Political Activism Legacy of Heroines Scholarship
Linsey Kitt – Helen Jensen Howe Legacy of Heroines Scholarship for Women in Science
Abby Mankins – Elizabeth Hoffman and Brian R. Binger Legacy of Heroines Scholarship
Tamara McConnell – Helen Jensen Howe Legacy of Heroines Scholarship for Women in Science
Anna Olson – Kedrowski and Fitzgerald Family Legacy of Heroines Scholarship
Natalia Rios Martinez – Kedrowski and Fitzgerald Family Legacy of Heroines Scholarship
Nicole Schmitt – Rice-Neville Political Activism Legacy of Heroines Scholarship
Amy Smith – Haselhoff Family Legacy of Heroines Scholarship
Jessica Stabler – Carrie Chapman Catt Legacy of Heroines Scholarship
Emma Staut – Beth Bierbaum Legacy of Heroines Scholarship
Ulrich Wolfe – Joanne and Charles Kuster Legacy of Heroines Scholarship