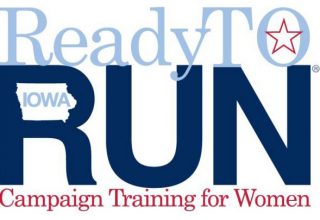 Ready to Run® Iowa is a nonpartisan campaign training program to encourage women to run for elective office, position themselves for appointive office, work on a campaign or become involved in public life as leaders in their communities. Since 2007, the Catt Center has offered the Ready to Run Iowa program every other year as part of a national network founded by the Center for American Women and Politics at Rutgers University.
---
2023 Ready to Run Iowa
The following six Ready to Run Iowa workshops will be offered in spring 2023. More information about each workshop will be posted as it becomes available. Registration for each workshop will open one month prior to the workshop date.
Feb. 24
These workshops will be held virtually. No registration fee required, but donations to help cover costs gratefully accepted.
Morning: Getting Involved in Iowa Politics
This workshop will cover the importance of women's involvement in politics and ways to be involved such as serving on a board, volunteering with a campaign and running as a candidate.
Afternoon: Deciding to Run
This workshop will include a discussion of Iowa's election laws, procedures for entering a race and women's experiences in campaigns.
March 24
These workshops will be held virtually. No registration fee required, but donations to help cover costs gratefully accepted.
Morning: Campaign Fundraising
This workshop will cover identifying fundraising goals and donors, asking for donations, following campaign finance laws and reporting donations. Candidates and campaign treasurers are both encouraged to attend this workshop.
Afternoon: Launching Your Campaign
This workshop will cover creating a campaign plan, building a team, field work and direct voter contact. Candidates and campaign managers are both encouraged to attend this workshop.
April 21
These workshops will be held in person at Iowa State University. The registration fee of $25 per workshop includes lunch and refreshments.
Morning: Communicating Your Campaign Message
This workshop will cover creating an overarching campaign messaging theme; writing and delivering a stump speech; and communicating in forums, debates and on camera.
Lunch: Enjoy a box lunch while networking with other workshop participants.
Afternoon: Traditional and Social Media Best Practices
Participants will learn how to work with news media, including tips for getting media attention and being interviewed, and how to utilize online resources to spread their message and mobilize voters.
---
Ready to Run Iowa Advisory Board
Amy Campbell, partner at the Advocacy Cooperative
Dan Culhane, president and CEO of the Ames Chamber of Commerce
Barbara Hames-Bryant, president of the Iowa Federation of Republican Women
Blake Hanson, attorney at Bradshaw, Fowler, Proctor & Fairgrave, P.C. in Des Moines
Paula Martinez, labor leader and member of the Warren County Democrats Central Committee
Kellie Paschke, attorney with Skinner & Paschke, PLLC of Waukee, Iowa
Kim Reem, executive director of Mission of Hope and alternate member of the Iowa Board of Parole
Georgia Van Gundy, executive vice president at Hy-Vee, Inc. and deputy to the Iowa Business Council
Andrea Woodard, senior vice president of government relations and public policy at the Greater Des Moines Partnership
---
Contact us to add your name to the Ready to Run® Iowa mailing list.
Questions? Contact the Catt Center at 515-294-3181 or cattcntr@iastate.edu