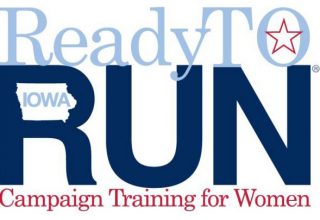 Ready to Run® Iowa is a nonpartisan campaign training program to encourage women to run for elective office, position themselves for appointive office, work on a campaign or become involved in public life as leaders in their communities. Since 2007, the Catt Center has offered the Ready to Run Iowa program every other year as part of a national network founded by the Center for American Women and Politics at Rutgers University.
2021 Schedule
Location: Virtual event
Workshop agendas will be posted when available.
Registration for the Feb. 26 workshops will open Jan. 26, 2021.
Feb. 26
8:30-11 a.m. – Getting Started in Iowa Politics – Agenda (PDF)
– Why Women Should Run
– Appointments to Boards and Commissions
– Elections and Campaigns in Iowa
1-3:30 p.m. – Launching Your Campaign – Agenda (PDF)
– Creating a Campaign Plan
– Crafting Your Message
*7 p.m. – Rep. Katie Porter, D-Calif., featured evening speaker as Spring 2021 Mary Louise Smith Chair in Women and Politics. No registration required.
March 26
8:30-11 a.m. – Funding Your Campaign
– Fundraising 101
– Iowa Campaign Finance Rules & Regulations
1-3:30 p.m. – Online Strategy
– Website Essentials
– Social Media Strategy
April 30
8:30-11 a.m. – Working With the Media
– Communicating on Camera
– Tips from Political Journalists
1-3:30 p.m. – Running as a Woman
– Women's Campaign Experiences
– Research on Women's Political Campaigns
---
Ready to Run Iowa Advisory Board
The Ready to Run Iowa Advisory Board members use their expertise in Iowa politics to provide input on the speakers, content and format for the workshops. Advisory Board members are: Amy Campbell, a partner at the Advocacy Cooperative; Dan Culhane, president and CEO of the Ames Chamber of Commerce; Barbara Hames-Bryant, president of the Iowa Federation of Republican Women; Blake Hanson, an attorney at Crawford and Mauro in Des Moines; Paula Martinez, labor leader and member of the Warren County Democrats Central Committee; Kellie Paschke, an attorney with Skinner and Paschke of Waukee, Iowa; Kim Reem, 4th vice president of the National Federation of Republican Women; Georgia Van Gundy, executive director of the Iowa Business Council; and Andrea Woodard, public policy manager at the Greater Des Moines Partnership.
---
Contact us to add your name to the Ready to Run® Iowa mailing list.
Questions? Contact the Catt Center at 515-294-3181 or cattcntr@iastate.edu