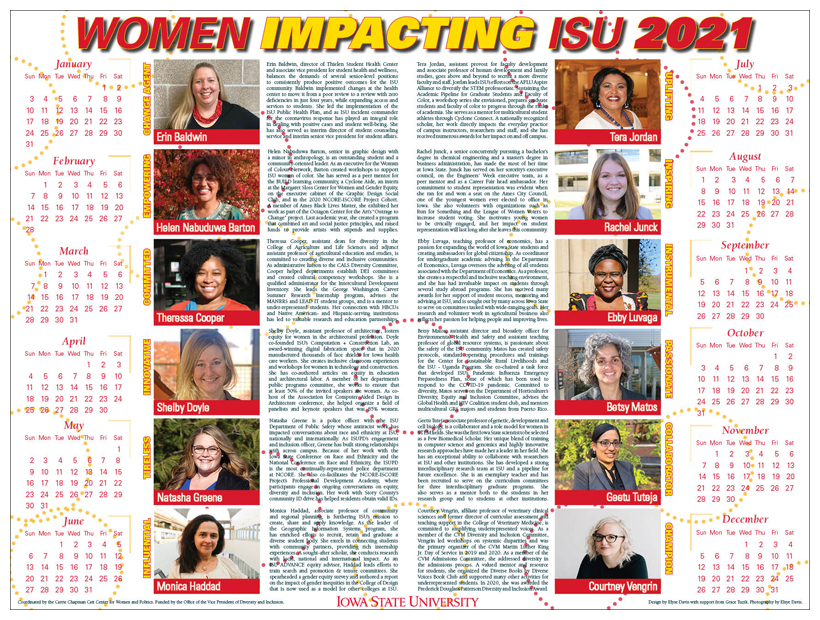 Because of the COVID-19 pandemic, the Carrie Chapman Catt Center for Women and Politics was not able to have an in-person reception and ceremony to recognize the honorees for the 2021 Women Impacting ISU calendar. Instead, on Jan. 5 the center unveiled the 2021 Women Impacting ISU calendar via video.
The video includes a welcome message from President Wendy Wintersteen and carillon music by Dr. Tin-Shi Tam, and Catt Center interns Elyse Davis and Teagan Gara introduce the twelve honorees. The video was recorded by Keo Pierron from the LAS Communications team and edited by Davis, who also designed the 2021 calendar and took the photos of the honorees.
The twelve honorees for the 2021 calendar are: Erin Baldwin, director of Thielen Student Health Center and associate vice president for student health and wellness; Helen Nabuduwa Barton, a senior in graphic design with a minor in anthropology; Theressa Cooper, assistant dean for diversity in the College of Agriculture and Life Sciences and adjunct assistant professor of agricultural education and studies; Shelby Doyle, assistant professor of architecture; Natasha Greene, a police officer with the ISU Department of Public Safety; Monica Haddad, associate professor of community and regional planning; Tera Jordan, assistant provost for faculty development and associate professor of human development and family studies; Rachel Junck, a senior concurrently pursuing a bachelor's degree in chemical engineering and a master's degree in business administration; Ebby Luvaga, teaching professor of economics and coordinator for undergraduate academic advising in the Department of Economics; Betsy Matos, assistant director and biosafety officer for Environmental Health and Safety and assistant teaching professor of global resource systems; Geetu Tuteja, associate professor of genetic, development and cell biology; and affiliate professor of veterinary clinical sciences.
Calendars are available for pickup at the Catt Center (309 Catt Hall), LAS Student Services (102 Catt Hall), the Greenlee School (101 Hamilton), Beardshear Hall, Jacobson Athletic Building and the Memorial Union. If you would like calendars for distribution at your campus office, contact the Catt Center at 515-294-3181 or cattcntr@iastate.edu.
The Catt Center sponsors the annual calendar with funding provided by the Office of the Vice President for Diversity and Inclusion. Three students, three faculty, three merit employees, nine professional and scientific employees, and two employees of the ISU Foundation made up the 20-member selection committee this year.
Published: January 11, 2021