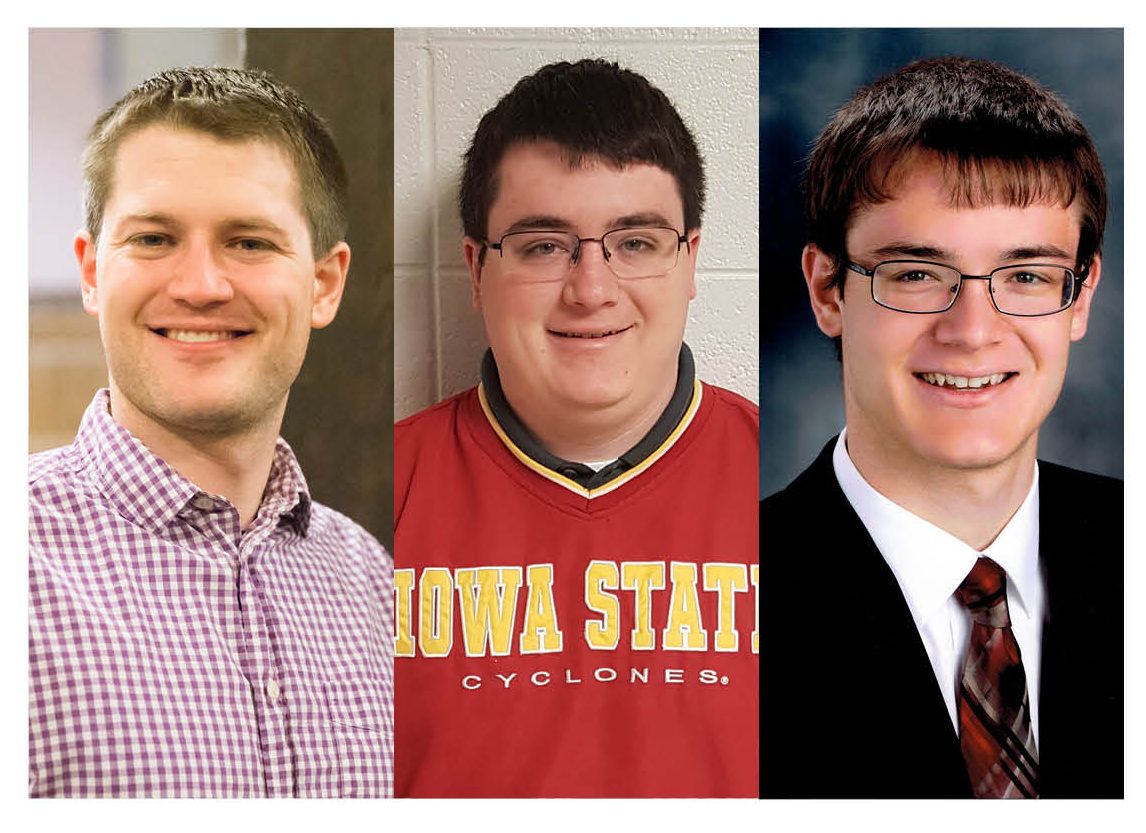 The Voss brothers have more than their last name in common. Matthew, Brian and Daniel have all been affiliated with the Carrie Chapman Catt Center for Women and Politics during their time at Iowa State. The brothers discussed their work at the Catt Center, the role of women and men in leadership, and how their Iowa State experiences have influenced their current and future careers.
Matthew Voss
Matthew Voss, a sophomore in statistics, has served as the Women in Iowa Politics Database intern since 2018. He collects and organizes data on the number and names of Iowa women in public office at the federal, state, county and local level. He found the internship during his second year at Iowa State.
"I knew the Catt Center did a lot of work with politics, and the research position sounded like something I would be really interested in – getting to work with politics and numbers. That really interested me," he said.
In addition to his academic background, Matthew's gender also influences his perspective on women in leadership. He believes men should encourage women to become involved in leadership positions, particularly school boards and other local boards.
"I think that really needs to be a deliberate effort on everyone's part to actually get women involved in those [leadership] roles and get them a really strong voice in those kinds of roles," he said.
Matthew is already supporting women in leadership through his position at the Catt Center. His role is to help increase the awareness of women in leadership and politics.
"Since we're continually tracking how many women are involved in the state legislature, school boards and things like that, you can really see the change over time and how women are continuing to gain more of a foothold in politics and decision-making," he said. "I think it's really important to know where you're at so you can know what exactly you're trying to get toward."
The youngest Voss brother plans to use his internship experience in his future career and life. "I think at least so far, it's made me a lot more aware of Iowa politics, but also more aware of the lack of women represented in politics. I think that will help me be more deliberate in the future with trying to make sure that I'm not just listening to women, but seeking out their opinion in anything I might do," Matthew said.
Brian Voss
Brian Voss, a 2016 graduate of Iowa State with a degree in history and a certificate in leadership studies, is currently a social studies teacher at Marion High School in Marion, Iowa. He decided to become involved with the Catt Center while looking at his graduation progress.
"I was on track to graduate in three and a half years. I didn't think I was going to be ready to graduate a semester early and student teach, so I decided to add the leadership certificate to my degree," Brian said. Iowa State's Leadership Studies Program has been coordinated by the Catt Center since 2008.
After completing LD ST 322, "Leadership Styles and Strategies in a Diverse Society," his lecturer, Clint Stephens, asked him to be a teaching assistant for the next semester.
Brian remembers, "Wanting relevant training related to teaching, I accepted."
Brian helped Stephens organize materials on Iowa State's online learning platform. The Leadership Studies Program was rapidly increasing its student enrollment, and Stephens knew he would not be the only lecturer teaching courses in the future. Brian also was a teaching assistant for leadership studies lecturer Amber Manning-Ouellette's online LD ST 322 class in the fall of 2015 where he was primarily responsible for grading.
Brian's teaching assistant and classroom experiences enhanced his job opportunities. He discussed the benefits of LD ST 322 and his leadership studies certificate for his current teaching position.
"I learned the skills necessary to apply for jobs successfully and to interview well. Without my experiences pursuing the leadership certificate and working with the Catt Center, I don't think I would have ended up in the job I am currently in," he said.
"Men need to be supportive of women in leadership roles," Brian added. "Obviously, we still have gender disparity when it comes to top-level positions in most fields. Men in power can be part of the change by putting the best candidates in leadership positions and also by being supportive of all talented employees wishing to advance in their careers."
Brian is part of the change by surrounding himself with influential female leaders. "In education, we have a number of good female teachers," he said. "A number of women have also taken roles in curriculum-related positions, administration and area education agencies."
Daniel Voss
Daniel Voss, a 2013 graduate of Iowa State with a degree in materials engineering and a certificate in leadership studies, is a science teacher at Boone High School in Boone, Iowa. During Daniel's time at Iowa State, Stephens and the Leadership Studies Program were an integral influence on his academic and leadership career.
"I joined the Leadership Studies Program in its early years," Daniel said. "When Clint Stephens took over, he made a point to sit down with many of the students in the program. We hit it off through discussions about politics and the role of leadership education in engineering."
After his conversation with Stephens, Daniel became involved with the Catt Center in many areas. Stephens approached Daniel about developing a summer independent study.
"I initially helped develop and support an independent study in leadership in which students analyzed their experiences through the lens of Bolman and Deals' reframing organizations," he said.
In addition, Daniel was a teaching assistant for LD ST 122, "Leading with Purpose," and supported research efforts associated with the program.
Daniel stressed the importance of the Catt Center in increasing women in leadership roles.
"Women can be more successful in obtaining and holding leadership roles if the rest of the population understands the importance of this goal and appreciates the work of programs like the Catt Center," he said.
Daniel's college experiences at the Catt Center have transferred to his current career. LD ST 122 was his first significant experience in curriculum development and classroom teaching. He learned many valuable skills that are applicable in his current career, including writing lesson plans, grading assignments, sequencing a class and building relationships with students. He also learned the importance of research.
"The Catt Center also introduced me to social science research, which provided a foundation for my graduate work at Northwestern University and still helps me read academic papers," Daniel said.
The influence of women in leadership is present in his teaching position, much like it was during his time at Iowa State.
"I appreciate the leadership of my female colleagues every day. In particular, my instructional coaches, mentors and other teachers have done a great deal to encourage me, help me question my practice and seek out ways to improve," he said.
Daniel is also a Knowles Science Teaching Foundation fellow, which is a prestigious fellowship that supports math and science teachers in their efforts to develop teaching expertise and leadership from their classroom. In this role, he works with female teachers and leaders across the country.
Daniel reflected on his experiences with women in leadership, both at Iowa State and in his current position. "It is much easier to do your job well when others are reminding you to put students first, look at every class as a learning opportunity and try new things," he said. While earning a master's degree in education, Daniel was part of a group led by Brian Reiser, a professor of learning sciences in the School of Education and Social Policy at Northwestern University in Chicago. "I am also reminded of the strong female leaders I worked with in Brian Reiser's group – they challenged my thinking constantly, and I am better for it."
Published: May 14, 2018