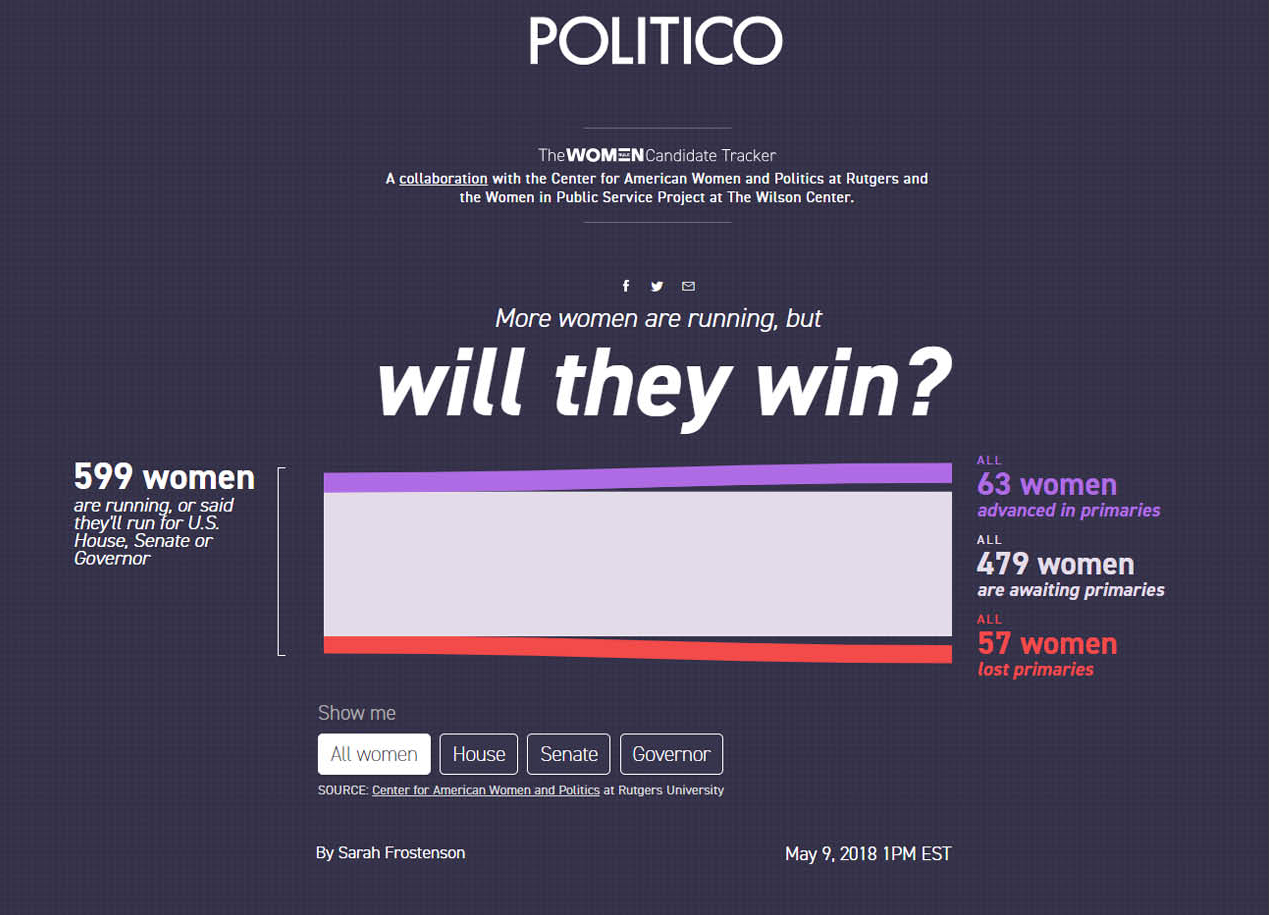 To collect and analyze real-time data on women's participation and performance in U.S. congressional and gubernatorial campaigns, POLITICO has launched the 2018 "Women Rule" candidate tracker. The candidate tracker is a collaboration between POLITICO's growing "Women Rule" franchise, the Center for American Women and Politics at Rutgers University, and the Women in Public Service Project at the Woodrow Wilson Center in Washington, D.C.
The link to the "Women Rule" candidate tracker has been added to the Archives for Women's Political Communication website as well as the Ready to Run Iowa page on the Catt Center's website.
"We were excited to learn about this candidate tracker, which will provide analysis in real time about women running in 2018 for the U.S. House of Representatives, U.S. Senate and in gubernatorial races across the country," said Dianne Bystrom, director of the Carrie Chapman Catt Center for Women and Politics. "We want to help spread the word about this helpful interactive tool."
Bystrom noted that the Catt Center worked with POLITICO's "Women Rule" project as part of its 2017 Ready to Run Iowa: Campaign Training for Women. POLITICO sent a reporter and videographer to several of the 2017 Ready to Run Iowa workshops – which attracted a record number of 172 participants – to interview women running for local, state and federal office. The resulting story – "What It Will Take for Women to Win" by Amanda Ripley – is also posted on the Catt Center's website on the Ready to Run page.
According to POLITICO, its "Women Rule" initiative aims to inform, empower and connect women across diverse sectors and career levels; illuminate the story of the influx of women candidates in the 2018 mid-terms; and track progress throughout the year. Insights from the tracker will help drive POLITICO's election-year coverage and inform national conversations through the "Women Rule" series of events, podcasts and news stories.
"More women are engaging in politics than ever before, and we are thrilled to partner with two expert organizations to bring data-based content about women running for office," said Carrie Budoff Brown, editor of POLITICO. "From start to finish, the 'Women Rule' tracker will monitor female candidates across the country and give readers a front row seat on the campaign trail as this historic year unfolds."
According to CAWP's election watch summary of 2018 women candidates, 49 are still in the running for the U.S. Senate, 422 for the U.S. House, and 71 for governor as of May 9. "Much has been written about the 'pink wave' and the record number of women running for office this year, but there is more to this story," said Debbie Walsh, CAWP director.
In a May 13 article in the New York Times, Walsh noted: "While we are encouraged by the energy and the enthusiasm and the engagement of women, I think we also at the same time have to be cognizant of the fact that many of these women, even when they win their primary, will be running very tough races in November. We are not going to see, in one cycle, an end to the underrepresentation of women in American politics that we've seen for 250 years," she said. "The concern is, we need this energy and engagement to be here for the long haul. This is a marathon, not a sprint."
Published: May 14, 2018