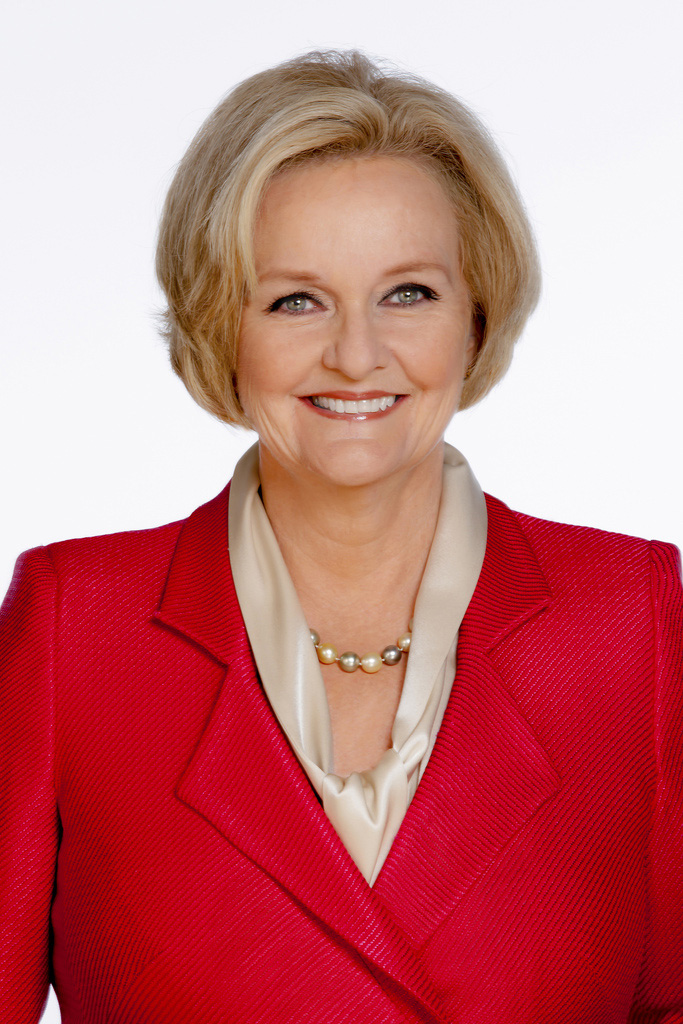 *On March 28, 2014, Sen. McCaskill presented the lecture "Women, Politics and Leadership: Taking Risks is 'Ladylike.'"
Claire McCaskill has spent most of her career in public service at the county, state and federal level since graduating from the University of Missouri College of Law in 1978. She began her career as an assistant prosecutor in Kansas City, Mo., and eventually served as a felony prosecutor where she specialized in prosecuting arson cases and sex crimes. From 1983 to 1989, McCaskill served in the Missouri Legislature, where she chaired the Civil and Criminal Justice Committee. She also was the first woman Missouri Legislature to have a baby while in office, leading her to juggle the responsibilities of lawmaker and mother.
In 1992, McCaskill made history again as the first woman to be elected as Jackson County prosecutor. As head of the largest prosecutor's office in Missouri from 1993 to 1999 – in a region that includes Kansas City – she launched one of the nation's first drug courts and established a first-of-its-kind domestic violence unit aimed at curbing domestic and sexual violence as well as child abuse.
McCaskill returned to statewide public office in 1999, serving as Missouri state auditor through 2006. In 2004, she took on her own Democratic Party establishment to become the first person to ever defeat a sitting Missouri governor in a primary election. McCaskill lost the governor's race to her opponent in a close general election. In 2006, McCaskill became the first woman elected to the U.S. Senate from Missouri, winning the seat once held by Harry Truman.
In her first term as U.S. senator, McCaskill focused on legislation implementing historic wartime contracting reforms. Her efforts led to the creation of a new Senate panel charged with contracting oversight. McCaskill also worked to improve health care services for Missouri's veterans. She teamed up with her Republican colleagues to establish a ban on congressional earmarks and has helped lead efforts to repeal automatic pay raises for Congress.
McCaskill was re-elected to the U.S. Senate in 2012, winning her race by more than 15 percentage points – the largest margin for a Missouri Senate candidate in nearly two decades – and earning more votes than any other candidate in the state that year. She currently serves as a senior member of the Armed Services Committee and has helped lead the effort to confront sexual assault in the military and better protect survivors. A recognized technology leader, with a penchant for communicating directly with constituents via Twitter, McCaskill also was named chair of the Commerce Subcommittee on Consumer Protection, Product Safety, and Insurance. McCaskill continues to lead the Subcommittee on Financial and Contracting Oversight. She also helped lead the effort to renew the Violence Against Women Act, and is a member of the Commerce, Science, and Transportation Committee; Homeland Security and Governmental Affairs Committee; and the Special Committee on Aging Committee. Sen. McCaskill has also been instrumental in holding colleges and universities accountable for sexual assaults that happen on their campuses, and is one of the main co-sponsors of the bipartisan 2014 Campus Accountability and Safety Act.
McCaskill's memoir, "Plenty Ladylike," came out in summer 2015.
Published: April 1, 2014