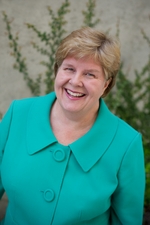 *On December 1, 2011, Christina Romer presented the lecture "Policy Responses to the Great Recession: The Interaction of Leadership and Great Ideas."
Christina Romer is the Class of 1957 Garff B. Wilson Professor of Economics at the University of California, Berkeley and a former chair of the Council of Economic Advisers in the Obama administration. As chair of the council from January 2009 to September 2010, Romer was one of the four economics leaders who met with President Obama daily to design and guide the administration's response to the Great Recession. She played a key role in macroeconomic policy, the rescue and reform of the financial system, health care reform, and budget policy. In addition, she was a primary spokesperson on the economy for the administration, appearing frequently on the evening news, in the financial press, and on the Sunday morning news programs.
Romer received her Ph.D. from MIT in 1985. An expert in economic history and macroeconomics, she is a leading scholar on the causes of the Great Depression and the impact of monetary and fiscal policy. She is the class of 1957 Garff B. Wilson Professor of Economics at the University of California, Berkeley and co-director of the Program in Monetary Economics at the National Bureau of Economic Research (NBER). She also serves on the Business Cycle Dating Committee of the NBER. Romer is the author of numerous scholarly articles and a regular contributor to the New York Times "Economic View" column in the Sunday business section. She is also a contributing editor for Bloomberg Television.
Romer is the recipient of numerous awards for her scholarship and teaching, including the Presidential Young Investigator Award from the National Science Foundation, a Simon P. Guggenheim fellowship, membership in the American Academy of Arts and Sciences, and the Distinguished Teaching Award at the University of California, Berkeley.
For more information on Christina Romer, please visit https://econ.berkeley.edu/faculty/847.
Published: October 1, 2011