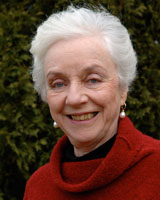 *On April 24, 2008, Madeleine Kunin presented the lecture "Pearls, Politics, and Power: How Women Can Win and Lead."
Madeleine Kunin is the first and only woman to have served as governor of Vermont and is the nation's only three-term woman governor, holding office from 1985 to 1991. She also served in the Vermont General Assembly as a U.S. deputy secretary of education and the U.S. ambassador to Switzerland and Liechtenstein from 1996-1999. She is currently the James Marsh Professor-at-Large at the University of Vermont, lecturing on history and women's studies.
Kunin is the author of several books, including "The New Feminist Agenda: Defining the Next Revolution for Women, Work, and Family;" "Pearls, Politics and Power: How Women Can Win and Lead;" and "Living a Political Life." She has received numerous awards for her work on the environment, education and human services, including the International Center in New York's Award of Excellence and the Foreign Language Advocacy Award.
Kunin earned a bachelor's degree from the University of Massachusetts Amherst, and master's degrees from both the Columbia University Graduate School of Journalism and the University of Vermont.
For more information on Madeleine Kunin, please visit www.madeleinekunin.org.
Published: March 1, 2008