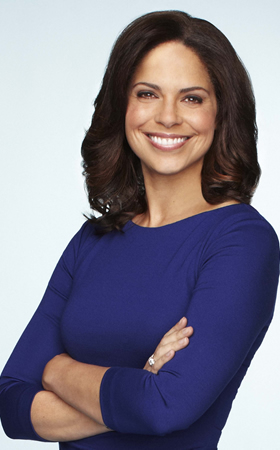 *On October 27, 2005, Soledad O'Brien present the lecture "Women and Leadership: Mentoring the Next Generation."
Soledad O'Brien began her own production company, Starfish Media Group, in 2013 to produce documentaries and other programming specials for CNN. She is also anchor for the weekly show, "Matter of Fact with Soledad O'Brien."
From 2003–2013, O'Brien was an anchor and special correspondent for CNN. Most recently, she was anchor of "Starting Point." From 2007–2012, she hosted "In America" documentaries, guest-anchored CNN news shows, and anchored CNN's exit poll coverage during the primaries and caucuses in the 2008 presidential race. From 2003–2007, she co-anchored CNN's "American Morning." She covered the aftermath of Hurricane Katrina and, in December 2004, was among a handful of CNN anchors sent to Thailand to cover the disaster and aftermath of the tsunami that took more than 155,000 lives. In fall 2003, O'Brien was the only broadcast journalist permitted to travel with First Lady Laura Bush on her trip to Moscow.
Prior to joining CNN, she anchored NBC's "Weekend Today" show from 1999 to 2003. During that time, she contributed reports for the "Today Show" and weekend editions of "NBC Nightly News." O'Brien covered such notable stories as the school shootings in Colorado and Oregon and the Space Shuttle Columbia disaster and anchored NBC's weekend coverage of the war in Iraq. Additionally, in 1998, she traveled to Cuba to cover Pope John Paul II's historic visit. Before Weekend Today, O'Brien anchored MSNBC's award-winning technology program, "The Site," and the cable network's weekend morning show.
O'Brien's work has been honored numerous times, including a local Emmy Award for her work as a co-host on Discovery Channel's "The Know Zone." She was named Journalist of the Year 2010 by the National Association of Black Journalists. In 2008, she won the Johns Hopkins Bloomberg School of Public Health's Goodermote Humanitarian Award for her reporting of Hurricane Katrina and the 2004 Indian Ocean earthquake and tsunami. Also in 2008, she became the first recipient of the Soledad O'Brien Freedom's Voice Award, an award created in her name by Morehouse School of Medicine. In 2007 she was honored with the NAACP President's Award, and in 2005, she was awarded "Groundbreaking Latina of the Year" by Catalina magazine. She was included in Crain's Business Reports' "40 under 40″ and Essence magazine's "40 under 40," both in 2004. She has been named to Irish America magazine's "Top 100 Irish Americans" on two occasions. In 1997, she was awarded the Hispanic Achievement Award in Communications by Hispanic magazine.
O'Brien's memoir, "The Next Big Story: My Journey Through the Land of Possibilities," was published in 2010. She also co-authored "Latino in America" in 2009. O'Brien is a member of the National Association of Black Journalists and the National Association of Hispanic Journalists. She is a graduate of Harvard University.
Published: October 1, 2005