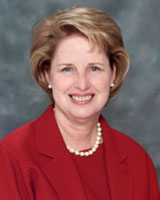 *On November 15, 2004, Claudia J. Kennedy presented the lecture "Women, Leadership, and the Future."
Claudia Kennedy is a retired lieutenant general in the United States Army and the first and only woman to achieve the rank of three-star general in the United States Army. She served for 31 years, from the Women's Army Corps in 1968 to deputy chief of staff for Army Intelligence from 1997 to 2000. She oversaw policies and operations affecting 45,000 people stationed worldwide with a budget of nearly $1 billion.
During her career, she commanded a company, an intelligence battalion, a recruiting battalion and an intelligence brigade. Kennedy served as the senior intelligence officer for the U.S. Forces Command, deputy commanding general for the Army Intelligence Center and School, and deputy chief of staff for Intelligence.
Since completing her Army career, Kennedy has worked to help children by chairing First Star, a non-profit corporation. She has appeared as a military consultant for NBC and CNN and as a guest on "Larry King Live" and ABC's "Good Morning America." In June 2010, she was appointed as chairwoman of the Defense Advisory Committee on Women in the Services, a committee appointed by the United States Secretary of Defense.
Kennedy has received several awards, including being named to the lists of Best Women Role Models, Most Influential and 100 Most Important Women. She has been honored by numerous organizations for her leadership and lifetime achievements.
Kennedy earned a bachelor's degree in philosophy in 1969 from Southwestern at Memphis (now Rhodes College).
Claudia Kennedy's memoir, "Generally Speaking: A Memoir by the First Woman Promoted to Three-Star General in the United States Army," was published in 2008.
Published: October 1, 2004