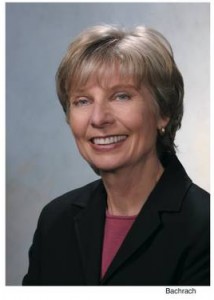 *On October 1, 2003, Eleanor Clift presented the lecture "Madam President: Shattering the Last Glass Ceiling (2004 Campaign Preview."
As a contributing editor for Newsweek magazine and a regular panelist on the nationally syndicated television show "The McLaughlin Group," Clift reported on the White House, presidential politics and a variety of national issues. She was assigned to Newsweek's Special Election Project, which assembled a behind-the-scenes chronicle of the 2000 presidential campaign and First Lady Hillary Rodham Clinton's historic run for the U.S. Senate. The account was published in a special edition of Newsweek immediately following the November 2000 election, and then was expanded into the 2000 book, "Madam President: Shattering the Last Glass Ceiling," which Clift wrote with her husband, Tom Brazaitis, Washington columnist for the Cleveland Plain Dealer. The book chronicles the rise of women in politics and the prospects for a woman on the national ticket.
Clift is also the author of "War Without Bloodshed: The Art of Politics," also co-authored with her husband; "Founding Sisters," about the passage of the nineteenth amendment giving women the vote; "Two Weeks of Life: A Memoir of Love, Death and Politics;" and "Selecting a President," written with Matthew Spieler.
Playing herself, Clift has appeared in several films, including "Independence Day" and "Murder at 1600," and the CBS television series "Murphy Brown." She and her husband are also the co-authors of "War Without Bloodshed: The Art of Politics," published in 1996.
Her career at Newsweek includes serving as the magazine's White House correspondent, congressional and political correspondent, and deputy Washington Bureau chief. She has covered every presidential campaign since 1976.
Clift is currently on the advisory council of the International Women's Media Foundation, the board of the Center for Politics and Journalism and the Board of Governors of the National Hospice Foundation. She is also a contributor to MSNBC and blogger for The Daily Beast.
Clift attended Hofstra University and Hunter College.
For more information on Eleanor Clift, please visit www.eleanorclift.com.
Published: October 1, 2003