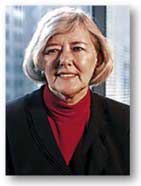 *On April 22, 2003, Patricia Schroeder presented the lecture "The Road to the White House: Where are the Women?"
Patricia Schroeder represented Colorado in the United States House of Representatives from 1973 to 1997.
Schroeder graduated magna cum laude from the University of Minnesota in 1961 with degrees in philosophy, history and political science. Schroeder then earned her Juris Doctorate from Harvard Law School in 1964, one of only 15 women in a class of more than 500 men.
In 1973, Schroeder became the first woman elected to Congress from Colorado, running without the support of the state Democratic Party or the Democratic National Committee. Upon election to the House of Representatives, Schroeder was one of fourteen women present. Elected at age 32, Schroeder was also the second youngest woman elected to Congress. During her tenure in the House, she became the dean of congressional women, co-chaired the Congressional Caucus on Women's Issues for 10 years, and served on the House Judiciary Committee and the Post Office and Civil Service Committee, and was the first woman to serve on the House Armed Services Committee.
Schroeder was an early supporter of legalized abortion and sponsored legislation making it a federal crime to obstruct access to abortion clinics. She was also active in military issues, expediting the National Security Committee's vote to allow women to fly combat missions in 1991, and working to improve the situation of military families through passage of her Military Family Act in 1985. As chair of the House Select Committee on Children, Youth and Families from 1991 to 1993, Schroeder saw the Family and Medical Leave Act and the National Institutes of Health Revitalization Act to fruition in 1993. As ranking member of the House Judiciary Subcommittee on Courts and Intellectual Property, she was a strong advocate for protecting intellectual property rights and for reinforcing the creative incentive for developing intellectual property.
Following her 24 years in Congress, Schroeder briefly taught at Princeton University's Woodrow Wilson School of Public and International Affairs. She was appointed president and CEO of the Association of American Publishers in June 1997. She was also selected to lead a multi-year study for the Institute on Civil Society to identify and promote social programs to encourage social cohesion and restore a sense of community for Americans.
Schroeder is the author of two books: "Champion of the Great American Family" and "24 Years of House Work…and the Place is Still A Mess."
For more information on Patricia Schroeder, please visit http://history.house.gov/People/Listing/S/SCHROEDER,-Patricia-Scott-%28S000142%29/.
Published: March 1, 2003