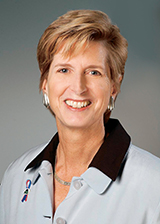 *On September 19, 2002, Christine Todd Whitman presented the lecture "The Political Environment for Women in 2002."
Christine Todd Whitman served in the cabinet of President George W. Bush as head of the Environmental Protection Agency from January, 2001 to June, 2003. Before that, she was the fiftieth governor of the State of New Jersey, serving as its first woman governor from 1994 to 2001.
The youngest of four children in an affluent family active in Republican politics, she earned a Bachelor of Arts in government from Wheaton College in 1968. She then worked as an outreach worker for the Republican National Committee, a staff member of the U.S. Office of Economic Opportunity and an English-as-a-second-language teacher in New York City.
In 1982, Whitman was elected to the Somerset County Board of Chosen Freeholders (county commissioners), where she served until 1988 when Gov. Thomas Kean appointed her to the state Board of Public Utilities. In 1990, she resigned to run for the U.S. Senate against incumbent Bill Bradley. Although she had little name recognition, Whitman surprised pundits by getting 49% of the vote, narrowly losing to Bradley.
In 1993, she defeated incumbent Gov. James Florio. As New Jersey's first and only woman governor, Whitman cut taxes, promoted business, streamlined government, and supported tough anti-crime legislation. She also appointed New Jersey's first African American state Supreme Court justice, its first female state Supreme Court chief justice and its first female attorney general.
Whitman is the author of a 2005 New York Times best seller, "It's My Party Too: The Battle for the Heart of the GOP and the Future of America."
Whitman is currently the president of The Whitman Strategy Group, an energy lobbying group. She also serves a number of non-profit organizations and is on the board of directors for several corporations.
For more information on Christine Todd Whitman, please visit http://www.christiewhitman.com/biography.
Published: October 1, 2002