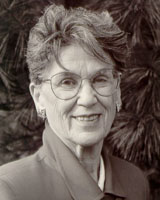 *On January 30, 2002, Harriet Woods presented the lecture "Stepping Up to Power: The Political Journey of American Women."
Harriett Woods' public service includes eight years as a city council member in University City, Mo, eight years as a Missouri state senator, and two years as the first woman State Transportation and Highway Commissioner. She also was the first woman elected to statewide office as Missouri's lieutenant governor in 1984, serving until 1989.
In 1982 and 1986, Woods was the Democratic nominee for the U.S. Senate in Missouri. She was president of the National Women's Political Caucus from 1991 to 1995, leading the multi-partisan organization in recruiting, training and supporting hundreds of women to public office. She also headed the Coalition for Women's Appointments, which worked to place a record number of women in senior policy positions.
After her political career, Woods taught at various universities, including the University of Missouri at St. Louis, where she created the Institute for Policy Leadership in 1989. In 2001, she published "Stepping Up to Power: The Political Journey of American Women."
Woods received her Bachelor of Arts in philosophy from the University of Michigan.
Harriet Woods died on February 8, 2007.
Published: March 1, 2002