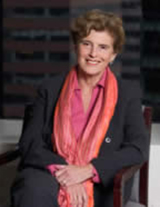 *On October 8, 2001, Marie Wilson presented the lecture "In This Time of National Crisis, Where Are the Women?"
An advocate of women's issues for more than 30 years, Marie Wilson served as president of the Ms. Foundation for Women from 1984 to 2004, raising millions of dollars for programs and organizations serving women and girls. She co-founded The White House Project in 1998 to change the political climate to get more women elected to office, including the presidency. In 1999, she founded the Women's Leadership Fund, a public education initiative dedicated to changing perceptions about and biases against women's leadership ability.
Wilson's other accomplishments include co-creating the successful public education campaign, Take Our Daughters To Work Day; becoming the first woman elected to the Des Moines City Council as a member-at-large in 1983; co-authoring the critically acclaimed Mother Daughter Revolution in 1993; and serving as an official government delegate to the United Nations Fourth World Conference on Women held in Beijing, China, in 1995. She is author of "Closing the Leadership Gap: Why Women Can and Must Help Run the World."
Wilson has spoken on women's political leadership on such television shows as "Good Morning America," the "CBS Evening News," CNN's "Inside Politics" and ABC's "Politically Incorrect." She has been interviewed by the New York Times, National Public Radio, the Wall Street Journal, USA Today, the BBC, and the Christian Science Monitor.
Published: October 1, 2001