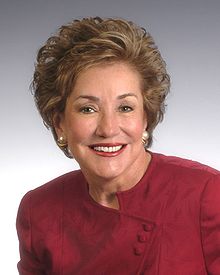 *On February 19, 1999, Elizabeth Dole presented the lecture "Women and Leadership."
Elizabeth Dole represented North Carolina as a U.S. senator from 2003 to 2009. While serving in Senate, Dole served on the Committee on Armed Services; Committee on Banking, Housing, and Urban Affairs; Committee on Small Business and Entrepreneurship; and Select Committee on Aging.
Dole graduated from Duke University with a degree in political science and from Harvard University with a master's in education in 1960 and a Juris Doctorate in 1965.
In 1973, Dole was appointed as one of five commissioners on the Federal Trade Commission (FTC). In her early years in politics, Dole was considered a Democrat; however, in 1975, she joined the Republican Party.
Dole served as the U.S. secretary of transportation (1983 to 1987) and secretary of labor (1989 to 1990), president of the American Red Cross (1991 to 2000), and U.S. senator (2003 to 2009). From 2005 to 2007, she served as the chair of the National Republican Senatorial Committee.
Dole was the first woman appointed as secretary of transportation and the first woman to serve as the head of a branch of United States' military, the Department of Transportation-governed United States Coast Guard. She is also the first woman to serve in two different Cabinet positions in the administration of two presidents, secretary of transportation for President Ronald Reagan and secretary of labor for President George W. Bush.
Dole has written two books, "The Doles: Unlimited Partners" and "Hearts Touched by Fire: My 500 Most Inspirational Quotations."
In 2012, Dole established the Elizabeth Dole Foundation, dedicated to helping caregivers of "wounded warriors."
For more information on Elizabeth Dole, please visit www.elizabethdolefoundation.org.
Published: March 1, 1999