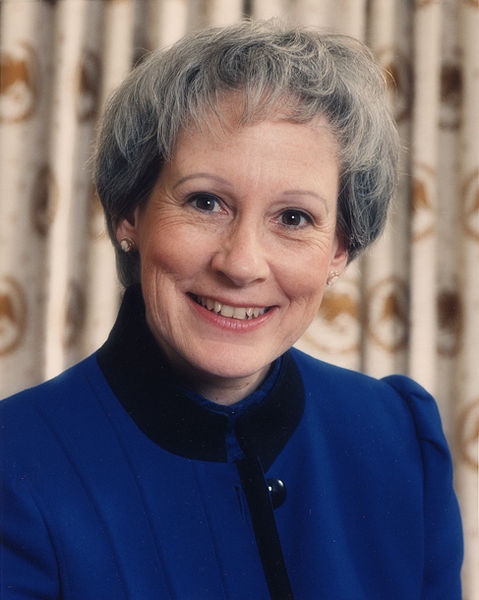 *On October 14, 1996, Nancy Kassebaum Baker presented the lecture "Women, Education, and Politics."
As the daughter of 1936 presidential nominee and Kansas governor Alf Landon, Nancy Landon Kassebaum Baker was introduced to politics at an early age. A Republican from Kansas, she served in the U.S. Senate for almost 20 years. While raising four children on a farm in Maize, Kansas, Baker was involved with the local school board, the Kansas Governmental Ethics Committee, and the Kansas Committee for the Humanities.
In 1975, Baker accepted a position in Washington, D.C., as an aide to Republican Sen. James Pearson of Kansas. When Pearson retired in 1978, Baker defeated eight other candidates for his Senate seat.
Baker served as the first woman to chair a major U.S. Senate committee, Labor and Human Resources, and was a member of the Senate Committee on Foreign Relations, where she focused on African issues. Baker is noted for her efforts to improve education, child care and health care; promote fiscal responsibility; and overhaul foreign aid programs. Baker was also the first woman elected to a full term in the Senate without her husband having previously served in Congress.
Currently, Baker is an Advisory Board member for the Partnership for a Secure America, a not-for-profit organization dedicated to recreating the bipartisan center in American national security and foreign policy.
Published: October 1, 1996