Mark your calendars for fall events that the Carrie Chapman Catt Center for Women and Politics is sponsoring, co-sponsoring or just happy to help promote. Information about all Catt Center events will be posted on the Events page on our website as it becomes available.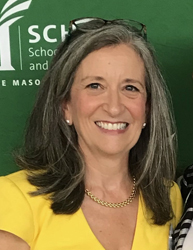 On Tuesday, Sept. 12 at 6 p.m. in the South Ballroom of the Memorial Union, the center is sponsoring a lecture by Bonnie Stabile, associate dean for student and academic affairs and associate professor in the Schar School of Policy and Government at George Mason University, where she also founded and directs the Gender and Policy (GAP) Center. In her lecture, Stabile will be talking about the content of her book, "Women, Power and Rape Culture: The Politics and Policy of Underrepresentation" (2022). Stabile's lecture is sponsored by the Catt Center, the Women's and Gender Studies Program, and the Committee on Lectures (funded by Student Government). See the full Voices article about the lecture…
On Saturday, Sept. 16 at 7:15 p.m. in the Great Hall of the Memorial Union, Syrian violinist and refugee advocate Mariela Shaker will be presenting "My Bow Bends for Peace," a spoken word and musical event, as one of the keynotes for the Peace and Justice Studies Association 2023 Annual Conference (registration required; free for Iowa State University students). The Catt Center is a co-sponsor of Shaker's visit. More information about the peace conference can be found on the Peace and Justice Studies Association's website.
On Thursday, Sept. 21 at 6 p.m. in 2630 Memorial Union, center director Karen M. Kedrowski will present Iowa State University's 2023 Constitution Day lecture, "It's Not Done: Women's Constitutional Equality." Kedrowski's lecture will discuss the history and debates surrounding the Equal Rights Amendment from the 1920s to the present, including recent efforts to resurrect the federal amendment and to amend the Iowa Constitution. Kedrowski's lecture is sponsored by the Catt Center, Department of Political Science and Committee on Lectures. See the full Voices article about the event…
On Oct. 19 at 5:30 p.m. in the Sun Room of the Memorial Union, Cathleen Kaveny will present "Can We Be Civil? Call-Out Culture in America" as part of the Phi Beta Kappa Visiting Scholar program. Kaveny is the Darald and Juliet Libby Professor at Boston College, where she has dual appointments in the Law School and the Theology Department. Kaveny is also the Phi Beta Kappa 2023-2024 Carl F. Cranor Family Visiting Scholar. Caveny's visit is sponsored by the Phi Beta Kappa Society and the Committee on Lectures. More information about the lecture…
Published: July 10, 2023