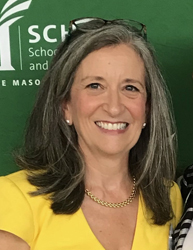 Bonnie Stabile, associate dean for student and academic affairs and associate professor in the Schar School of Policy and Government and founder and director of the Gender and Policy (GAP) Center at George Mason University, will give a presentation on the topic of her 2022 book, "Women, Power and Rape Culture: The Politics and Policy of Underrepresentation," on Tuesday, Sept. 12 at 6 p.m. in the South Ballroom of the Memorial Union. The event is free and open to the public.
"I am honored to have been invited to speak at the Carrie Chapman Catt Center, which, like its namesake, has done much to advance women's representation and political power," Stabile said. "Its dedication to develop leadership, foster research, promote mentorship and dialogue and encourage public service careers, especially for women, mirrors the mission of our own Gender and Policy (GAP) Center at George Mason University, where our tagline is "We Mind the GAP."
Stabile teaches courses on policy analysis, program evaluation, ethics, and gender. She was the 2019 recipient of the Schar School's Teaching Award. During her 16-year tenure at the Schar School, she has also served as director of the school's Master of Public Policy and Master of Public Administration programs.
Her book, co-authored with graduate research assistant and doctoral candidate Aubrey Grant, examines how rape, sexual assault, and harassment relate to underrepresentation of women in public authority.
"Stabile and Grant meticulously document how men who are accused of sexual misconduct can shape public policy to serve their own ends," said Karen Kedrowski, Catt Center director. "We are fortunate to have Dr. Stabile here at Iowa State to share her insights."
Stabile's other publications include articles in peer-reviewed journals such as Public Integrity; the Journal of Public Affairs Education; Sexuality, Gender and Policy; Rhetoric Review; and Politics and the Life Sciences. She writes for Ms. magazine and serves on the Ms. Committee of Scholars.
Stabile served as editor-in-chief of World Medical & Health Policy, a peer-reviewed academic journal published by Wiley, from 2019-2020, after having served as deputy and then co-editor since 2011. Her federal government work experience includes acting as installation coordinator of a U.S. Army post in Amberg, Germany, and as a program analyst for the Federal Home Loan Bank Board. From 1989-1993, she was program coordinator of the Senior Managers in Government Program at the John F. Kennedy School of Government at Harvard University.
The lecture is sponsored by the Carrie Chapman Catt Center for Women and Politics, the Women's and Gender Studies Program, and the Committee on Lectures (funded by Student Government).
Published: July 10, 2023