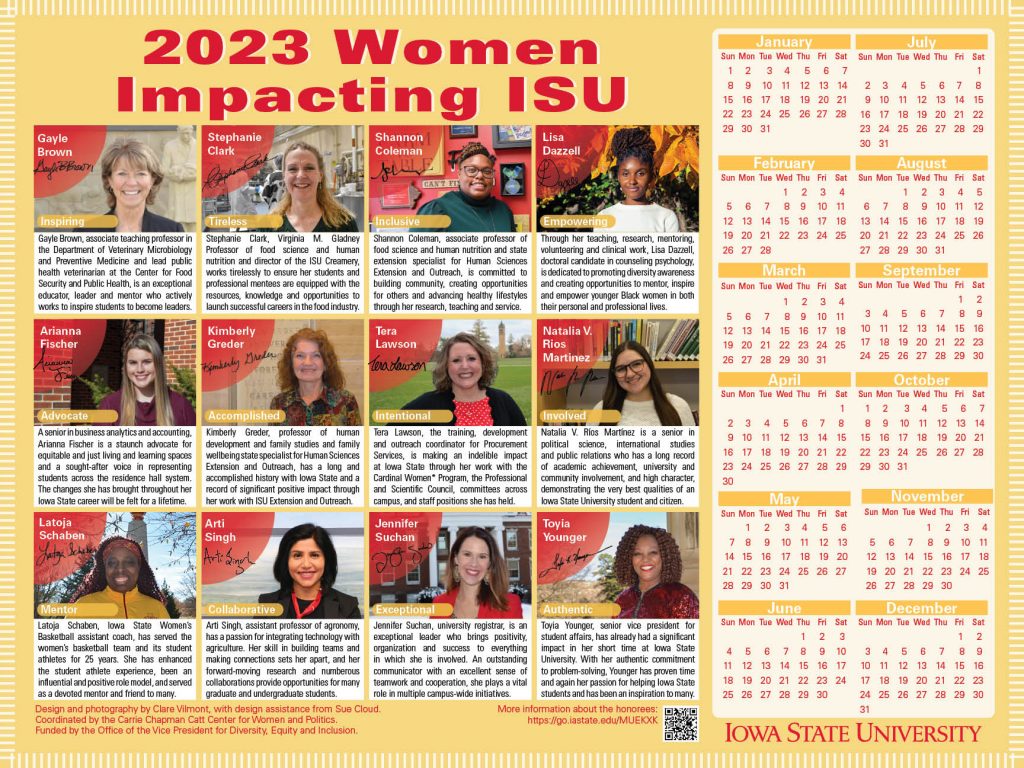 The twelve women featured on the 2023 Women Impacting ISU calendar were recognized at the calendar unveiling event on Jan. 24, 2023.
The 2023 calendar was officially unveiled during the reception in the Great Hall of the Memorial Union. The program began at 4 p.m. and was livestreamed at https://www.youtube.com/watch?v=PzdIjzegx5A. After the program, copies of the calendar were distributed for free. The event was free and open to the public.
Students selected for the 2023 calendar were: Lisa Dazzell, a graduate student in psychology; Arianna Fischer, a senior in business analytics and accounting; and Natalia V. Ríos Martínez, a senior in political science, international studies and public relations.
Faculty selected were: Stephanie Clark, Virginia M. Gladney Professor in the Department of Food Science and Human Nutrition and director of the ISU Creamery; Shannon Coleman, associate professor in the Department of Food Science and Human Nutrition and state extension specialist for Human Sciences Extension and Outreach; Kimberly Greder, professor in the Department of Human Development and Family Studies and family wellbeing state specialist for Human Sciences Extension and Outreach; and Arti Singh, assistant professor in the Department of Agronomy.
Staff chosen for the calendar were: Gayle Brown, lead public health veterinarian at the Center for Food Security and Public Health and associate teaching professor for the Department of Veterinary Microbiology and Preventive Medicine; Tera Lawson, training, development and outreach coordinator for Procurement Services; Latoja Schaben, ISU women's basketball assistant coach; Jennifer Suchan, university registrar in the Office of the Registrar; and Toyia Younger, senior vice president for student affairs in the Division of Student Affairs.
More information about the 2023 calendar honorees
The Catt Center sponsors the calendar with funding provided by the Office of the Vice President for Diversity, Equity and Inclusion.
Copies of the calendar are available at various campus locations, including the Catt Center, Sloss House, Beardshear Hall and the Memorial Union. If you would like calendars for distribution at your campus office, email the Catt Center at cattcntr@iastate.edu.
Visit the Catt Center's website to see previous calendars and a list of past honorees.
Published: January 25, 2023