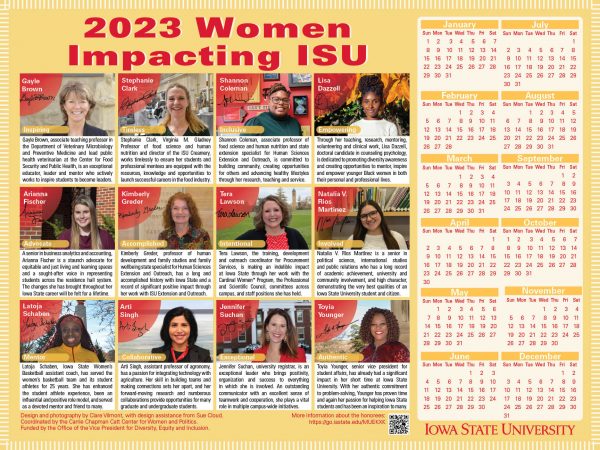 Gayle Brown – Inspiring
Gaye Brown, associate teaching professor in the Department of Veterinary Microbiology and Preventive Medicine and lead public health veterinarian at the Center for Food Security and Public Health, is an exceptional educator, leader and mentor. Brown is passionate about effective teaching and innovative in exploring new technologies and approaches to teaching, working to provide every student with the tools they need to become a successful veterinarian. As the faculty advisor to the Student American Veterinary Medical Association and co-advisor to the Recreation and Stress Relief Club, Brown also encourages students to be active outside of classes and instills confidence and comradery into every person she deals with. Since 2002, Brown has been responsible for the content of the Transboundary and Emerging Diseases of Animals web-based course. Because of her leadership and dedication, the course is now being used at all U.S. veterinary colleges for more than 4,000 students per year, with 14 components of the course required for all new veterinarians who wish to become USDA accredited. Brown also assists instructors at other veterinary colleges, and she led an initiative to achieve "Quality Matters" certification for the course, the first ISU course to receive this designation. Brown has received five teaching or academic advising awards from the College of Veterinary Medicine and in 2014 was the recipient of the ISU Award for Outstanding Achievement in Teaching from the university. In 2018, she received the American Association of Veterinary Medical Colleges Distinguished Teacher Award, the most prestigious teaching award in veterinary medicine that is given to only one veterinary educator each year.
"Dr. Brown is one of the most essential pieces to our student body at the College of Veterinary Medicine. She is a leader who shows up to every student-led event we have and brings such a bright and encouraging spirit. I've never known a more accountable person in my life."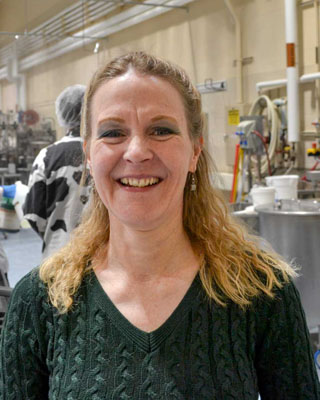 Stephanie Clark – Tireless
Stephanie Clark, Virginia M. Gladney Professor of food science and human nutrition and director of the ISU Creamery, works tirelessly to ensure that all students and professional mentees she works with are provided with the resources, knowledge and opportunities to launch successful careers in the food industry. Clark is known worldwide for her academic research on sensory evaluation and dairy products, and has published 68 peer-reviewed papers and 13 book chapters that have been cited over 1,200 times. With the resurgence in dairy production in Iowa in the last decade, Clark has engaged with cheese producers to advance their technology and product quality, becoming the statewide resource for this growing industry. Clark also worked to re-establish the ISU Creamery. She has been intentional about engaging all parts of the campus in the endeavor and uses the Creamery as a venue to educate students about all aspects of dairy science. The launch of the Creamery has placed Iowa State with a small number of land-grant universities that have an on-campus creamery dedicated to student education. Clark has a deep commitment to student learning and the ability to educate in any setting, including as advisor for the Product Development Club and Dairy Products Evaluation Club and as host of an annual dairy products competition through the Iowa State Fair. An exceptional mentor of graduate students' research, Clark brings the same dedication and enthusiasm to teaching graduate students. Clark's commitment to education includes providing mentorship to new faculty, mentoring many through the promotion and tenure process and playing an instrumental part in making that process fair and equitable in her role on the FSHN Promotion, Tenure and Advancement Committee.
"Just a few minutes with Dr. Clark is all it takes to see how lively and enthusiastic she is and how deeply she cares about students, her colleagues and her work in dairy foods. Her commitment and passion is infectious."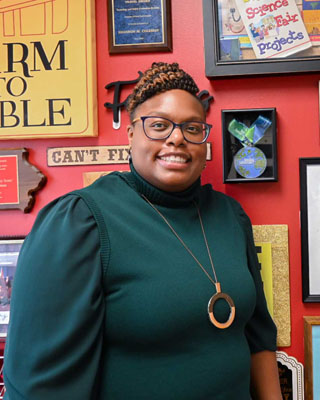 Shannon Coleman – Inclusive
Shannon Coleman, associate professor in the Department of Food Science and Human Nutrition and state extension specialist for Human Sciences Extension and Outreach, is committed to building community, creating opportunities for others and advancing healthy lifestyles through her research, teaching and service. Her research focuses on food safety and best practices at farmers' markets. Her teaching shows a deep commitment to undergraduate and graduate students across the university. Her work as an extension specialist connects her research and teaching to the betterment of Iowa communities and the broader field of food science. In a field that is 80% White-identified and 70% male, Coleman's role as a Black female STEM scholar and professor is unique, and she has worked to address racial, ethnic and gender disparities in her field in several ways. Since her arrival at Iowa State, she has been an active member of the College of Human Sciences Diversity Equity and Community Committee and the Black Faculty and Staff Association. She cultivates relationships between Historically Black Colleges and Universities (HBCUs) and Iowa State. She facilitates the travel of young scholars of color to Iowa State each summer to collaborate with faculty researchers through the Cyclone Scholars Summer Research Experiences program, and has presented at Science Bound, an Iowa State program for high school and undergraduate students from marginalized backgrounds that encourages majoring in STEM fields. Coleman's work has been recognized multiple times. In 2019, she was on a team that received the Excellence in Multi State Collaboration Award from the National Extension Association of Family and Consumer Sciences, and her Extension and Outreach team, Growing Together Iowa, was recognized by ISU Extension and Outreach with the Impacting Iowans Award. In 2020, she received the Early Achievement in Extension or Professional Practice Award from the ISU College of Human Sciences.
"Iowa State University is fortunate to have Dr. Coleman as a campus leader who not only values inclusion, but also has excelled at infusing inclusivity into all aspects of her scholarly life."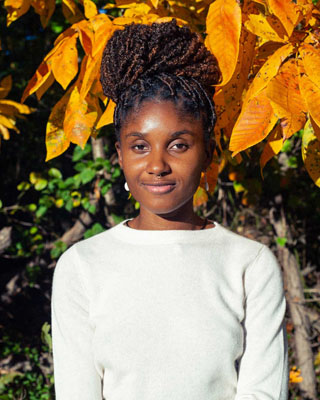 Lisa Dazzell – Empowering
Through her teaching, research, mentoring, volunteering and clinical work, Lisa Dazzell, a doctoral candidate in counseling psychology, is dedicated to promoting diversity awareness and creating opportunities to mentor and empower younger Black women. As an instructor for the African and African American Studies Program, Dazzell creates a safe environment to help students engage in difficult and sensitive conversations about diversity. Her research centers holistic healing and liberation by understanding how Black people perceive systems of oppression and how they radically envision liberation. She also uses her skills as a researcher to mentor others, with the Dazzell Research Lab providing Black women a collaborative space to gain experience and conduct ethical, Black-centered research. Dazzell is dedicated to promoting diversity awareness on and off the Iowa State campus. Just a few examples of her commitment include her service on the ISU Diversity Task Force; her work for the 2020 DiversiTea Panel Series and for a training program on micro-aggressions; serving as editor and writer for the Rockaway Advocate, a youth-run social justice magazine; and serving as a volunteer program consultant for the Far Rockaway/Arverne Nonprofit Coalition. In 2022, she was awarded the ISU Counseling Psychology Diversity Award for her commitment to social justice. Dazzell has a strong commitment to providing free quality mental health care to clients who live in under-resourced and systematically low socioeconomic communities. She has served as an academic coach in the counseling psychology Ph.D. program and worked at the ISU Student Counseling Service Center. She served as a practicum intern at Mary Greeley Medical Center, Bliss Cancer Resource Center and Central Iowa Psychological Services, and volunteered at Mocho Village and Manhattan Psychiatric Center.
"As a first-generation college student herself, her mentors raise her up, so she can stand on academic and professional mountains. Now, Lisa pays it forward to raise younger Black women up to be more than they can imagine."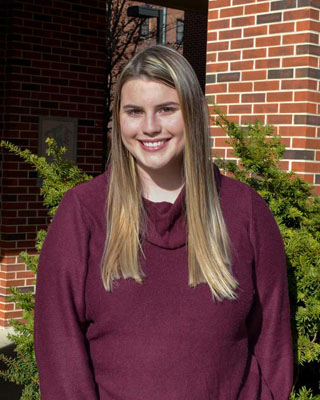 Arianna Fischer – Advocate
A staunch advocate for equitable and just living and learning spaces and a sought-after voice in representing students across the residence hall system, Arianna Fischer, a senior in business analytics and accounting, has worked to create a welcoming and caring community for students at Iowa State. Fischer has served in a variety of leadership roles during her time at Iowa State. Beginning with her involvement in Helser Hall Council her first year on campus, Fischer established herself as an influential representative through her ability to bring key issues to light and present tangible solutions as well as plan meaningful hall events. The next year, Fischer served as president of Helser Hall Council and represented Helser at the Inter-Residence Hall Association meetings. With COVID in full force, Fischer continued to bring important issues forward and create hall-wide events to increase the quality of life for residents and create a stronger sense of community during a time of social isolation. In her third year at ISU, Fischer continued her work on improving residence hall life as IRHA vice president. She created new systems for efficiency in IRHA, met with individual parliament members to write bills, and helped plan events both inside and outside the Executive Board. She was also instrumental to the addition of the "dining plan optional" opportunity. As a senior, Fischer has continued her involvement in IRHA by serving as the director of finance. Fischer has also been involved in a variety of activities across campus. She currently serves as Student Government's director of affordability, where she advocates for college affordability on a university and legislative level and works to increase financial literacy within the student population. She has also served as a peer mentor for open-option students within the College of Liberal Arts and Sciences for the past two years, helping over 100 students find their majors and career passions at Iowa State.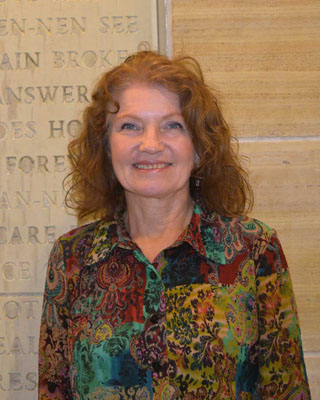 Kimberly Greder – Accomplished
Kimberly Greder, professor of human development and family studies and family wellbeing state specialist for Human Sciences Extension and Outreach, has a long and accomplished history with Iowa State and a documented record of significant impact through her local, statewide and national work with ISU Extension and Outreach. Focused on family resiliency with an emphasis in health and wellbeing, Greder centers her efforts on bringing positive change to the lives of families with low incomes and those who have been historically excluded, with a focus on Latino/a immigrant families in rural areas. She is responsive to meeting the immediate needs of Iowans beyond her own interests and research agenda. An exemplar of a true land-grant university scholar and community citizen, Greder has served as a reviewer for journals and grant proposals and has been an active participant and leader on numerous boards and committees at Iowa State and beyond. She has been awarded more than $2.5 million in grants and published countless articles and reports in journals and Extension and scholarly outlets. Her track record in research is impressive as is the number of college, university, state and national recognitions to her credit. Greder has always exemplified a spirit of excellence, collegiality and collaboration, even amid challenging discussions. She is a calm presence in the room and a critical thinker through difficult dialogues. Her commitment to service is also evident within her personal activities. She has an extensive record as a volunteer, working with youth and families with low income. She supported efforts with ISU students related to immersion experiences in Honduras and is a member of the Iowa-Yucatán Partners of the Americas.
"Her individual goal to 'interact with integrity' is an inspiration for faculty, staff, and students. She is an admired leader and mentor for people within and outside of the institution."
Tera Lawson – Intentional
Tera Lawson—training, development and outreach coordinator for Procurement Services—is making an indelible impact at Iowa State through the Cardinal Women* Program, the Professional and Scientific Council, service on committees across campus, and in her work across a variety of staff positions. Lawson is co-founder and co-director of Cardinal Women*, an initiative designed to support the personal and professional development of campus individuals who identify as women. At year five, the program has already positively impacted hundreds of women and now also includes a student component, an alumni discussion book club and an upcoming lecture series. During her two full terms as well as a three-year presidency on P&S Council, Lawson left a lasting impact on all P&S staff, helping improve employee work experiences by tackling issues such as worker compensation, classification, benefits, and equity and inclusion. Although she is no longer on the council, she remains the chair of the P&S Council Professional Development Conference Subcommittee. Lawson's leadership is also felt on committees across campus and in the Ames community, including Young Professionals of Ames, in the School of Education, Procurement Services, and a myriad of other roles. Lawson creates a positive ripple in each University position she holds. Starting as a Cyclone Aide while she was a student at Iowa State to her current role with Procurement Services, Lawson has improved the Iowa State community through her leadership and caring for the welfare of others. For many years, she has shared what she knows about ISU with others and ensured that processes, policies and procedures are continually improving to make Iowa State better for all faculty, staff and students.
"She is purposeful, strategic, caring and intentional—she is all the things one hopes for in a colleague, needs in a leader, and is lucky to have in a friend."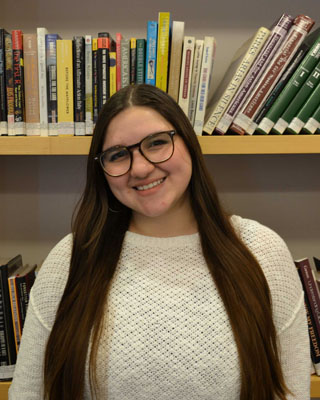 Natalia V. Ríos Martínez – Involved
Natalia Ríos Martínez, senior in political science, international studies and public relations, has a record of academic achievement, university and community action, and high character that demonstrates the best qualities of an Iowa State University student. She has made the Dean's List every semester and is a member of ISU's Honors Program and Phi Beta Kappa. She has received multiple academic recognition awards at the department, college and university level, and last April was named a 2022 Truman Scholar, the premier graduate scholarship for aspiring public service leaders in the United States. Ríos Martínez revived the dormant Political Science Club and has nurtured it into a robust student organization, serving as its first president. She has also served as president of the Save the Children Club and as a student mentor for the Puerto Rican Association. As a Student Government senator, she served on its Health and Wellness Committee and the Diversity and Inclusion Committee, sponsored legislation supporting underrepresented students, and advocated successfully for passage of Iowa's medical amnesty bill. As a research assistant in the Department of Sociology and Criminal Justice, she contributed to data collection on rural legal deserts in the United States. As a government contracting assistant in ISU's Procurement Technical Assistance Center, she conducted market research to help Iowa businesses win government contracts. She has interned with the U.S. Department of Justice, the office of U.S. Rep. Gwen Moore, Greater Greater Washington, the Iowa Department of Transportation's Civil Rights Bureau, the Catt Center, Iowa House Rep. Ross Wilburn, and the Puerto Rican House of Representatives. She also participated in the Washington Semester Program through American University in Washington, D.C.
"Natalia is not just an exceptional undergraduate student. She is also an exceptional person who gives of her time in the way some only talk."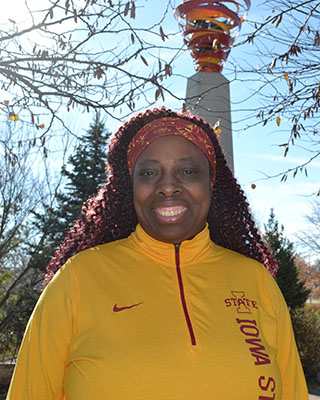 Latoja Schaben – Mentor
Latoja Schaben, ISU Women's Basketball assistant coach, has served the women's basketball team and its student athletes for the past 25 years. In that time, she has greatly supported and enhanced the student athlete experience, been an influential and positive role model, and served as a mentor and liaison for the department. The first person the student athletes connect with after the admissions process, Schaben is always there to help them through the adjustment to college, whether it relates to basketball or life. She is always willing to put in extra time beyond practice and games to support student athletes. Through her caring mentorship, she knows when someone needs that extra positive lift of encouragement and how to push them beyond what they think is possible—as is proven by the success of so many of the individual players and of the team. She plays a key role in their success and develops life-long friendships well beyond graduation. Schaben promotes diversity, equity and inclusion within the department, the team, the Big 12 conference and the community. She serves as chair of the educational subcommittee for the Athletic Department's Cultural Humility Initiative and was key in implementing virtual education sessions. She has also been active in raising awareness of diversity issues in sport through the Big 12 Black Assistant Coaches Alliance, of which she is a founding member. Schaben has embraced the Ames community and is always happy to engage in volunteer activities. One of her favorites is volunteering at the Iowa State Fair every year, where she loves greeting the public in the ISU booth and takes pride in representing the Cyclones.
"Latoja brings loyalty, commitment, leadership, energy and passion in her role as coach, mentor, friend, co-worker, community member and advocate. She has had a lasting impact on so many and all are better people for having been associated with her."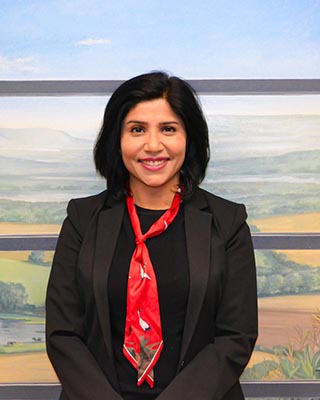 Arti Singh – Collaborative
Arti Singh, assistant professor of agronomy, has a passion for integrating technology with agriculture through the applications of artificial intelligence. Her ability to build a team and make connections both within and outside of the academic world sets her apart. Singh cares about improving the teams around her. She has worked diligently to secure substantial funding for her own program and numerous departments, bringing in over $34 million in successful grants. She has authored and co-authored numerous academic works and written two books, dramatically influencing both plant breeding and the larger agricultural community. Her forward-moving work in digital agriculture has opened up opportunities for graduate and undergraduate students not only in the agronomy department but also in the departments of plant pathology, mechanical engineering and electrical engineering. An exceptional team player, she was recently awarded the 2022 Team Award from the College of Agriculture and Life Sciences through her founding work on the Soynomics team. Singh has created a respectful lab environment where all individuals feel appreciated and part of a team, allowing a free flow of ideas. Her leadership and ability to motivate those around her have led to incredible gains in advancing her field and the University while building up every person she interacts with. While breeding has traditionally been a male-dominated field, Singh has worked to make gains for all future breeders and scientists. She served on the agronomy department's Diversity, Equity and Inclusion Committee that works to ensure that all students and faculty feel heard and represented, and founded the Women in Ag and AI, a group of female-identifying graduate students from agriculture and engineering who participate in outreach activities to engage undergraduate students and K-12 groups in agriculture.
"Her leadership and ability to motivate those around her have led to incredible gains in advancing our field and the University while building up every person she interacts with."
Jennifer Suchan – Exceptional
Jennifer Suchan is an exceptional leader who brings positivity, organization and success to everything in which she is involved and who treats everyone with respect and dignity. As university registrar, she has created a work environment that is welcoming, supportive and respectful, with a broad concept of teamwork as an overarching theme. Several leadership and logistic challenges Suchan has successfully navigated as associate registrar and then university registrar include planning and executing Iowa State's first commencement ceremony in Jack Trice Stadium in only two weeks when a record number of graduates chose to participate in commencement in the spring of 2016; redesigning commencement again in the spring of 2018 into two separate ceremonies held in Hilton Coliseum on the same day to accommodate the continued increase in the number of graduates participating in commencement; making improvements to commencement ceremonies over the next several years; developing virtual commencement ceremonies for both graduate and undergraduate students during the COVID pandemic in the spring and fall of 2020; coordinating six successful undergraduate college-specific commencement ceremonies in Jack Trice Stadium in spring 2021 (despite the stadium also being under construction); and organizing a special commencement ceremony in October 2021 for graduates who had only virtual commencements in 2020. In 2018, she also coordinated the presidential installation ceremony for Iowa State's first female president, Dr. Wendy Wintersteen. Suchan also plays a vital role in other campus-wide initiatives, such as coordinating and implementing ISU's first Winter Session classes, maintaining relationships with Iowa community colleges, being a member of the Critical Incident Response Team and the Gender Inclusion Task Force, and participating on many other committees and leadership teams.
"Jennifer Suchan has been an exceptional leader in her multiple roles at the university, and one who has been broadly impactful, affecting the lives of thousands of students and graduates."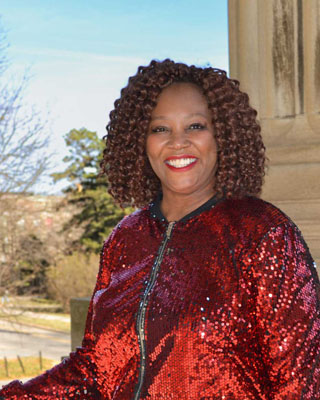 Toyia Younger – Authentic
Toyia Younger, senior vice president for student affairs, has had a significant impact in her short time at Iowa State University. With an authentic commitment to problem-solving, Younger has shown her passion for helping Iowa State students and has been an inspiration to many. Her school spirit and contagious "can do" personality has served to remind students of the importance of Cyclone Pride and in being engaged in the Cyclone community. She radiates positivity even in the most difficult of situations and reminds everyone that to make positive change and progress forward, you must appreciate the good around you and take pride in your community. Arriving at ISU during the COVID-19 pandemic, Younger was tasked with fostering a sense of togetherness between students and the University while maintaining physical distancing regulations. Immersing herself into Cyclone Nation, Younger went above and beyond to visit with student organizations and connect with campus leaders. Through the Student Affairs Student Advisory Board that she created, student leaders from a diverse range of backgrounds and interests have had the opportunity to work together and put their acquired knowledge and experiences to use. Younger has also shown her commitment to students across the United States. She has served as the vice president for leadership development and partnerships at the American Association of State Colleges and Universities, chief diversity officer and associate vice chancellor for student affairs with the Minnesota State Colleges and Universities system, assistant provost at Towson University, and director of student affairs for the Association of Public and Land-grant Universities. Through these positions, she provided representation for women hoping to work in student affairs and touched the lives of countless students.
"I am very grateful to have crossed paths with such a genuine administrator. Dr. Younger is reinventing what relationships can look like between students and those who make big decisions about their college experience."
Published: November 10, 2022