The 2021 Ready to Run Iowa campaign training series wrapped up on April 30 with the final two workshops. Six half-day workshops were offered on Feb. 23, March 23 and April 30 by the Carrie Chapman Catt Center for Women and Politics. Because of the COVID-19 pandemic, all six workshops were offered virtually via Zoom.
"The virtual format worked well, and it allowed some participants and speakers to join us that wouldn't have been able to attend otherwise," said Kelly Winfrey, coordinator of research and outreach for the Catt Center and assistant professor of journalism at Iowa State University. Winfrey organizes the Ready to Run Iowa workshops for the center.
The 2021 series concluded with the workshops "Working With the Media" and "Running as a Woman."
During the morning workshop, Angie Hunt, director of Iowa State University News Service, presented tips on getting camera ready and effectively delivering a message on camera. Hunt also shared tips for creating your own video.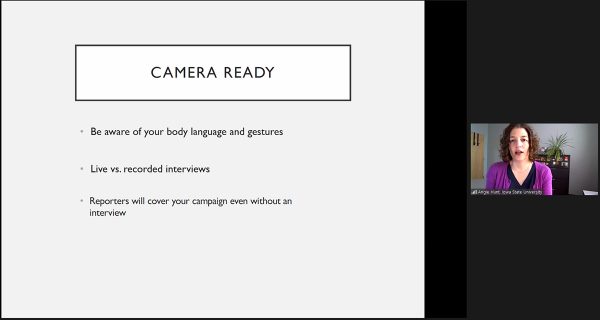 In the second half of the workshop, participants heard from a panel of Iowa journalists that included Kathie Obradovich, editor-in-chief of Iowa Capital Dispatch; Kate Payne, a reporter with Iowa Public Radio; and Dave Price, political director of WHO-TV. The panelists answered questions such as how to gain earned media; the best time to contact news outlets; what makes a good press release; what are the differences in coverage between television, radio and print; and how to prepare for interviews.

"This was insightful and very interesting. I enjoyed how the panelists 'gelled' together and easily communicated amongst each other," a participant said.
In the afternoon workshop, a panel of women who had run for elective office in Iowa shared insights about their campaign experiences. Moderated by Carrie Ann Johnson, a doctoral candidate in rhetoric and professional communication and a graduate research assistant with the Catt Center, the panel included Christina Blackcloud and Andrea Phillips, former candidates for the Iowa House of Representatives; and Mazahir Salih, mayor pro tem of Iowa City.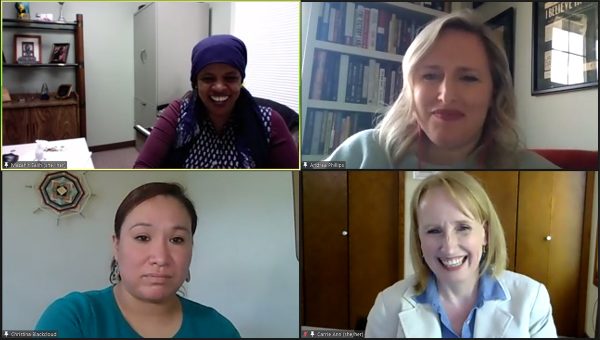 "Hearing about both the shared and unique campaign experiences from such a wonderful panel of women was a great way to see how some of the information presented in previous workshops played out in real Iowa campaigns," said one workshop participant.
In the last session of the afternoon, Winfrey, Johnson and four undergraduate students who are participating in the center's Vertically Integrated Research Project shared preliminary findings from their original research examining gender dynamics in political recruitment, ambition and campaigns in Iowa.
The team sent a survey to Iowans who had run for county or state legislative office in 2020. While other studies have shown that women may view themselves as less qualified even when equally or more qualified than a male counterpart, the Iowa women surveyed did feel qualified, possibly because they were more likely to have interacted with officials as part of their job, served on boards for nonprofits or worked on a campaign. The women also reported more encouragement to run for office than the men, counter to other research that finds that women are less likely to be recruited and encouraged. The survey found that the women surveyed did perceive more challenges for female candidates than the men who were surveyed, but felt that the sexism they encountered was not worse than what they have experienced in other area of their lives.
The third and fourth workshops, "Funding Your Campaign" and "Online Strategy," were held on March 23.
In the morning workshop, Heather Matson, a former Iowa state representative and a public policy advocate and development professional, provided participants with information on developing and implementing a fundraising campaign, including how to make the ask at several donation levels. Cohl Bultje, statewide and legislative auditor at the Iowa Ethics & Campaign Disclosure Board, then discussed rules and regulations regarding campaign fundraising and reporting, assuring participants that the board is always available to answer questions.
In the afternoon workshop, Greg Hauenstein, owner of One Voice Message & Media, shared information on setting up a campaign website, from selecting a development platform to strategies for engaging website visitors.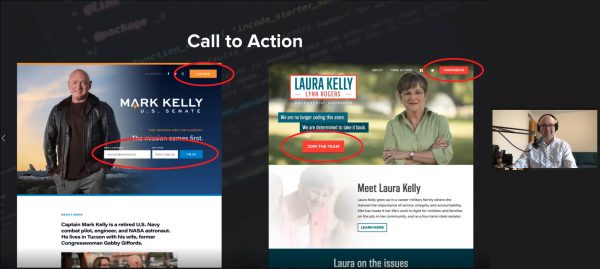 In the second half of the workshop, Ashley Hunt, founder of IAstrategies, covered how to use several social media platforms effectively to reach voters and communicate a campaign message.
"Keep up the great work! These workshops are outstanding," said a participant after the March workshops.
"Ready to Run workshops provide inspiration and practical advice for aspiring office holders," said Karen Kedrowski, center director. "We are fortunate so many Iowans are willing to share their insights with our participants."
The 2021 Ready to Run Iowa campaign training series was sponsored by the Ames Chamber of Commerce, the League of Women Voters of Ames and Story County, and the late Mary Jo and Richard Stanley.
Ready to Run Iowa is a nonpartisan campaign training program to encourage women to run for elective office, position themselves for appointive office, work on a campaign or become involved in public life as leaders in their communities. The Catt Center has offered the program every other year since 2007 and plans to host the program again in 2023.
Published: May 10, 2021