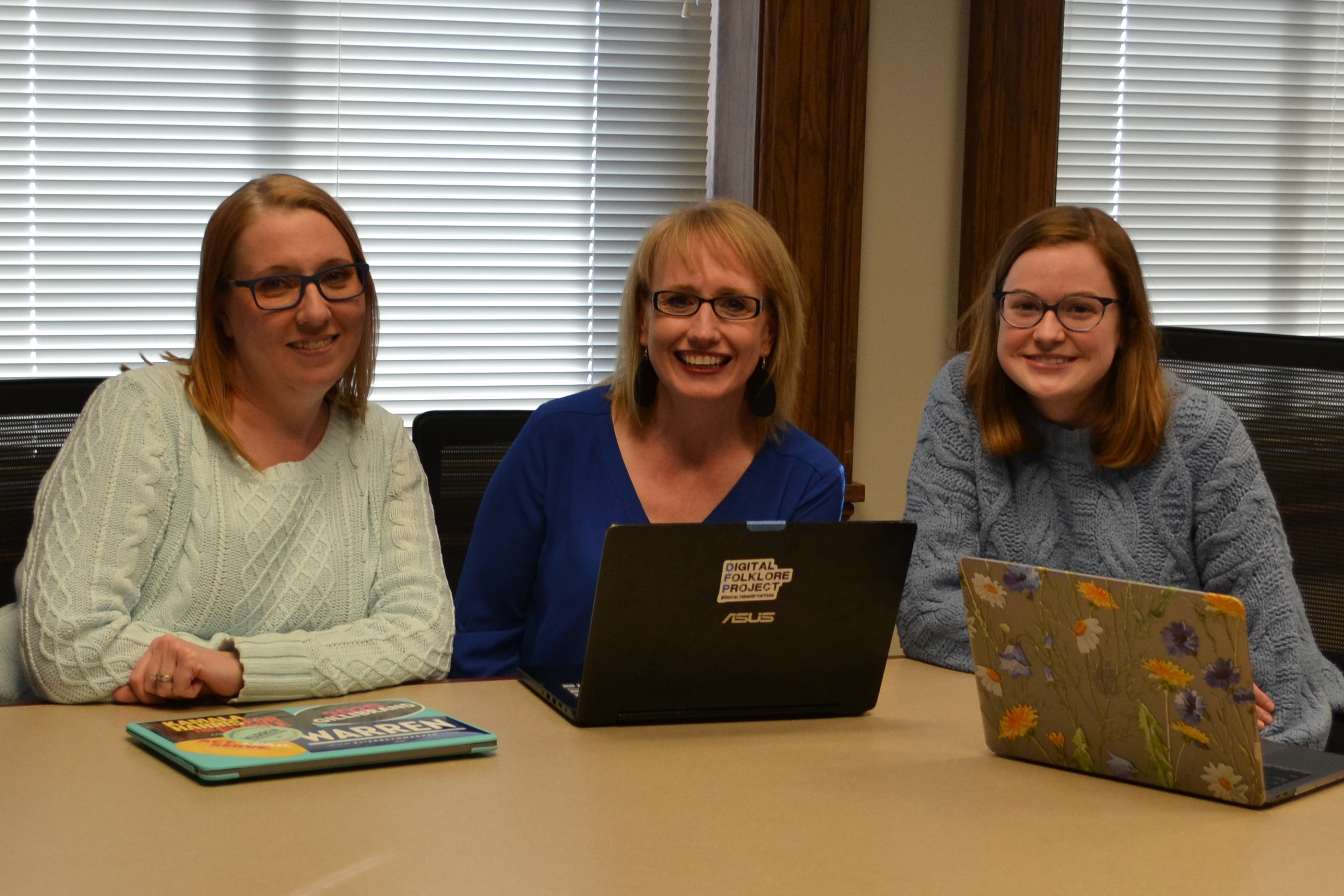 The Carrie Chapman Catt Center for Women and Politics is facilitating a vertically integrated project with undergraduate students to complete long-term, multi-year research projects.
Only a handful of vertically integrated projects are being conducted at Iowa State, and this project is the first for the College of Liberal Arts and Sciences. Other departments with VIP teams are landscape architecture; human development and family studies; genetics, development and cell biology, and chemical and biological engineering.
"Engaging in undergraduate research is a High Impact Practice for students from all backgrounds. It provides an opportunity to apply concepts learned in the classroom to a project outside the classroom," remarked Karen Kedrowski, center director. "The Catt Center is thrilled to provide this learning experience to students."
"The VIP is multi-disciplinary and gives undergraduates an opportunity to participate in scholarly research," said Kelly Winfrey, center research and outreach coordinator and assistant professor in the Greenlee School of Journalism. Winfrey is overseeing the newly-implemented project. "Our hope is that the first- and second-year students we have working with us this semester will continue next year and beyond, and they will be able to take on leadership roles as we bring in new students."
Planning for the VIP started in the spring of 2019, and Anna Slavina, a postdoc research associate working to coordinate the VIP teams, helped to make the project a reality by reaching out and securing partnerships.
"I'm excited to have the opportunity to start a VIP program at ISU," Slavina said. "The VIP model encourages interdisciplinary research; gives undergraduates the opportunity to collaborate across majors and develop research, communication, and leadership skills; and gives faculty the opportunity to work on their long term research interests with enthusiastic students."
Jo Ann Powell-Coffman, associate dean in the College of Liberal Arts and Sciences, is also helping to coordinate the research and is the principal investigator on a Howard Hughes Medical Institute grant, which supports undergraduate research expansion efforts.
"Jo Ann is a supportive and helpful mentor who has enabled and empowered me to bring together this wonderful group of faculty, graduate assistants, postdocs and undergraduates from all around the university to start this interdisciplinary undergraduate research program," Slavina said.
Winfrey, who studies political communication and how gender plays a role in politics, is directing the Catt Center's VIP by guiding the content the students learn about and the details of the project.
"I've given students lists of political candidates to research," Winfrey said. "I'll be training them on how to conduct content analysis of advertisements, and I'll be analyzing the data for publication of our research."
Carrie Ann King Johnson, Ph.D. student in rhetoric and professional communication, is assisting in the coordination of the VIP. King Johnson is in charge of the online course discussions, scheduling meetings, making readings and other materials available on Canvas, and developing and grading the assessments.
"My favorite part of working with undergraduates on this VIP team is seeing how high students can reach when they are given the chance," King Johnson said. "They have focused well on learning all the information they need to get going on the research. For example, they have done multiple readings on women in politics, research methods and theories, and done human subjects training. In addition to the learning, they have done an amazing job on the discussions. From week one they have participated in the caliber of discussions I have seen in graduate seminars. I can't wait to see what they do as they get their hands dirty in the work of research."
They are currently working on two main projects. One project is examining why women decide to run for office and what their experiences are like when they run. They will conduct a survey of women and men to see what similarities and differences exist.
"At some point down the road, we will conduct interviews with women who have run for office," Winfrey said.
The second project is examining the campaign messaging of men and women candidates in their advertising, with a specific focus on how women of color present themselves as compared to white women and men.
The students involved with the VIP are Hannah Brennan, a sophomore in history; Isabelle Kaiser, a sophomore in history; Kathryn Burns, a first-year student in political science and Spanish; Sarah Hannon, a first-year student in marketing; and Stephanie Warnstadt, a first-year in history. Burns, Hannon and Warnstadt are participating in the First-Year Honors Mentoring Program.
"I have had a wonderful experience so far being on the Catt Center's VIP team! I have learned so much already about gender and politics as well as how to conduct research through interviews," Kaiser said. "I am so excited to see where this opportunity takes me and what else I will learn."
The students will publish their work on the Catt Center's website, and they also hope to publish their findings in academic journal articles. Winfrey says she hopes that the students understand and appreciate the research process and continue research with the Catt Center in other areas.
"I'm looking forward to the students going through the research process and seeing the results of their work," Winfrey said. "Some of what we've included in our survey and content analysis is based on the questions they came up with during our readings and discussions, so they will get their questions answered."
One of the challenges, Winfrey said, is adequately crediting students for their work.
"Unfortunately, there isn't one university-wide research credit that students can use to count towards their degree," Winfrey said. "For many of the students, we are giving them course credit through independent studies or through the Honors Program."
Since this is the first VIP for the College of LAS, Winfrey says she hopes they can be a model for others interested in starting a VIP.
"We're doing this for the first time, so we are learning as we go and will improve with each cohort and project," Winfrey said. "If anyone is interested in starting a VIP, we are happy to share what has and hasn't worked for us."
King Johnson echoed Winfrey's concerns. "The biggest hurdles came from being the only LAS VIP team on campus. We were able to get some good ideas from other teams, but we are asking students to do work outside of labs where everything is less controlled. We wanted to make sure they had enough training to walk confidently into surveys, interviews and content analysis as well as a foundational understanding of both qualitative and quantitative research methods," she said.
Published: March 9, 2020