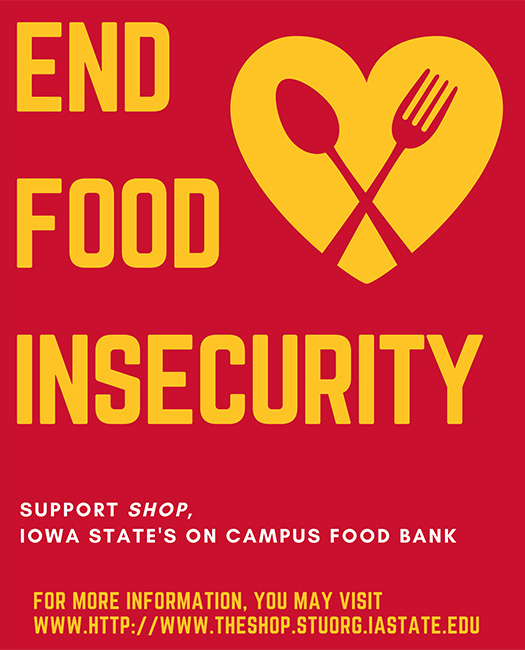 Catt Center director Karen Kedrowski and public relations intern Elyse Davis have learned a lot this spring about food insecurity at Iowa State.
Kedrowski is a member of this year's Emerging Leaders Academy, a leadership development program offered annually by the Office of the Provost. The cohort is divided into several teams who are charged with developing a project that will have sustainable impact on the campus.
Brian Vanderheyden, director of student wellness and ELA member, introduced the team to Students Helping Our Peers (SHOP), an on-campus food pantry for students. The SHOP recently moved to a new, larger space in Beyer Hall.
Vanderheyden's and Kedrowski's ELA team partnered with the ISU Foundation to crowdsource funds to purchase a commercial refrigerator and to make other infrastructure improvements. The team's goal is to raise $4000.
According to a recent survey, about one-quarter of ISU students experience food insecurity. In other words, they skip meals or go hungry because they cannot afford food. Students who experience food insecurity are more likely to fall ill, have difficulty concentrating, work longer hours or miss class, and see their grades suffer.
Nationwide, Black and Latino students and those receiving Pell grants are more likely to experience food insecurity than their peers and to suffer its ill effects. Moreover, few students qualify for SNAP (formerly food stamp) benefits.
"While we might remember midnight pizza deliveries, all-you-can-eat cafeteria buffets and tailgating at football games, the sad reality is that too many of our students don't have enough to eat," remarked Kedrowski.
The Catt Center public relations intern, Elyse Davis, is helping with the marketing plan and publicity materials. "I have loved working with this team. Before the project started, I had never even heard of SHOP," noted Davis, a senior majoring in public relations. "I hope that our work in the month of March will be able to help educate those like me about the resources and great work SHOP is doing for our community," she added.
Several campus leaders, including President Wendy Wintersteen, Provost Jonathan Wickert and Legacy of Heroines scholar and Student Government president Morgan Fritz, recorded short videos endorsing the project.
In addition to Vanderheyden, Davis and Kedrowski, the other team members are Rachel Vos Carrillo, College of Human Sciences; Timothy Shepherd, Department of Agricultural and Biosystems Engineering; Sarah Adams, Ivy College of Business; Austin Viall, College of Veterinary Medicine; and Rita Phillips, ISU Bookstore.
If you would like to donate to The SHOP, you can visit the ISU Foundation website. The ISU Bookstore also allows customers to round up their purchase to the next dollar, with the difference being donated to The SHOP.
Published: March 8, 2021