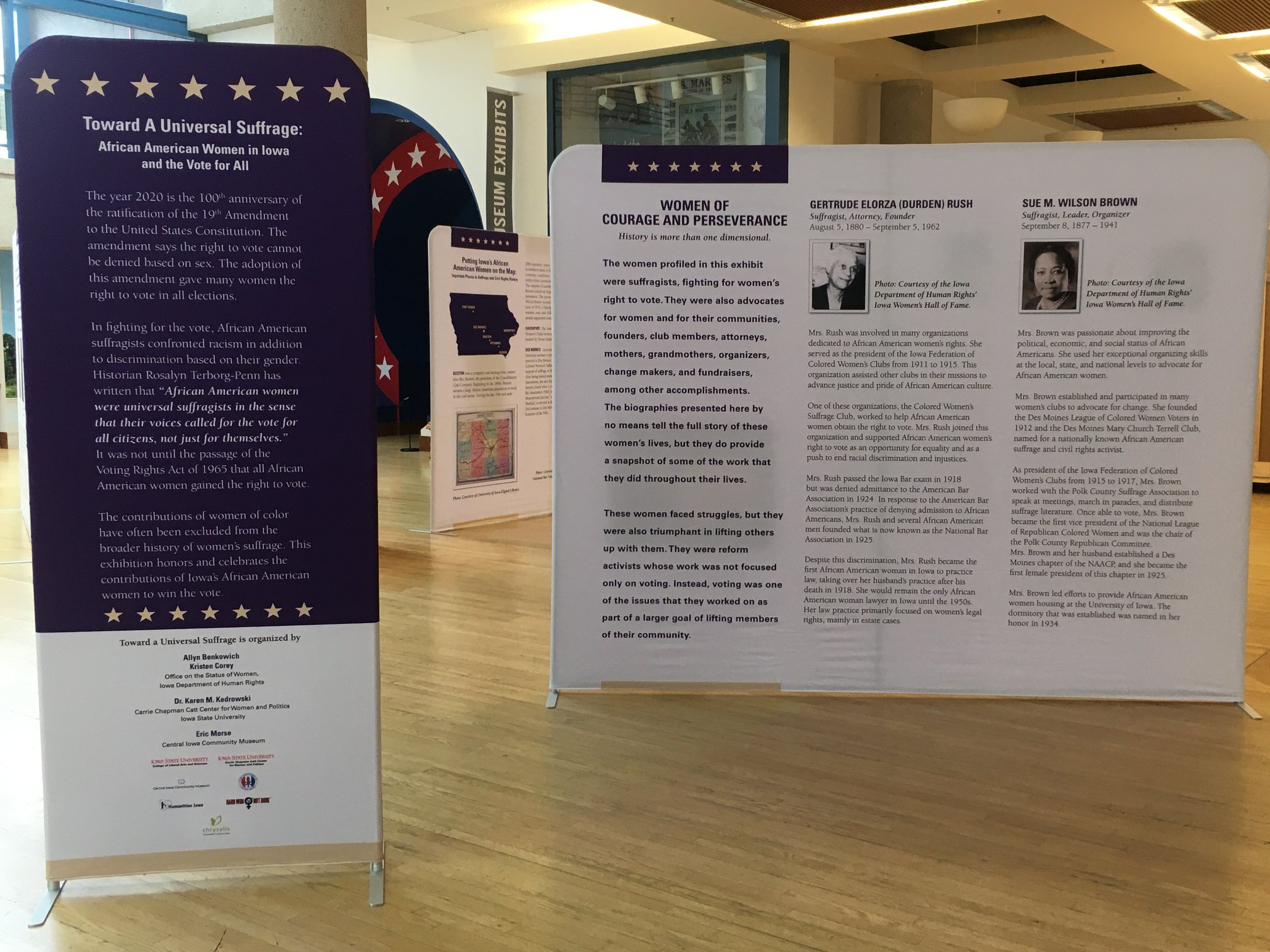 The exhibit "Toward a Universal Suffrage: African American Women in Iowa and the Vote for All," is coming to a venue near you!
This year marks the centennial of the ratification of the 19th Amendment to the Constitution, which guaranteed women suffrage, or the right to vote. African American women played a crucial role in this struggle, advocating for women's suffrage along with civil rights, the end to lynching and other forms of systemized discrimination.
"Toward a Universal Suffrage" documents the contributions of African American women such as Gertrude Rush, Sue M. Wilson Brown, Helen Downey and Vivian B. Smith to the suffrage movement in Iowa. The exhibit is a collaboration between the Iowa Department of Human Rights' Office on the Status of Women, the Central Iowa Community Museum and the Carrie Chapman Catt Center for Women and Politics at Iowa State University.
The exhibit, which debuted at the Hard One Not Done 19th Amendment Centennial Kickoff at Iowa State University on Feb. 14 and was displayed at the 2020 Thomas L. Hill Iowa State Conference on Race and Ethnicity (ISCORE) on March 6, is available for display in museums and public libraries and at other organizations and events statewide.
Due to the COVID-19 pandemic, many 19th Amendment anniversary celebrations across the state were postponed or cancelled and public buildings were temporarily closed, delaying the exhibit's tour for several months. The opening of the exhibit at the State Historical Museum of Iowa on June 30 marked the re-start of the tour.
The exhibit will be on display at the State Historical Museum through Aug. 2. Following that, the exhibit will be available at multiple locations across Iowa throughout the fall and winter, with openings still available for other organizations wishing to host the exhibit in their communities.
The exhibition schedule and a portal to request hosting this exhibit can be found on the Central Iowa Community Museum website.
Funding for "Toward a Universal Suffrage" was provided by the Iowa State University College of Liberal Arts and Sciences, Humanities Iowa, the National Endowment for the Humanities and the Chrysalis Foundation.
Published: July 14, 2020