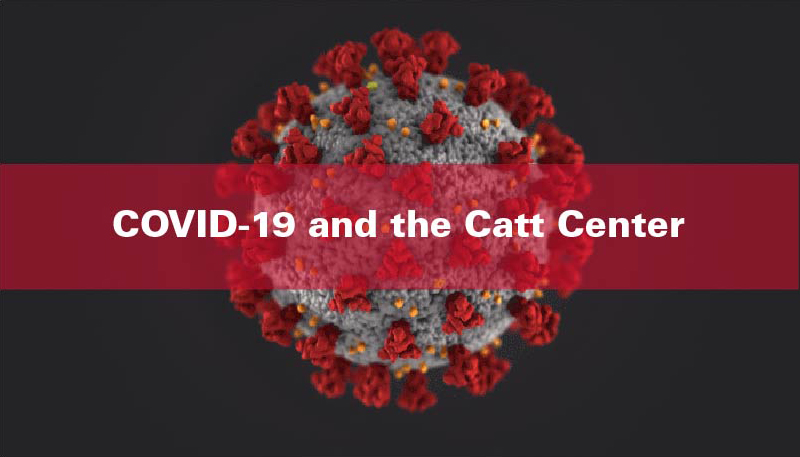 As many of you are aware, due to the COVID-19 pandemic the Catt Center office has been closed and the staff working remotely since mid-March, following the University's decision to encourage campus offices to accommodate flexible work arrangements to maximize social distancing.
In addition, the University made the difficult decision to move all spring semester classes online and cancel, postpone or move all university events online through May 31. Since that time, all summer session classes were also moved online.
In addition to the closure of the Catt Center office, a lecture by historian Marjorie Spruill that the Catt Center had scheduled for April 6 was cancelled, and a number of speaking engagements in March, April and May by Karen Kedrowski, center director, were affected.
The Catt Center staff, faculty and student interns have continued to work remotely, keeping the essential functions of the center going and making plans for the fall semester. We have joined the legions of people around the world using video conferencing to keep in touch with each other and with our campus and off-campus community.
You can reach the Catt Center staff by emailing us at cattcntr@iastate.edu or at our individual email addresses, or by leaving a message on the Catt Center voicemail at 515-294-3181. We are monitoring the center's email and voicemail accounts every weekday, and will respond as quickly as possible.
Currently, the University is planning on a full, normal operation for the fall 2020 semester, including in-person classes, reopening of residence halls, food service and other campus services. You can visit the COVID-19 Response page on the University website for the latest information.
We look forward to returning to campus and hope that many of you are able to join us at one or more events this fall. You can check the Events page on our website later this summer as we begin to post information about our fall 2020 and spring 2021 programming.
Published: May 11, 2020