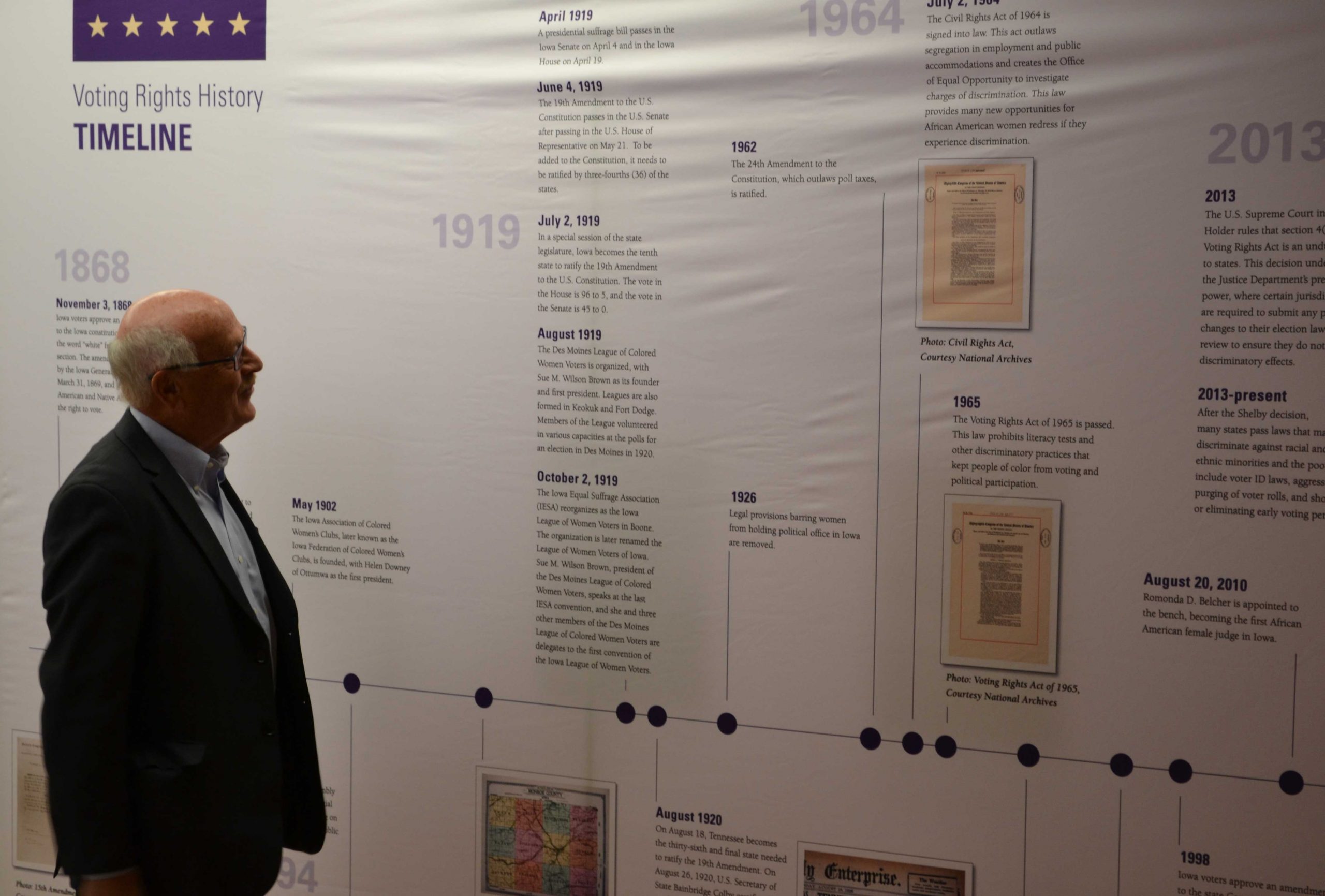 A new exhibit documenting the contributions of African American women to the suffrage movement in Iowa is now available for display in museums and public libraries and at other organizations and events statewide.
The product of a collaboration between the Iowa Department of Human Rights' Office on the Status of Women, the Central Iowa Community Museum and the Carrie Chapman Catt Center for Women and Politics at Iowa State University, "Toward a Universal Suffrage: African American Women in Iowa and the Vote for All" highlights the contributions of African Americans in Iowa to the suffrage movement.
"Over the last several years, we have been working with partners across the state to put this exhibit together using primary source documentation," said Kristen Corey, staff member at the Iowa Department of Human Rights' Office on the Status of Women. "Thanks to the hard work and passion of all of our collaborators, we hope this exhibit will add to the discussion around voting rights for women in the state of Iowa and throughout the nation."
This year marks the centennial of the ratification of the 19th Amendment to the Constitution, which guaranteed women suffrage, or the right to vote. About a half million African American women lived in states that did not restrict voting rights by race and were enfranchised in 1920, including African American women living in Iowa.
"Part of the mission of the Central Iowa Community Museum is to engage people in inclusive dialogues and to advocate for an increase in our democracy," said Eric Morse, founding director of the Community Museum. "'Toward A Universal Suffrage' celebrates African American women's contributions to the suffrage movement and reminds us that access to the ballot remains as important today as it was in 1920."

African American women played a crucial role in this struggle, advocating for women's suffrage along with civil rights, the end to lynching and other forms of systemized discrimination. Among these activists in Iowa were Gertrude Rush, Sue M. Wilson Brown, Helen Downey and Vivian B. Smith.
"The Carrie Chapman Catt Center is honored to be a part of this exciting project and to help recognize the work of these talented, passionate Iowans," said Karen Kedrowski, director of the Catt Center.
The exhibition schedule and a portal to request hosting this exhibit can be found on the Central Iowa Community Museum website.
Funding for "Toward a Universal Suffrage" is provided by the Iowa State University College of Liberal Arts and Sciences, Humanities Iowa, the National Endowment for the Humanities and the Chrysalis Foundation.
Published: March 9, 2020