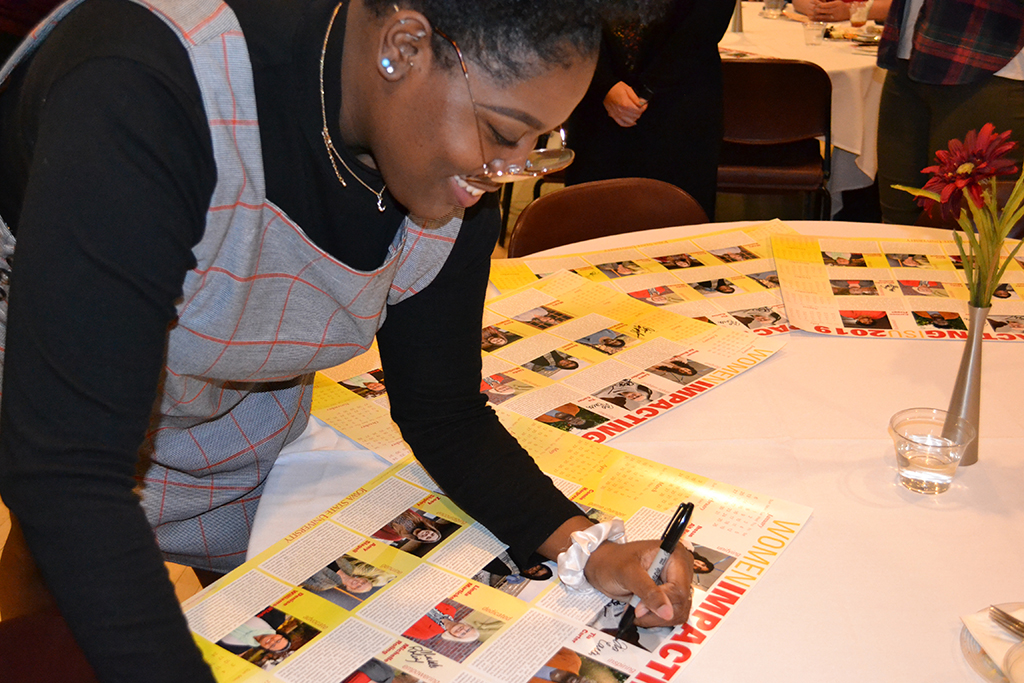 Nominations are being accepted for the 2020 Women Impacting ISU calendar through Friday, Sept. 27, until 11:59 p.m.
The online nomination form for the 2020 calendar is available on the Catt Center's website.
The annual calendar was created in 2007 and highlights the accomplishments and achievements of 12 women currently on the Iowa State campus as students, faculty, professional and scientific and merit staff. The calendar is open to individuals who identify as a woman, which includes women who are cisgender, trans, and of trans experience.
"We encourage folks to nominate women who have impacted Iowa State through outstanding service to their unit(s), campus involvement, in the classroom or community relationships; and who inspire women of all generations," said Kristine Perkins, who oversees the nomination, selection, publication and recognition process as the public relations/student programs coordinator at the Carrie Chapman Catt Center for Women and Politics.
Selections are made by a committee comprised of previous honorees, past nominators, students and staff and faculty members from various fields across campus. The selection committee specifically look at the nominees' achievements in administration, teaching, research and service as well as their involvement in various campus activities and mentoring.
"It never fails that the committee has a tough time narrowing the pool to just 12 women," Perkins said.
Funding for the 2020 calendar is provided by Iowa State's Office of the Vice President for Diversity and Inclusion. Catt Center staff and students publicize and collect the nominations; organize the recognition reception in January of each year; and design, order and distribute the calendars.
Women faculty and staff must be employed by Iowa State University for the 2020 calendar year to be eligible for nomination. Seniors graduating in May 2020 may be nominated.
If you are interested in nominating a woman, you do not need to be employed by Iowa State or work on campus to submit a nomination.
Should you have questions about the calendar nomination process, contact the Catt Center by emailing cattcntr@iastate.edu or calling Perkins at (515) 294-9867.
Published: September 18, 2019