"Is this heaven? No, it's Iowa!" So goes the famous quote from the popular U.S. movie "Field of Dreams," which is set in Dubuque County, Iowa. Although the state may not match that divine description, Iowa does become a political heaven every four years in advance of the Iowa caucuses.
When I moved to Iowa in 2003 to join the faculty at Iowa State University, I did not fully realize the significance of the state's first-in-the-nation caucus. As a foreign national at the time, I was unaccustomed to this democracy-on-the-ground model, reminiscent of the retail politics of the past. But as a political communication scholar, I found it truly fascinating to observe everyday citizen engagement with high-profile national political figures and to research the role of social media in the process.
Fast forward to 2019 and this is my sixth caucus cycle in Iowa. I have had the chance to chat with Hillary Clinton, track the rise of Barack Obama, see young crowds drawn to Bernie Sanders' rallies and witness the resonance of Donald Trumps' populist rhetoric among everyday Iowans. What is clearly different this caucus cycle is the large number of candidates running for the Democratic nomination—a total of 24!
Another noteworthy difference in this cycle is, of course, the unprecedented number of women candidates vying for the presidential nomination. In fact, in summer 2019, more women are running for a single party's nomination than ever before in U.S. history—six out of the 24 Democrats who have officially declared. It has been fascinating to observe the range of female candidates such as U.S. senators Amy Klobuchar of Minnesota or Kirsten Gillibrand of New York and to see their distinct styles as well as policy differences on the campaign trail. And that is perhaps the biggest challenge in this already crowded Democratic field—how to distinguish oneself as a candidate. We know voters will be looking for that as they meet the candidates across the state—at airports, coffee shops, barns and breweries—and try to winnow their selection.
As friends and neighbors attend candidate events across Iowa, they are not only able to see the candidate "in action" on the ground, but have the unique opportunity to interact one-on-one—for example, to ask a question or take a selfie to share on social media. The candidates themselves seem to enjoy these interpersonal interactions and hope that the additional visibility gained through social media channels will create momentum and inch them closer to the coveted nomination.
Although our research on social media in previous caucuses has shown little direct impact on voter participation and caucus attendance, per se (Dimitrova & Bystrom, 2017; Dimitrova & Bystrom, 2013), it seems like social media has become much more prominent among Iowans in 2019. Twitter, Facebook and Instagram have been especially useful for creating word-of-mouth buzz before, during and after candidate visits in the state. Social media allows you to quickly share events and send reminders to potential supporters. Some research indicates that social media has the potential to disrupt gender bias when a woman opposes a man in statewide elections for office (McGregor & Mourão, 2016). It also keeps candidates on the trail accountable for any "gaffes" that tend to spread quickly online. Just think about the unflattering photo of Joe Biden hovering over an Iowa woman as she challenged him with a question, an interaction that entered the Twitterverse seconds later.
Social media have also emerged as key vehicles for getting individual donations to qualify for the TV debates during this cycle. According to the Democratic National Committee, one of the ways to qualify is for each participant to show a minimum of 65,000 unique donors—raised to 150,000 for later debates—to their campaign. This type of donor support is especially critical for the women candidates. But thanks to companies such as ActBlue, you can make an online donation to a candidate with just a few quick mouse clicks. As we await the first primary debates scheduled for June 26 and 27, it will be interesting to watch the performances of those who took multiple trips to the state of Iowa. Three female candidates are scheduled to appear on June 26 while the other three will be on stage on June 27. The goal for the TV debates will remain the same as on the ground—to deliver a clear message and distinguish oneself from the crowded field of contestants.
Some skeptics might say that the caucuses are nothing more than staged media events—sometimes with gatherings of as many journalists as people who come to show support for a particular candidate. Nevertheless, these events give the public across Iowa—and all over the U.S.—a glimpse of how candidates connect with voters one-on-one and which of their messages strike a chord with the American public at the start of the presidential nomination contest.
Every four years, the news media resurrects the argument of ending the Iowa caucuses, primarily because of its demographics. Michele Cottle, a member of the New York Times editorial board, labeled the state "too old, too rural and far too white to wield such clout" (June 11, 2019). That may be true but misses the point of the caucus. As much as the media cover the candidates, in legacy and digital media, they capture how those who would lead us interact interpersonally with teachers, construction workers, health professionals and, yes, farmers. Farmers whose fields are truly ones of dreams—for those who come here and pass our litmus test.
---
Resources:
Cottle, Michele (June 11, 2019). Take the Iowa Caucuses. Please. "The New York Times"; https://www.nytimes.com/2019/06/11/opinion/iowa-caucuses.html.
Dimitrova, Daniela V. & Bystrom, Dianne G. (2017). The role of social media in the 2016 Iowa caucuses. "Journal of Political Marketing." DOI: 10.1080/15377857.2017.1345847.
Dimitrova, Daniela V. & Bystrom, Dianne G. (2013). The effects of social media on political participation and candidate image evaluations in the 2012 Iowa caucuses. "American Behavioral Scientist," 57(11), 1568-1583.
Shannon C. McGregor, Rachel R. Mourão (2016). Talking politics on Twitter: Gender, elections, and social networks. "Social Media + Society," 2(3), 1–14. https://doi.org/10.1177/2056305116664218.
"The New York Times" (June 14, 2019). Who is running for president in 2020? https://www.nytimes.com/interactive/2019/us/politics/2020-presidential-candidates.html.
---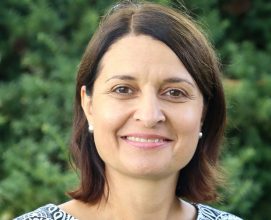 Daniela Dimitrova, Ph.D., is a professor at the Greenlee School of Journalism and Communication at Iowa State University. Her research interests include political communication, cross-cultural journalism studies and media framing of politics. Her recent work focuses on the impact of social media on political knowledge and civic engagement as well as refugee communications. Dimitrova's scholarly record includes more than 50 peer-reviewed publications in leading journals such as "Communication Research," "Journalism & Mass Communication Quarterly," "New Media & Society," "Press/ Politics," "International Communication Gazette," "Journalism Studies" and the "Journal of Computer-Mediated Communication." She has served as guest editor for special issues of the "Journalism & Mass Communication Quarterly" and the "American Behavioral Scientist." Dimitrova is the recipient of multiple awards, including the College of Liberal Arts and Sciences Excellence in Graduate Mentoring and International Service Award from Iowa State University. She is featured on the Women Impacting ISU 2018 calendar. Dimitrova currently serves as chair of the Iowa State Committee for the Advancement of Women and Gender Equity and a university liaison to the Iowa Network for Women in Higher Education (IOWAWHE). You can follow her research at https://scholar.google.com/citations?user=lgb6sPQAAAAJ&hl=en and https://www.researchgate.net/profile/Daniela_Dimitrova4.
Published: June 26, 2019