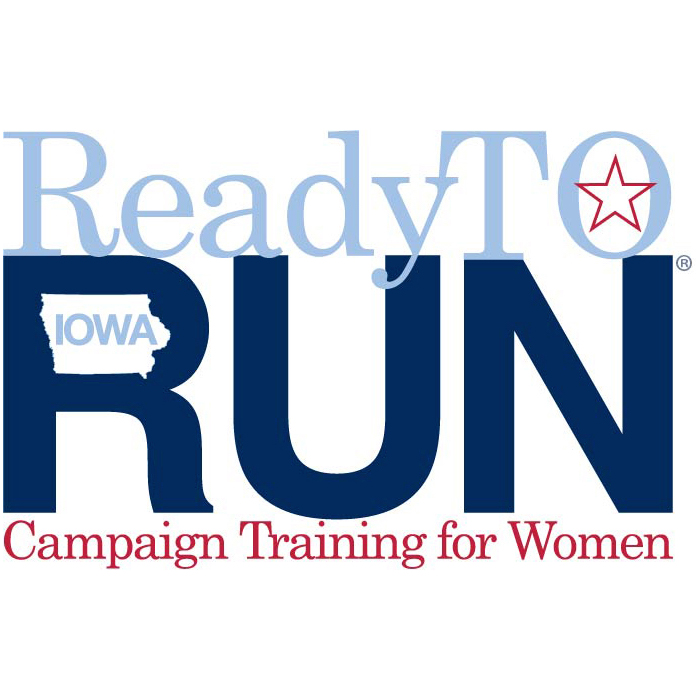 Six Ready to Run Iowa: Campaign Training for Women workshops were offered on Feb. 15, March 29 and April 19 by the Carrie Chapman Catt Center for Women and Politics.
"We had a wonderful group of participants whose names will likely appear on ballots soon," said Kelly Winfrey, coordinator of research and outreach for the Catt Center and assistant professor of journalism at Iowa State University. "We are also extremely thankful to all of the accomplished speakers that volunteered their time and shared their expertise with the Ready to Run participants."
The 2019 workshop series concluded on April 19 with "Communicating With Media and Voters" and "Campaigning Online." During the morning session, participants heard from "Direct Contact With Voters" panelists Diedre DeJear, 2018 candidate for Iowa's Secretary of State; Christine Hensely, former member of the Des Moines City Council; and Jeanina Messerly, organizer for The Latino Political Network.
Attendees then developed a stump speech and were able to practice in front of a camera during a mock interview with Iowa State News Service communications specialist Angie Hunt and videographer Dave Olson. Hunt previously worked as a news reporter for the CBS affiliate KCCI-8 of Des Moines, Iowa.
To conclude the morning session, Caroline Cummings, Iowa politics reporter for KGAN, KMEG, KTVO, KPTM and KHQA and Kathie Obradovich, opinion editor for the Des Moines Register, answered questions about working with the media.
During the afternoon session, participants learned how to build a website and effectively use social media platforms such as Facebook and Twitter in a campaign. A campaign strategist and elected official discussed how they used online communication and provided suggestions for future candidates. Speakers leading the afternoon session were Greg Hauenstein, digital director for John Delaney for President; Sam Roecker, Iowa state director for Hickenlooper 2020; state Sen. Claire Celsi, district 21; and Ashley Hunt, partner with LS2group.
For those that were unable to attend the workshops, workshop training materials are available on the Catt Center's Ready to Run® Iowa website.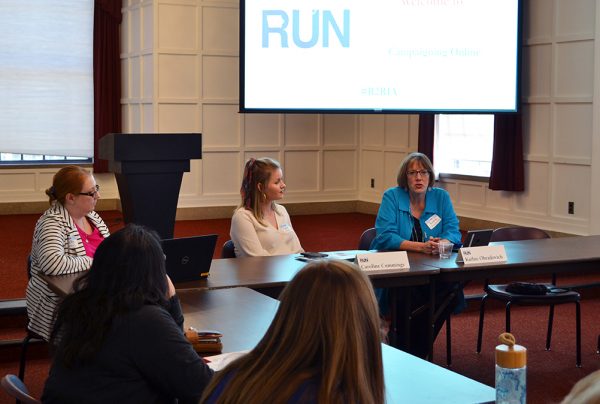 "This year's Ready to Run speakers were inspiring. They generously shared their stories and insights while providing practical tips and advice. Likewise, this year's participants were diverse, engaged and deeply committed to their communities. Together, they show the future for women in politics in Iowa is bright," said Karen Kedrowski, Catt Center director.
The 2019 Ready to Run Iowa sponsors were: the Ames Chamber of Commerce; Dianne and Keith Bystrom, Plattsmouth, Nebraska; the League of Women Voters of Ames and Story County; former Lt. Gov. of Iowa Sally Pederson, Des Moines, Iowa; Amy Slagell, Ames, Iowa; and the late Mary Jo and Richard Stanley.
Ready to Run Iowa is a nonpartisan campaign training program to encourage women to run for elected office, position themselves for appointive office, work on a campaign or become involved in public life as leaders in their respective communities. The Catt Center has offered the program every other year since 2007 and plans to host the program again in 2021.
Published: May 14, 2019