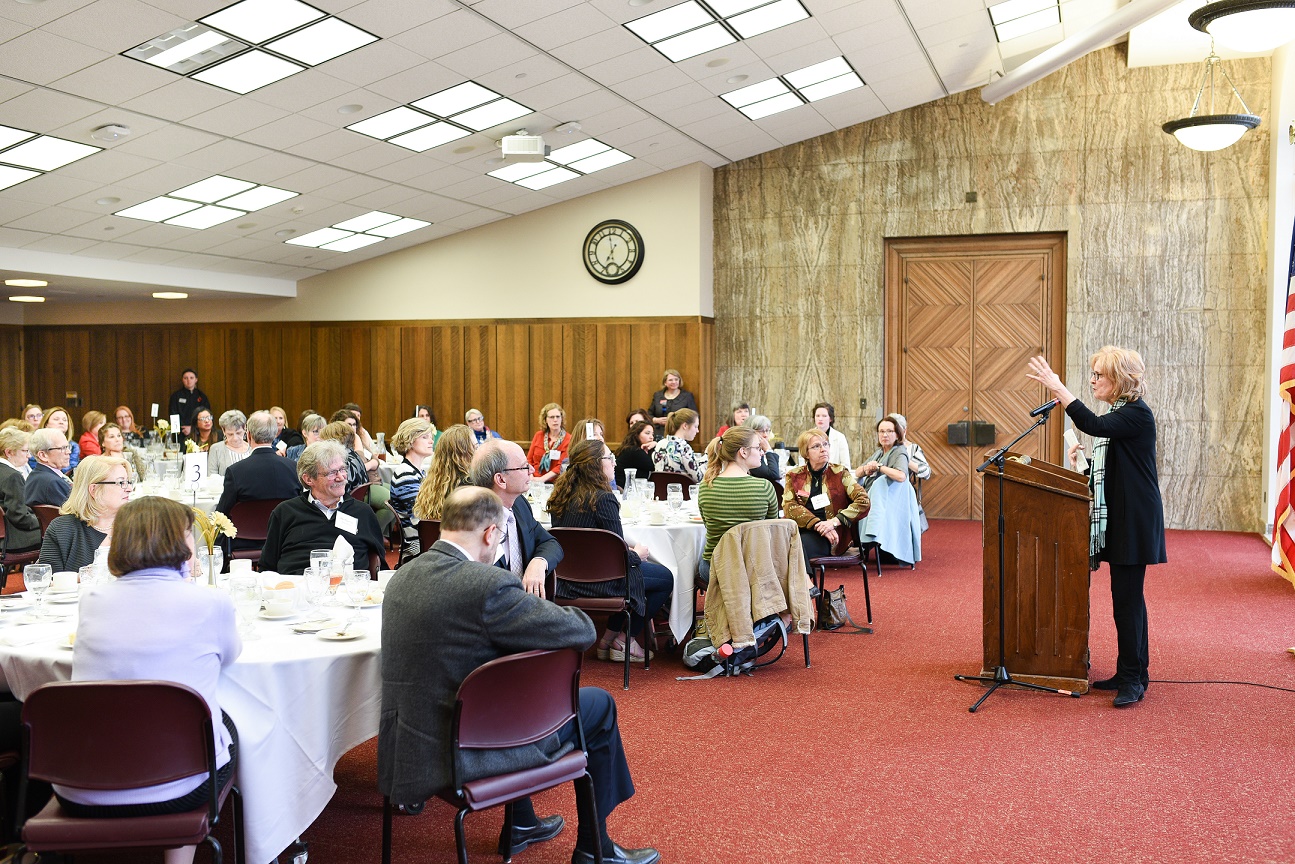 On April 1, investigative journalist Florence George Graves visited Iowa State University as the 2019 Mary Louise Smith Chair in Women and Politics, which is hosted by the Carrie Chapman Catt Center for Women and Politics. She discussed sexual misconduct in politics and her investigations that led to the forced removal of an elected official and legislation.
Graves is the founding director of the Schuster Institute for Investigative Journalism at Brandeis University. The institute's reporting has impacted laws, corporate and government policy, and its staff has won numerous awards under Graves' leadership.
"Florence is an example of steadfast pursuit of the truth in the face of long odds and the belief that sexual misconduct was distasteful but trivial. She shared the stories of brave women who were willing to risk their careers and reputations to hold people in power accountable," said Karen Kedrowski, director of the Catt Center.
As part of her visit to Iowa State, Graves held a question-and-answer session with invited students before the public lecture. Graves asked each student to discuss gender discrepancies in their major and/or choice of profession. Each student—male and female—was able to give at least one specific example of gender discrimination either in the classroom or in a professional internship setting.
Following the student session, the Catt Center held a private reception and dinner where invited guests were introduced to Kedrowski, who began her new role as director Jan. 2, 2019.
Guests were also able to ask questions of Graves before her lecture.
Grace Tuzik, the center's public relations and event planning Intern, introduced Graves in the Sun Room of the Memorial Union as "a groundbreaking investigative journalist" and "a force to be reckoned with."
Graves' lecture, "#MeToo–Why Has it Taken So Long," revolved around her experiences reporting on social justice in the White House. Graves investigated U.S Sen. Bob Packwood's sexual misconduct allegations in the 90s, which ultimately led to his forced resignation and the 1995 Congressional Accountability Act. Graves also discussed the Anita Hill/Clarence Thomas case and the relevance of the #MeToo movement.
Graves says she feels we still have work to do.
"It's been 99 years since women got the right to vote. That's really not that long ago. Just as the right to vote was a fight, so is the willingness of people to listen to women who come forward," Graves said.
The Mary Louise Smith Chair in Women and Politics was established in 1995 to honor its namesake, Mary Louise Smith. Smith was the first woman to chair the Republican National Committee, and dedicated her life to civic, government and community affairs. This event brings political activists, leaders and scholars to Iowa State once or twice a year to share their stories and inspire students with their experiences.
Published: May 14, 2019