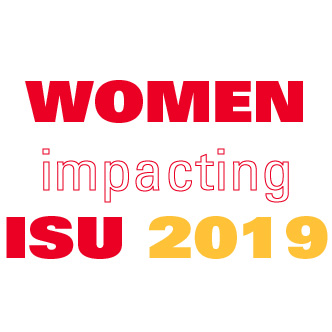 Women whose leadership has made a difference at Iowa State University will be honored by the Carrie Chapman Catt Center for Women and Politics during a reception on Jan. 16.
The 2019 calendar will be unveiled during a reception recognizing the 12 honorees from 3:30-5 p.m. in the Sun Room of the Memorial Union. A formal program will begin at 4 p.m. The reception is open to the public. During and after the reception, 750 copies of the calendar will be distributed for free.
The Women Impacting ISU calendar includes photographs of the three students and nine faculty and staff members who were chosen by a selection committee based on their achievements in teaching, research, service, administration and various other campus activities.
Students selected for the 2019 calendar are: Ihssan Ait Boucherbil, senior in chemistry; Tia Carter, junior in kinesiology and health; and Zoey Shipley, senior in political science.
Faculty selected are: Connie Hargrave, associate professor in the School of Education; Brenda Jones, university professor of art and visual culture; and Mayly Sanchez, associate professor of physics and astronomy; and Amy Slagell, associate dean for the College of Liberal Arts and Sciences.
Staff chosen for the calendar are: Laura Bestler, program coordinator II with the Center for Excellence in Learning and Teaching; Carmen Flagge, multicultural liaison officer for the College of Human Sciences; Linda Marticke, intramural sports programmer in the Recreation Services Department; Michelle Roling, senior staff counselor with the Student Counseling Service; and Denise Williams-Klotz, assistant director of the Office of Multicultural Student Affairs.
The Catt Center sponsors the calendar with funding provided by the Office of the Vice President for Diversity and Inclusion. One student, five faculty, seven professional and scientific employees, and one merit employee comprised the 12-member selection committee this year, representing Iowa State in a diverse, cross-campus team.
Calendars will be available around campus for anyone who would like one. The locations will be announced after the reception.
Published: January 14, 2019