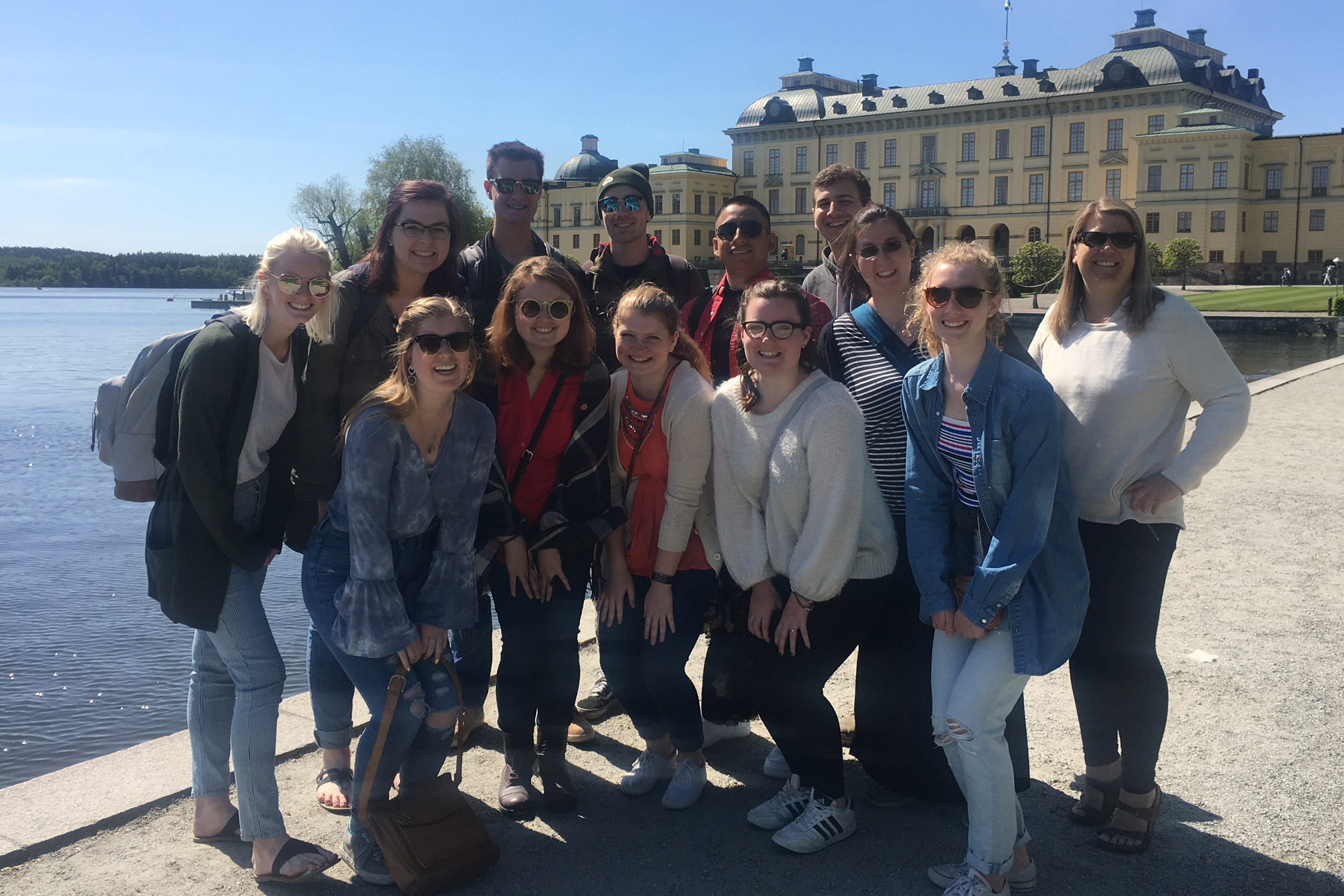 From May 9 to June 2, 12 Iowa State University students and one lecturer participated in the fourth global leadership study abroad trip to Stockholm, Sweden. This study abroad experience is offered through the Leadership Studies Program, which is currently coordinated by the Carrie Chapman Catt Center for Women and Politics.
While in Stockholm, the students were enrolled in LD ST/W S 333, "Women and Leadership," taught by Tara Widner, a lecturer in leadership studies at Iowa State.
Classroom instruction was held on the campus of the KTH Royal Institute of Technology, one of Europe's leading technical and engineering universities. The Iowa State students interacted with KTH university students, faculty and staff during their visit. The group also toured Uppsala University, which was founded in 1477 as the oldest Nordic university, and the university's library, founded in 1620.
"The global leadership study abroad trip to Sweden is a wonderful opportunity for students to not only learn about gender equality and leadership in a global setting, but also see it in action," Widner said. "Throughout our month in Sweden, the students had amazing instances to reflect on their leadership as well as the leadership and gender paradigms they were seeing in Sweden."
The group learned about Swedish politics, history and culture by visiting such locations as the Vasa Museum, Skansen open air museum, Royal Palace, Parliament (Riksdag), Nordic History Museum, Living History Forum, Drottningholm Palace, Stockholm City Hall and Nobel Museum. The students also had free time to visit additional historical and cultural destinations of their choice.
"The tours of museums and government buildings were extremely valuable to my experience in Sweden," said Rachel Ethell, senior in liberal studies with a minor in leadership studies. "I learned so much about how different the world is outside of the United States. Sweden is amazing and really has altered the way that I view myself as an active member of society as well as how I view the world around me."
During their stay, the students also visited the Centre for Advanced Studies in Leadership at the Stockholm School of Economics and participated in a workshop and volunteer opportunities with Individuell Människohjälp, an NGO focused on the integration of "newly arrived Swedish."
"This trip has been the trip of a lifetime. I have seen what the ideas that are talked about in my women and gender studies class look like in practice," said Annika Hogstrom, junior in women's and gender studies and political science. "It was an amazing experience and I am so thankful that I was able to go on this trip."
The students selected for the trip represented majors in four colleges – Business, Design, Engineering, and Liberal Arts and Sciences – and ranged from first-year students to seniors. Three of the 12 students are also enrolled in Iowa State's Leadership Studies Program.
The students participating in the 2018 global leadership study abroad program were: Anthony Alvarado, sophomore in mechanical engineering; Ty Cassutt, senior in advertising; Katie Cloud, senior in English; Ethell, senior in liberal studies with a minor in leadership studies; Julia Hertaus, junior in community and regional planning with a certificate in leadership studies; Hogstrom, junior in women's and gender studies and political science; Emma Liewer, sophomore open-option student; Quinn Longueville, first-year student in pre-business; Emma Paskey, sophomore in software engineering; Carrie Peterson, sophomore in chemical engineering; Thomas Simon, senior in chemical engineering; and Sarah Walker, senior in anthropology and sociology with a certificate in leadership studies.
All 12 students in the program received a $750 tuition waiver scholarship from the College of Liberal Arts and Sciences. In addition, the students received scholarships totaling $20,750 from the Stanley Global Leaders fund supported by the late Mary Jo and Richard Stanley of Muscatine, Iowa.
"The trip allowed me to travel outside of the United States for the first time and not only see a new place, but learn new things as well," Cassutt said. "I was able to gain new perspectives on leadership and on society from this experience. It has been life-changing."
Published: July 16, 2018