More than 3,800 women have been honored in the Plaza of Heroines, located in front of Carrie Chapman Catt Hall on Iowa State University's central campus. In honor of Mother's Day, this issue of Voices features a mother, daughter and granddaughter from one family who all attended Iowa State.
If you are interested in purchasing a brick or a paver to honor a heroine in your life, fill out the online order form or contact the Carrie Chapman Catt Center for Women and Politics by calling 515-294-3181. To add or edit a narrative or photograph in the profile of a woman you have previously honored on the plaza, email the Catt Center at cattcntr@iastate.edu or mail your submission(s) to 309 Carrie Chapman Catt Hall, 2224 Osborn Drive, Iowa State University, Ames, IA, 50011-4009.
Jennie McElyea Beyer
Jennie McElyea Beyer was born in Lee County, Illinois, on Nov. 5, 1861, and moved to Iowa with her parents when she was six-years-old. They settled in Ames on the McElyea homestead at Beach Avenue and Lincoln Way, where today C.Y. Stephens Auditorium probably occupies a portion of that homestead.
After graduating from Iowa State College in 1879, Beyer taught in a one-room school house, riding a horse to and from school each day. In 1882, she married Harry B. Beyer and moved to Rock Valley, Iowa, where he was in the lumber business.
The Beyers had three daughters: Harriet (1886), Genevieve (1887) and Winnifred (1890). Beyer returned to Ames with her daughters after the death of her husband in 1892 and lived there the rest of her life.
Beyer was a civic leader who served on many boards and committees. She was president of the Ames Women's Club, served on the Missions Board of the state organization of the Methodist Church, was head of the Des Moines Conference of the Women's Foreign Missionary Society of the Methodist Church of Iowa for 15 years, and served as president of a P.E.O. chapter in Ames.
Beyer passed away in 1940. She was honored in the Plaza of Heroines by her granddaughter, Jean B. Stange.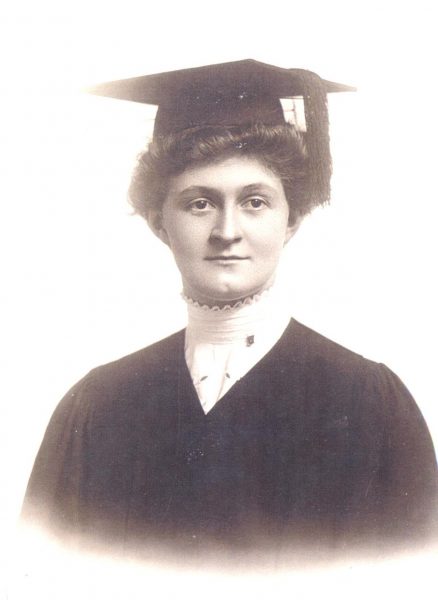 Harriet Beyer Stange
Harriet Beyer Stange was born on March 28, 1886. She graduated from Ames High School in 1903 and from Iowa State College in 1907 with a Bachelor of Science degree. She taught for the Iowa Extension Service from 1908 until Oct. 20, 1909, when she married her Iowa State classmate, Charles Henry Stange, who earlier that year had become dean of veterinary medicine at Iowa State.
The Stanges had three children: Robert (1913), Elizabeth Jane (1916) and Jean Beyer (1920).
Stange was active in the Ames community. A member of Delta Delta Delta sorority, she was president of the Faculty Women's Club and of the Ames chapter of the American Association of University Women. In 1927, she served as state president of the P.E.O. Sisterhood.
Upon the death of her husband in 1936, Stange became hall director of Iowa State's new Maria Roberts dormitory and was in charge of Iowa State's Off-Campus Housing Office at the end of World War II.
In the early 1950s, Stange moved to Knoxville, Tennessee, where her daughter Jean was on the faculty of the University of Tennessee. She became housemother at Sigma Nu fraternity, briefly leaving that position when her daughter moved away, but returning and remaining until her death in 1959.
Stange was honored in the Plaza of Heroines by her daughter Jean B. Stange.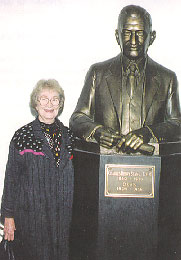 Jean Beyer Stange
Jean Beyer Stange was born in Ames, Iowa, on June 7, 1920.
Stange received her Bachelor of Science degree in applied art from Iowa State in 1943 and her Master of Arts degree from the University of Minnesota in 1945. She taught at the University of Tennessee, Michigan State University and the University of Wisconsin before joining the faculty at Arizona State University, where she served until her retirement in 1983.
Stange was a juried member of the Southern Highland Handicraft Guild and served as president of the central chapter of Arizona Designer-Craftsmen. After her retirement, she remained active as a member of the Arizona Designer-Craftsmen and as a docent at the Arizona State University Art Museum.
Working particularly in the fiber arts, Stange's work has been exhibited in national, state and local juried museum shows. Her work has been selected to hang in the national headquarters of the American Association of Family and Consumer Sciences in Washington, D.C., in architectural firms and in private homes.
In the photo, Stange is standing next to the bronze bust of her father at the College of Veterinary Medicine at Iowa State University.
Stange passed away on Oct. 2, 2008. She was honored in the Plaza of Heroines by Frank and Hildegarde Crane.
Published: May 14, 2018