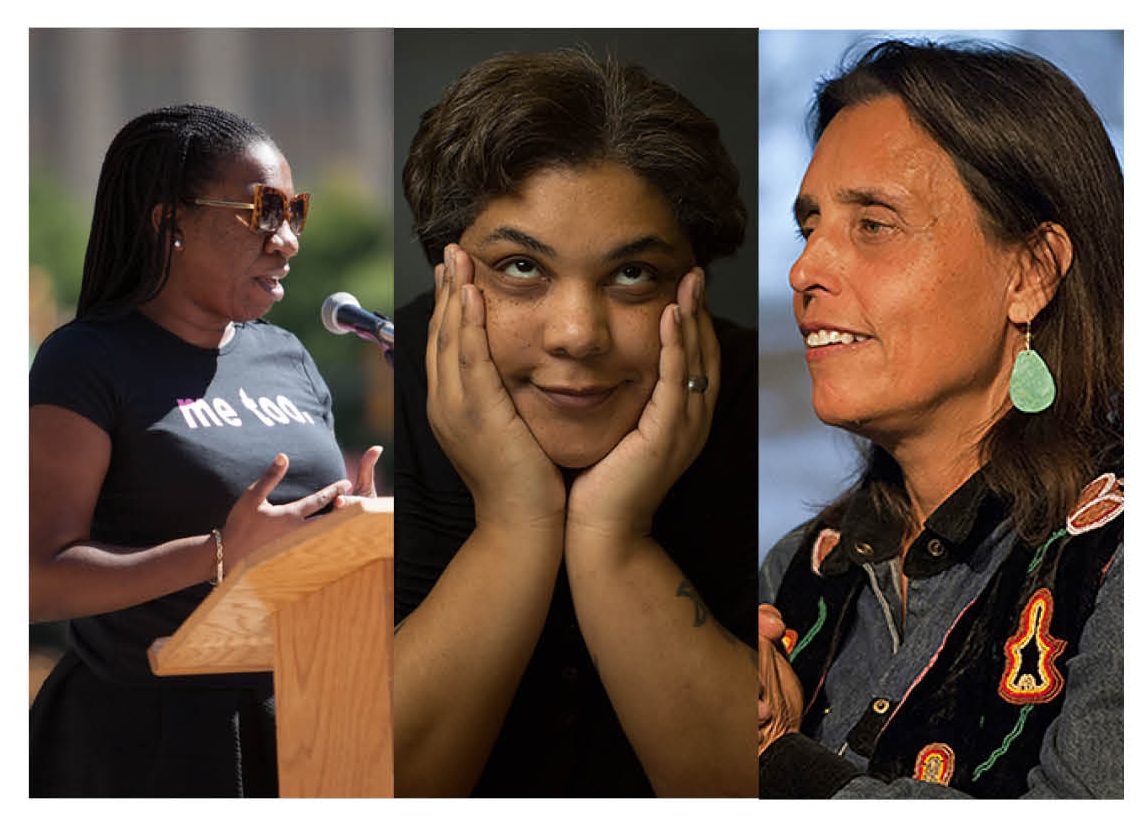 The Carrie Chapman Catt Center for Women and Politics is co-sponsoring five upcoming events that spotlight empowerment campaigns, support for environmental groups, modern feminism, women's and gender studies research, and serving in the Iowa State Legislature.
On March 26, Tarana Burke will present "#MeToo" at 8 p.m. in Stephens Auditorium, Iowa State Center. She founded the Me Too movement in 2006 to support sexual harassment and assault victims, particularly women and girls of color. Ten years later, the movement became a social media rallying cry with the #MeToo hashtag campaign. Burke, currently senior director of programs at Girls for Gender Equity, has committed more than 25 years to advocating for social justice and works to end gender-based violence toward all women and girls. The Catt Center is one of nine Iowa State organizations co-sponsoring this free event.
The Catt Center is among 11 co-sponsors of a March 28 lecture by Winona LaDuke (Anishinaabe), founder and co-director of Honor the Earth. She will present "Food Security" at 7 p.m. in the Great Hall of the Memorial Union. LaDuke founded the White Earth Land Recovery Project in northern Minnesota, one of the largest reservation nonprofit organizations in the country, and is a leader on culturally-based sustainable development strategies. This lecture is free and open to the public.
Cultural critic Roxane Gay will present "Bad Feminist" on April 5 at 8 p.m. in the Great Hall of the Memorial Union. The lecture, which is free and open to the public, is based on her New York Times-best-selling book. Published in 2014, Gay's "Bad Feminist" is a collection of essays spanning politics, criticism and modern feminism. Her most recent book, "Hunger: A Memoir of (My) Body," reflects on her struggles with weight, trauma and self-image. She recently became the first black woman to write for Marvel, with the comic series "World of Wakanda." A contributing opinion writer for The New York Times, Gay was co-editor of PANK magazine, non-fiction editor at The Rumpus, and teaches writing at Eastern Illinois University.
Iowa State's Women's and Gender Studies program will present its "Transforming Gender and Society" student conference on April 7 in the Memorial Union. The conference is open to undergraduate and graduate students from colleges and universities across Iowa. Presentations will include original research, creative work, pedagogy, activism and thematic pieces. The call for proposals is now open, with a submission deadline of March 20. More information about the conference and submitting proposals can be found on the Women's and Gender Studies website.
In addition to these campus events, the Catt Center is a co-sponsor of 50-50 in 2020's "Step Up!" seminar in Sioux City on March 17. "Step Up!" is a five-hour, nuts-and-bolts course to teach women how to lay the groundwork for a successful campaign for the state legislature. The Sioux City seminar will be held from 7:45 a.m. to 12:45 p.m. at Morningside College. Registration for the seminar, which is free, can be found on 50-50 in 2020's website.
Published: March 6, 2018