Dianne Bystrom will retire from the Carrie Chapman Catt Center for Women and Politics at Iowa State University on Aug. 10 after serving as director for 22 years. She also has directed the university's interdisciplinary Leadership Studies Program for the past 10 years.
The Catt Center was established by the Iowa Board of Regents in September 1992, and Bystrom has been instrumental since its early years in developing and building the nation's second oldest university-based center for women and politics.
"I've loved my time at Iowa State, which has spanned more than one-half of my professional career," Bystrom said. "The opportunity to help build a now nationally recognized center that educates and engages citizens – especially women – in the political process has been absolutely rewarding."
Since arriving in Iowa in July 1996, Bystrom has positively influenced students – both female and male – in and outside of the classroom as well as colleagues across campus, statewide and nationally. She has been a pioneer in working for women's leadership programs at Iowa State; advocates for the advancement of women in politics across the state and nation; and has implemented important outreach and research programs at the Catt Center. During her tenure at Iowa State, Bystrom has raised more than $4 million in private endowment and annual funds for research, outreach and leadership programs, including student scholarships and internships.
The beginning
After graduating with a bachelor's degree in journalism from Kearney (Nebraska) State College in 1975, Bystrom worked as a newspaper reporter for four years. In 1979, she married her husband, Keith, and moved to Norman, Oklahoma, where he had accepted a faculty position at the University of Oklahoma's College of Law. She also began a 17-year-career at OU, working as a writer for News Services, director of communications for the Office of the President; and assistant provost. While working full-time, Bystrom earned a master's degree in journalism and mass communication in 1982 and a Ph.D. in communication in 1995 from OU. Her doctoral dissertation examined the television ads of female and male political candidates as well as their coverage by the media in the 1992 "Year of the Woman" election.
"After earning my Ph.D., I started looking for career opportunities that complemented my interests in women and politics as well as allowed us to move nearer to Nebraska so that our two children could grow up closer to their grandparents," Bystrom said. "I saw the Catt Center director position advertised in the Chronicle of Higher Education and decided to apply."
She later learned that her Norman, Oklahoma, "soccer mom friend" Sharon Rodine, a 1971 graduate of Iowa State, had suggested the creation of a women and politics center honoring suffrage leader Carrie Chapman Catt as a member of the Political Science Alumni Advisory Committee.
"Sharon and Dick Rodine have remained friends, supporters and advocates of the Catt Center throughout its history," Bystrom said.
Elizabeth "Betsy" Hoffman, professor of economics at Iowa State, served as the dean of the College of Liberal Arts and Sciences in 1996 and interviewed Bystrom for the position as part of a national search.
"Dianne has done an amazing job of defining and creating the Carrie Chapman Catt Center over the past 22 years. We had successfully raised funds for renovating Catt Hall with a grand re-opening of the building in 1995," Hoffman said. "But, Dianne brought a vision for what a center for women and politics should be: research on women and politics, programming for the Legacy of Heroines scholars, and outreach to the world to make Iowa State one of the go-to universities for commentary on women and politics, especially in election years and in preparing women to run for public office."
When Bystrom arrived at Iowa State, the Catt Center had only a few programs – three of which, the Carrie Chapman Catt Prize for Research on Women and Politics, the Legacy of Heroines scholarship program, and the Mary Louise Smith Chair in Women and Politics – are still active today.
"The Catt Prize had been awarded since 1994, but the first class of Legacy of Heroines scholars as well as the first Mary Louise Smith Chair – former U.S. Senator Nancy Kassebaum Baker – started in my first semester at Iowa State," she said. "My original goals were to expand the Legacy of Heroines scholarship program, raise endowment funds for the Mary Louise Smith Chair, and establish an Archives of Women's Political Communication – which I had proposed as part of my 'job talk' during the interview process."
The middle
During her 22-year tenure, Bystrom has worked to expand opportunities for students to gain valuable leadership experiences and mentoring. The Legacy of Heroines program will award 27 scholarships in 2018-2019 funded by some 20 donors, including the Bystroms. She also expanded the Legacy of Heroines program to include student internships as well as scholarships.
As part of the Mary Louise Smith Chair in Women in Politics, Bystrom has helped bring 30 renowned women leaders to Iowa State and raised private funds to substantially increase the endowment that supports the annual lecture series. U.S. Sen. Amy Klobuchar of Minnesota is the most recent Smith chair, speaking Aug. 31, 2017, but others have included Hillary Clinton, Carly Fiorina, Elizabeth Dole and Gwen Ifill, all of whom drew an audience of 500 to 1,500 people.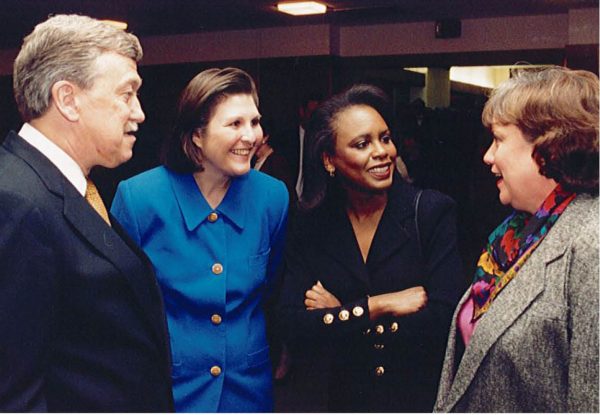 "I have had the good fortune of working with Dianne for more than 20 years and sharing her commitment to giving Iowa State students opportunities to interact with exceptional visiting scholars, journalists, professionals and public officials who broaden their views of the world and what can be accomplished in their own lives," said Pat Miller, director of the Lectures Program, which co-sponsors the Smith lecture series. "These women came because of the excellence of the center and Dianne's own reputation as a scholar and political analyst. She will be missed."
Her proposed online Archives of Women's Political Communication, which was established in 2006 with a private endowment gift, now includes more than 2,000 speeches and 775 political ads of some 470 present and past women leaders in the United States and internationally. The archives' website receives some 20,000 visits each month – including people from the United States, China, Ukraine, Russia, Japan, France, the United Kingdom, Canada, Germany and Sweden. The one-of-its-kind archive is used for high school and college class projects; thesis and dissertation research; and by political candidates, office-holders and other interested citizens.
In 2007, under Bystrom's leadership, the Catt Center spearheaded the first bipartisan campaign training workshop in Iowa as part of a national network headquartered at the Center for American Women and Politics at Rutgers University. Ready to Run Iowa: Campaign Training for Women is designed to encourage participants to seek elected and appointed public office, work on a campaign, or become involved in other community leadership roles. Since 2007, the program – which is offered every other year – has provided leadership development and campaign training for 412 participants. In 2017, a record 172 individuals attended the six-part workshop series.
In 2011, Bystrom helped create the Women in Iowa Politics Database and raised private funds to hire an undergraduate student research assistant to track the representation of women on city and county boards and commissions – data no one else in the state is collecting – through the Gender Balance Project. With private funds, the Catt Center has continued to employ one to two undergraduate research assistants each year to help with collecting data for reports published on its website about Iowa women in elected and appointed office at the local, state and federal levels.
A nationally recognized scholar in the field of political communication, Bystrom focuses much of her research on the styles and strategies used by female and male political candidates in their television advertising, websites and social media as well as the coverage of women candidates by the media.
Bystrom is highly sought by local, state and international media for her insights and opinions about American political campaigns and elections – especially the role of women voters and candidates. She also speaks frequently to community, university and civic groups about women and politics, leadership and other topics. Bystrom is a co-author, co-editor or contributor for 23 books, most recently "An Unprecedented Election: Media, Communication and the Electorate in the 2016 Campaign," and other publications.
Bystrom established Iowa State's interdisciplinary undergraduate Leadership Studies Program in 2008. The program currently enrolls nearly 200 students each semester, and 243 students have graduated with either a leadership certificate or minor. The program arose out of courses offered by the Catt Center since 2002 as part of the privately-endowed Axel Leadership Development Series.
"Iowa State graduates are always highly sought by employers, but we heard from many executives that some college graduates were lacking in leadership skills," Bystrom said. "To meet that need, the Catt Center started offering three leadership classes beginning in 2002 with the support of donors."
Under Bystrom's leadership and with the support of the College of Liberal Arts and Sciences administration, the Catt Center built a 21-credit-hour certificate and 15-credit-hour minor in leadership studies using its three classes as well as other courses being offered in various departments and colleges across the university. With the addition of three lecturers as well as other faculty who teach for the program, the leadership studies (LD ST) designated courses have grown from three to 12 to meet the interests of students and improve the curriculum.
Under the umbrella of the Leadership Studies Program, two recent programs have emerged, thanks to Bystrom's advocacy for more student opportunities: the Vermeer International Leadership Program and the Global Leadership Study Abroad program. The programs are funded with corporate and private gifts.
"Thanks to Dianne's extraordinary leadership, the Catt Center has become a centerpiece of ISU's outreach and engagement efforts, encouraging citizens – and especially women – to engage with politics and the political process," said Beate Schmittmann, dean of the College of Liberal Arts and Sciences. "The research programs of the center have established a national reputation for Iowa State in the area of women's political communication. Dianne has built strong and lasting relationships with donors and friends of the Catt Center and has created numerous opportunities for students."
Mentor and advocate
"Dr. Bystrom encouraged the overall political process and really challenged me to understand each political level and to educate myself on all sides of an issue before making a conclusion," said Brooke Prestegard, a 2003 graduate in political science and history and Catt Associate from 2000-2003. "She's a role model in the true sense of the word – a leader whom others want to emulate and hope to do so with an ounce of the ethical standards she displays."
Bystrom actively promotes diversity and social justice on campus. She served as a co-director for Shared Leadership for Institutional Change, a three-year program designed to increase the number of women and minority faculty and staff in leadership positions at Iowa State, and convened ISU's Cross-Unit Planning Team on Multicultural, Diversity and Women's Activities, Programs and Services. Through her service on the Women's Leadership Consortium, Bystrom was among the proponents for establishing a chief diversity officer position in the university president's office.
The Des Moines Business Record named Bystrom one of seven Women of Influence in 2017.
She was the first recipient of the Iowa Network for Women in Higher Education's Distinguished Higher Education Leadership Award in 2016 for her commitment to education and mentoring and her focus on building students' leadership skills.
She was a 2016 recipient of the Martin Luther King Jr. Advancing One Community Award at Iowa State for her long track record of advancing the status of women at Iowa State as well as at the state, national and international levels.
She was the 2015 recipient of the Faculty/Staff Inspiration Award from the Iowa State University Alumni Association and was the 2014 recipient of the Institutional Service Award from the College of Liberal Arts and Sciences at Iowa State University.
Bystrom has served on numerous Iowa State University advisory committees, including the College of Liberal Arts and Sciences Strategic Plan Steering Committee, Cardinal Leadership Scholar Program, Women's and Gender Studies Program, Emerging Leaders Academy, Communication Studies Program, Women's Leadership Consortium and University Committee on Women.
According to Bystrom, research shows women are more collaborative than men, and that is reflected in her partnerships across the university and the state. She has been a contributing member of civic organizations since her arrival, including the Iowa Women's Leadership Project, NEXUS Executive Women's Alliance, Ames Noon Rotary and the League of Women Voters. She served on the board of directors of the League of Women Voters of Iowa from 2012-2016 and is currently a member of its 19th Amendment Centennial Celebration Committee.
"It's been an honor to work for Dianne the past five years," said Kristine Perkins, public relations/student programs coordinator for the center. "There's always something to learn from her that can be applied either professionally or personally. She has a way of connecting with people and making connections for others to get stuff done that benefits many."
A new beginning
During the next six months, Bystrom will work to make the Catt Center's transition to a new director as smooth as possible.
"Through the generous support of donors, the Catt Center is in good shape financially," she said. "With the support of university administrators and a small, but talented, staff, we have built a nationally recognized center for women and politics research, leadership development and civic engagement."
As she starts the packing process and carefully boxes up her extensive book collection, varying from classic literature to her trusted AP Stylebook, Bystrom also thoughtfully takes down thank you notes and cartoon clippings from former students and colleagues that have adorned her office walls for nearly two decades.
"I will miss being around college students on a daily basis," Bystrom said. "And, of course, I will miss the staff and faculty of the Catt Center and Leadership Studies Program who have been instrumental to our success as well as colleagues across campus who are committed to making the university a more collaborative, supportive and diverse environment."
She won't be far away, though. Bystrom and her husband have a lake house in their home state of Nebraska where she intends to stay busy in politics by working with several organizations. The Bystroms will also spend more time traveling, including visits to their daughter, Beth, a veterinarian in Avon Lake, Ohio, and son, Chris, an entrepreneur based in New York City.
The College of Liberal Arts and Sciences will honor Bystrom with a retirement party on Aug. 9 at 3:30 p.m. at the ISU Alumni Center. Additional details will follow this summer.
For those interested in applying to be the next director of the Catt Center, visit Iowa State's employment opportunities website. The deadline to apply is April 1 with an anticipated start date of Aug. 16.
Published: March 6, 2018