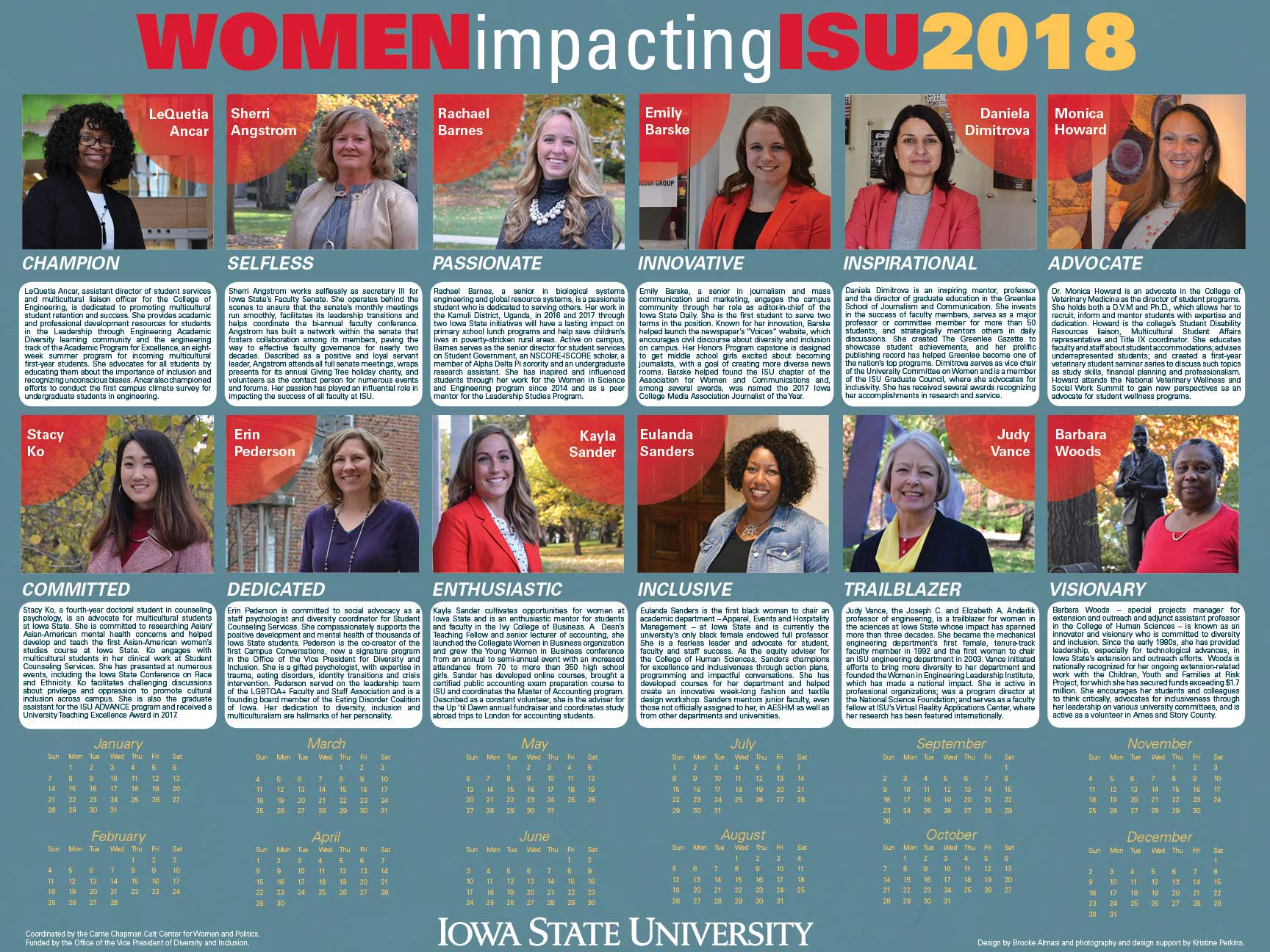 Women whose leadership has made a difference at Iowa State University were honored by the Carrie Chapman Catt Center for Women and Politics during a reception on Jan. 10.
The 2018 calendar was officially unveiled during a reception recognizing the 12 honorees from 3:30-5 p.m. in the Sun Room of the Memorial Union. The reception was open to the public. During and after the reception, 750 copies of the calendar were distributed for free.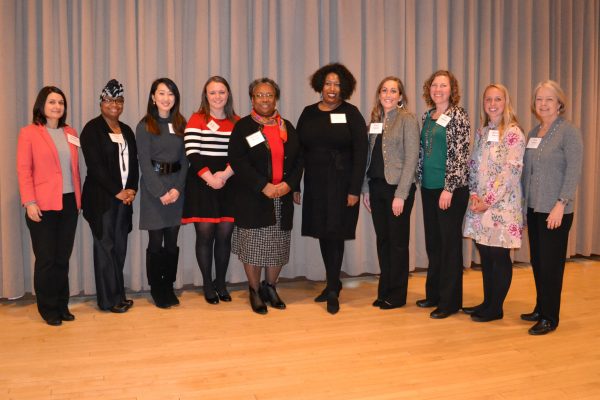 The Women Impacting ISU calendar includes photographs of the three students and nine faculty and staff members who were chosen by a selection committee based on their achievements in teaching, research, service, administration and various other campus activities.
Students selected for the 2018 calendar are: Rachael Barnes, senior in biological systems engineering and global resource systems; Emily Barske, senior in journalism and mass communication; and Stacy Ko, doctoral student in counseling psychology.
Faculty selected are: Daniela Dimitrova, professor and director of graduate education in the Greenlee School of Journalism and Communication; Kayla Sander; senior lecturer of accounting; Eulanda Sanders, professor and chair of the Department of Apparel, Events and Hospitality Management; and Judy Vance, the Joseph C. and Elizabeth A. Anderlik professor of engineering and professor of mechanical engineering.
Staff chosen for the calendar are: LeQuetia Ancar, assistant director of student services and multicultural liaison officer in the College of Engineering; Sherri Angstrom, secretary III for the Faculty Senate; Monica Howard, director of student programs for the College of Veterinary Medicine; Erin Pederson, licensed psychologist with the Student Counseling Services; and Barbara Woods, special projects manager for Extension and Outreach and adjunct assistant professor in the College of Human Sciences.
"To be nominated by women for the 2018 Women Impacting ISU calendar and to be honored among women colleagues across campus is humbling," said Sanders, one of the 2018 honorees. "It is rewarding to be a member of a campus community that celebrates the contributions of women in such a dynamic way."
The Catt Center sponsors the calendar with funding provided by the Office of the Vice President for Diversity and Inclusion. One student, four faculty, five professional and scientific employees, and two merit employees comprised the 12-member selection committee this year, representing a diverse cross-section of the Iowa State community.
Calendars are available around campus at the following locations: Carrie Chapman Catt Center, 309 Catt Hall; 31 MacKay Hall; Greenlee School of Journalism, 101 Hamilton Hall; Margaret Sloss Women's Center; Student Answer Center, ground floor of Beardshear Hall; 2330 and 1200 Gerdin; 2025 Black Engineering; Program for Women in Science and Engineering, 202 Carver; and Student Counseling Services.
Published: January 17, 2018