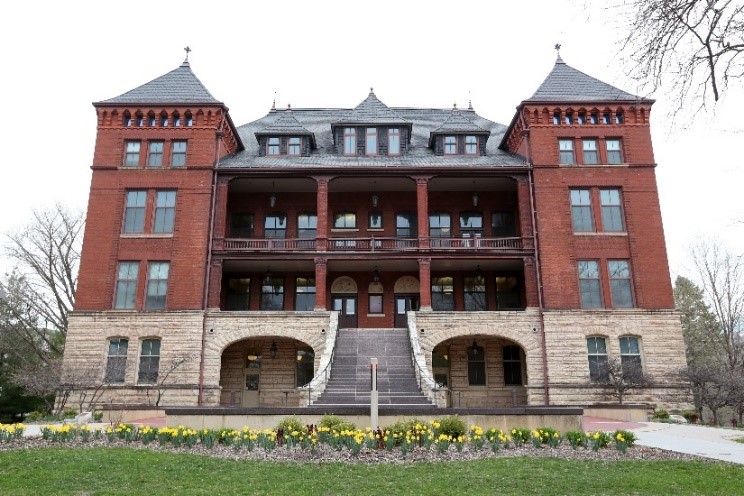 Steven Jordening of Nevada, Iowa, recently honored his mother and a friend on the Plaza of Heroines, located at the entrance of Carrie Chapman Catt Hall on Iowa State's central campus.
Jordening purchased both a granite bench and a large paver in honor of his mother, Marcella R. Jordening, and a large paver in honor of his friend Kathy Wiederin, a program assistant for the Department of Biochemistry, Biophysics and Molecular Biology at Iowa State University.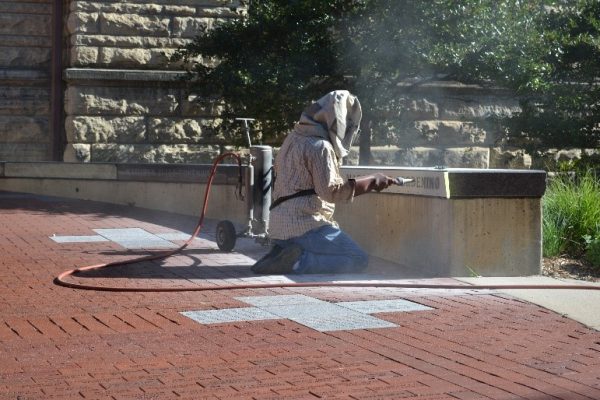 The Plaza of Heroines is lined on the east, west and south sides by granite benches. Besides providing a beautiful border for the plaza, the benches offer additional opportunities to honor women who have made an impact on their families, communities and society. Currently, the names of six heroines are inscribed on benches, along with the name of the Plaza of Heroines and the date of its dedication.
Jordening contacted the Carrie Chapman Catt Center for Women and Politics – which manages the Plaza of Heroines – last summer to inquire about purchasing a bench to honor his mother, a long-time resident of Eldora, Iowa, who passed away in 2012.
"I've worked at the Catt Center for five years, and hadn't yet had anyone ask about having a bench engraved on the plaza," said Sue Cloud, communications specialist at the Catt Center. "It turns out that this was the first request for a bench since the plaza was originally dedicated in 1995."
The bench was engraved in August 2016.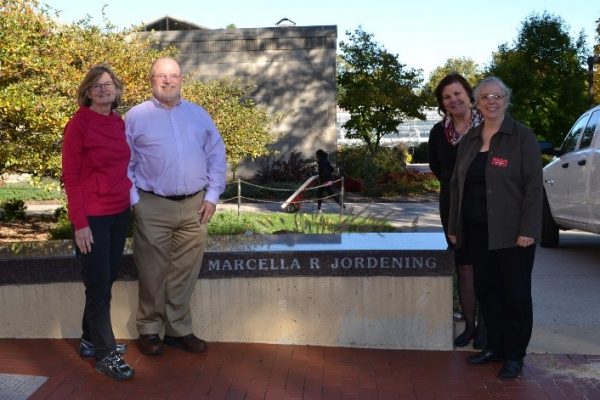 The pavers purchased by Jordening for his mother and Wiederin were installed with the fall plaza order in October 2016. Jordening and Wiederin attended the installation, along with Dianne Bystrom, director of the Catt Center; Amy Slagell, associate dean for the College of Liberal Arts and Sciences; Michael Gens, executive director of development for the College of Liberal Arts and Sciences; and Cloud.
At the installation, Jordening shared several memories about his mother that illustrated her sharp wit and intelligence, two of the characteristics that he describes in the narrative in her profile on the plaza's website.
"Looking back, I think the best things I took away from being around Mom were her friendship with Dad and her personality. Mom and Dad were really great friends. That was probably the thing that guided every decision they made," Jordening said as he reflected on his memories of his mother. "Mom's personality was both energetic and steady at the same time. She wasn't noisy and she wasn't at all bashful. She wasn't wimpy and she wasn't bossy. She was just a partner. Looking back, it was probably a pretty good thing to see growing up, even if I wasn't smart enough to be consciously aware at the time. I was pretty lucky."
If you are interested in purchasing a brick, paver or bench to honor a heroine in your life, fill out the online order form or contact the Carrie Chapman Catt Center for Women and Politics by calling 515-294-3181.
To add or edit a narrative or photograph to the profile of a woman you have previously honored on the plaza, email the Catt Center at cattcntr@iastate.edu or mail your submission(s) to 309 Catt Hall, 2224 Osborn Drive, Iowa State University, Ames, IA, 50011-4009.
Published: January 17, 2018