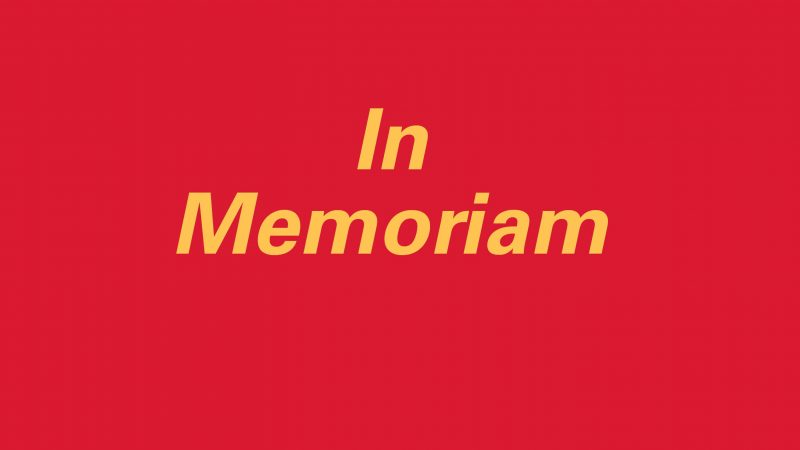 Four longtime supporters of the Carrie Chapman Catt Center for Women and Politics passed away in November and December 2017. All were civic leaders who devoted their lives to improving their respective communities, Iowa State University and the state of Iowa.
Richard H. Stanley, 85, of Muscatine, Iowa, died Nov. 17 at the University of Iowa Hospitals following a brief illness. Mary Jo Kennedy Stanley, 83, of Muscatine, died Dec. 14 at the Lutheran Living Transitional Care Center. Lowell Greimann, 75, of Ames, Iowa, died peacefully at home from complications of acute myeloid leukemia on Nov. 23. Judith (Judie) Anne Elifson Hoffman, 78, of Ames passed away on Nov. 30.
The Stanleys have supported the Catt Center since its establishment in 1992. They provided the primary support for the Mary Louise Smith Chair in Women in Politics, which has sponsored the campus visits and public lectures of 30 women political leaders, activists and journalists from fall 1996 through fall 2017. They also provided funds to establish the Archives of Women's Political Communication, a web-based collection of more than 1,900 speeches of contemporary and historical women political leaders as well as more than 1,500 campaign ads.
The couple established an endowment to provide Stanley Global Leader scholarships to participants in the Catt Center's Global Leadership Study Abroad Program. The Stanleys also donated generously to the Catt Center's general endowment to fund the annual Carrie Chapman Catt Prize for Research on Women and Politics, support the Ready to Run Iowa: Campaign Training for Women workshops and assist with the center's operational costs.
Greimann established an endowed Legacy of Heroines scholarship in honor of his first wife, Jane, after her death in 2006. Hoffman was a longtime supporter of the Catt Center, most recently with annual donations to support student leadership development.

Dick Stanley was born on Oct. 20, 1932, in Muscatine. Mary Jo Kennedy was born on May 23, 1934, in Nevada, Iowa. They married on Dec. 20, 1953. He graduated in 1955 from Iowa State with degrees in electrical and mechanical engineering and later earned a graduate degree in sanitary engineering from the University of Iowa. She graduated in 1955 from Iowa State with a degree in home economics general studies.
At the time of his death, Dick Stanley was chair emeritus and past president of the Stanley Group and a retired vice chair of the board of the HNI Corp. Mary Jo Stanley was a true partner in his professional work. Together, they co-hosted conferences, meetings and receptions for the Stanley Foundation, Stanley Consultants, the American Consulting Engineers Council and many other organizations. Driven by their shared goal of making the world a better place, they often worked together to engage ambassadors, business leaders, scholars and politicians.
The Stanleys were involved in a number of civic and community organizations. He served as director and founding chair of Unity HealthCare and was president and director of the Muscatine Health Support Foundation. She served as chair of the Cable Television Commission and as a board member of the Muscatine Art Center Support Foundation and the Muscatine Center for Social Action. The Stanleys shared a deep enjoyment of the arts – theatre, dance, music and fine arts – in Muscatine and around the state.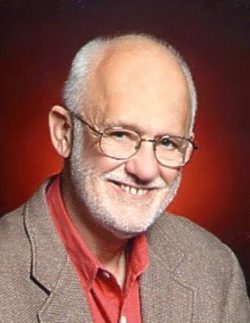 Greimann was born Oct. 27, 1942, in Klemme, Iowa. He earned a bachelor's degree from Iowa State in 1964, and one week after graduation, he and Jane Renner were married. They moved to Boulder, Colorado, where he earned master's and doctoral degrees in structural engineering from the University of Colorado. In 1973, Greimann started his academic career as an assistant professor in civil engineering at Iowa State. Promoted to professor in 1981, he served as chair of the Department of Civil, Construction and Environmental Engineering from 1990 until his retirement in 2005.
Greimann was active in the Ames community, including the Ames Town and Country Kiwanis Club and Story County Dental Clinic advisory board. He and Jennie Laing were married in August 2008. A month before his death, Greimann was informed that he had been named a 2018 recipient of the ISU Foundation's Order of the Knoll Faculty and Staff Award in recognition of his dedicated and long-term professional and volunteer service and creative leadership to Iowa State through the advancement of philanthropy. He will receive this award posthumously in April 2018.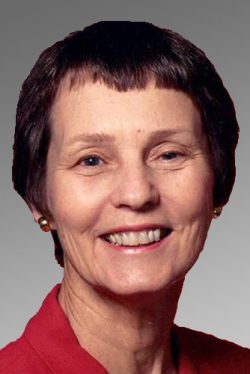 Hoffman was born on July 13, 1939, in Dixon, Illinois, and grew up in Coldwater, Michigan, and Pontiac, Illinois. She earned a bachelor's degree from Knox College in 1961 and a master's degree from the University of Wisconsin-Madison in 1964. That year, she also married David Hoffman and, after two years in Australia, they moved to Ames in 1967.
Hoffman had a strong sense of what is just, fair and important. She worked tirelessly to promote and defend those beliefs and to improve the health and well-being of Iowans. Hoffman served on the Ames City Council from 1988 to 2003. From 1986 to 2009, she lobbied in the Iowa legislature for the League of Women Voters, Ecumenical Ministries of Iowa, the Iowa Farmers Union and several other nonprofit groups. She was also a leader in the fight against smoking in restaurants and public accommodations in Iowa. Her contributions to civic life were recognized over the years, including the League of Women Voters of Ames and Story County's inaugural Making Democracy Work Award and the Iowans Against the Death Penalty's Harold Hughes Award in 2017.
Published: January 17, 2018