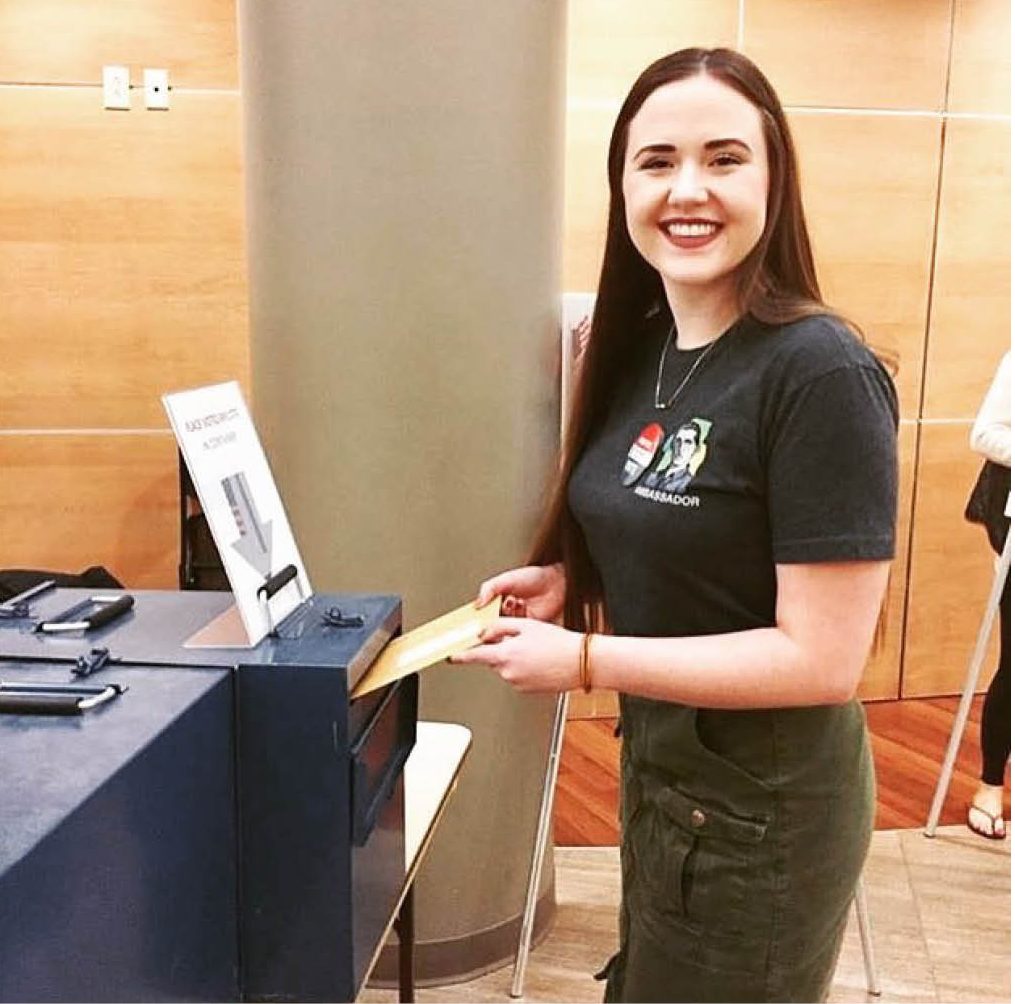 According to a report recently released by the National Study of Learning, Voting and Engagement, Iowa State students voted at rates higher than the national average of students at colleges and universities across the country.
In the 2016 election, 17,306 (55.1 percent) of the 31,408 Iowa State students eligible to vote cast their ballots compared to the 50.4 percent voting rate for all institutions included in the NSLVE study. Of the 1,023 colleges and universities included in the study, per institution voting rates ranged from a low of 13.1 percent to a high of 81.4 percent in 2016.
Since 2013, more than 1,000 colleges and universities have signed up to receive their voting rates for the 2012, 2014 and 2016 federal elections. Participation in the study allows NSLVE to build a database of college student voting statistics that serves as a basis for research on political learning and engagement.
Dianne Bystrom, director of the Carrie Chapman Catt Center for Women and Politics, is Iowa State's institutional representative for NSLVE. "As the institutional representative, my role is to review the data and share the report widely," she said. "I have shared the report with student organizations as well as with faculty and administrators at Iowa State. I am now working with our Andrew Goodman Foundation 'Vote Everywhere' ambassadors to publicize the findings of the study with the larger community."
The report shows that the voter registration rate of Iowa State students is more than 80 percent, increasing from 82.7 percent in 2012 to 82.9 percent in 2016. Although the voter registration rate was virtually the same in both presidential election cycles, more Iowa State students voted in 2016 as compared to 2012. In 2016, 66.4 percent of the ISU students registered to vote cast their ballots compared to 63.7 percent in 2012. In 2016, 55.1 percent of the ISU students eligible to vote cast their ballots, compared to 52.6 percent (13,733 of 26,088) in 2012.
In 2016, most ISU students (51.9 percent) who voted did so in person the day of the election. In 2012, most ISU students (50.1 percent) who voted did so by absentee ballot. Sophomores, juniors and seniors at Iowa State were more likely to vote than first-year and graduate students in 2012 and 2016. In 2016, 52.6 percent of ISU juniors and seniors voted compared to 49.6 percent of sophomores, 44 percent of first-year students and 43 percent of graduate students. Part-time students at Iowa State were more likely to vote than full-time students – 62.2 percent of part-time students voted in 2016 compared to 47.8 percent of full-time students.
Female students were more likely to vote than male students at Iowa State in both the 2012 and 2016 elections. In 2016, 53.8 percent of female students at Iowa State voted compared to 45.1 percent of male students – a difference of 8.7 percent. In 2012, 50.5 percent of female ISU students voted compared to 43.6 percent of male students – a difference of 6.9 percent.
The NSLVE report also breaks down voting statistics by fields of study. In 2016, history majors at Iowa State voted at the highest rate – 75 percent – whereas computer and information sciences majors voted at the lowest rate (34.9 percent). Other ISU majors with a 60 percent or more voting rate in 2016 included education (64.3 percent); public administration and social service professions (63.9 percent); English language and literature (60.5 percent); foreign languages, literatures and linguistics (60.4 percent); and natural resources and conservation (60 percent). Other ISU majors with less than a 40 percent voting rate included physical sciences (39 percent) and mathematics and statistics (37.1 percent).
NSLVE is an initiative of the Institute for Democracy and Higher Education, which is part of the Jonathan M. Tisch College of Civic Life at Tufts University. More information about the IDHE and NSLVE can be found at: https://idhe.tufts.edu/. Copies of the report on student voting rates for Iowa State University in 2012 and 2016 can be obtained by emailing the Catt Center at cattcntr@iastate.edu.
Published: November 13, 2017