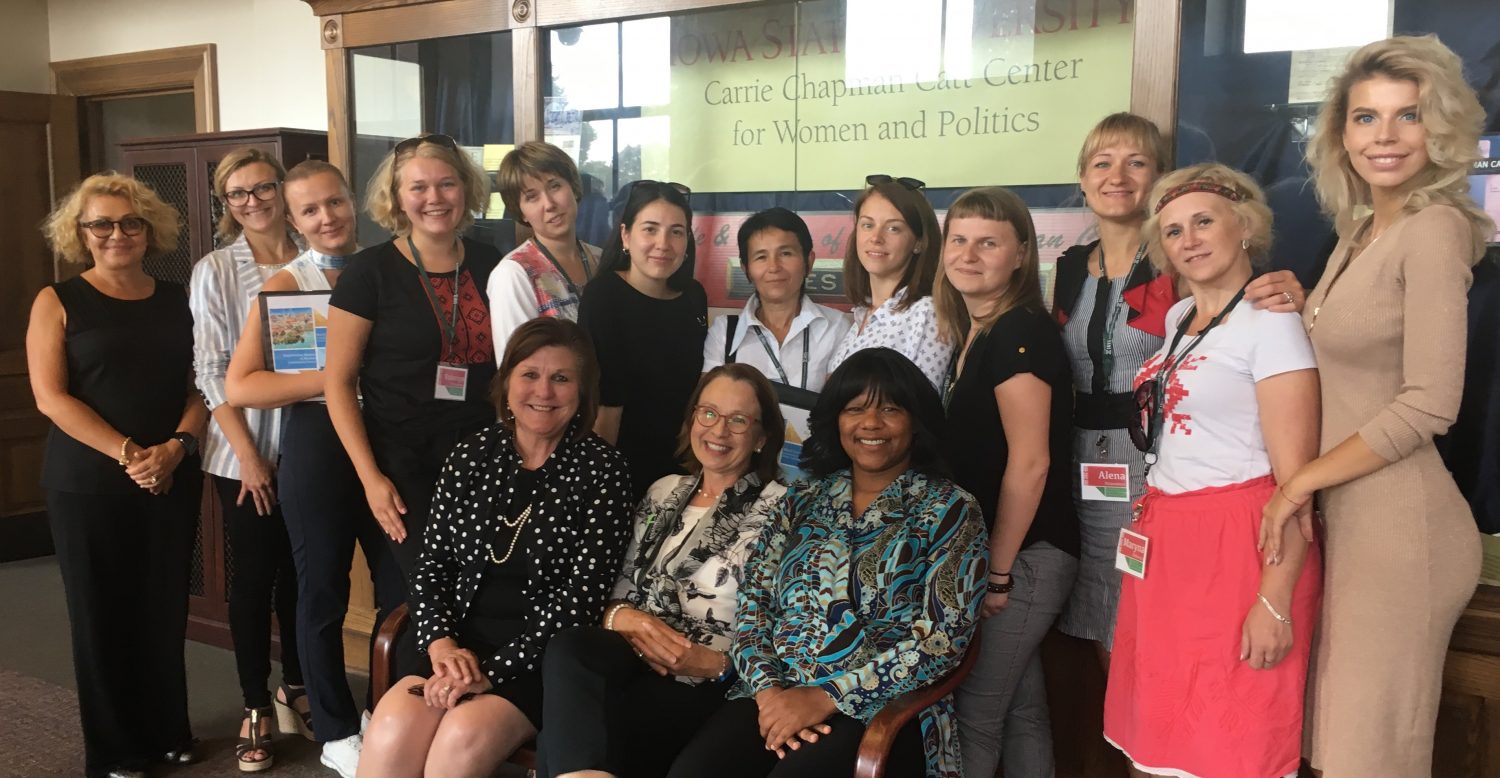 As part of their three-week visit to the United States, 10 women leaders from Belarus spent time at the Carrie Chapman Catt Center for Women and Politics on Sept. 14.
The group's goal during their visit was to connect with U.S. women serving in leadership positions, women empowerment groups and gender-based community engagement programs. Most of the women lead organizations focusing on gender issues in Belarus and are working on a variety of programs to assist vulnerable populations. The group was in Iowa from Sept. 6-24 and then spent three days in Chicago, Illinois, before returning to Belarus.
During their day at the Catt Center, the group met with director Dianne Bystrom to learn more about the center's academic, research and outreach programs. They were especially interested in Ready to Run Iowa, which the Catt Center presents every other year to encourage women to seek elected and appointed political office and become more involved as leaders in their communities. Two of the participants in the 2017 Ready to Run Iowa workshops – Monic Behnken and Victoria Szopinski of Ames, Iowa – also met with the group during their visit to the Catt Center. Behnken, an assistant professor of sociology at Iowa State, was elected in September to the Ames Community School District board of directors. Szopinski, who has served on the Ames City Council, ran for mayor of Ames on Nov. 7.
"During their three-week visit to the United States, they met with various organizations to expand their knowledge and to take back some ideas and skill sets to improve their efforts back home," said Del Christensen, executive director of the Iowa Resource for International Service, the Ames-based organization that hosted the group. "Many of the women work with adolescents, especially young girls, and encourage them to take on leadership roles to better their community."
IRIS also facilitated three action planning sessions in hopes the group will develop plans that they can implement in their own country, Christensen said. The program is funded by the U.S. Agency for International Development, which follows up with and supports the participants once they return home.
"This group of young women leaders was truly impressive," Bystrom said. "We enjoyed hosting them at the Catt Center and educating them about our leadership programs. We also thank Monic and Victoria for meeting with the group to share their first-hand experiences as women political candidates."
Published: November 13, 2017