"It's not easy, but in the end, it's all worth it," said U.S. Sen. Amy Klobuchar of Minnesota in discussing her experiences in public service during a presentation attended by more than 800 people in the Great Hall of Iowa State's Memorial Union on Aug. 31.
Klobuchar used humorous anecdotes, research and personal experiences to discuss the current and future state of women in political leadership. The first woman elected from Minnesota to the U.S. Senate in 2006, Klobuchar visited Iowa State University as the 30th recipient of the Mary Louise Smith Chair in Women and Politics, which is hosted by the Carrie Chapman Catt Center for Women and Politics.
Klobuchar started her presentation with a tribute to Smith, the late longtime Republican Party leader and women's rights activist. "I am proud to give this lecture in her name," she said.
Klobuchar then discussed the record-breaking number of women serving as CEOs in Fortune 500 companies and in the U.S. Senate. Yet, leadership positions still face gender imbalances, she said, adding, "I truly believe we can do better."
She believes women's representation in politics and other fields can be improved by talking more about the impact women in leadership have made. Klobuchar referenced a 2015 Harvard University study that concluded women in politics work harder (the average woman senator passed and introduced more bills than men do), work together (the average woman senator co-sponsored more than nine bills), and support each other.
As an example of how the Harvard study applies to her own career, Klobuchar mentioned a recent bill she co-sponsored with U.S. Sen. Joni Ernst of Iowa. The senators advocated for a bill that would allow women Air Force service pilots to be buried at Arlington National Cemetery. Although the two senators represent different political parties, Klobuchar encouraged the audience to "look for that common ground where you can find it."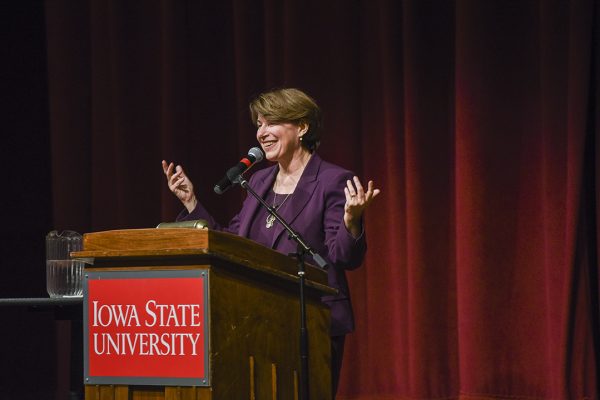 She also discussed the importance of being tenacious to earn leadership and political opportunities.
"Women have persevered over time," Klobuchar said, providing examples like J.K. Rowling, whose first Harry Potter book was rejected by 12 publishers before her series sold more than 450 million copies.
Klobuchar said she worked hard to achieve her professional goals, particularly when she ran for U.S. senator and was consistently asked, "Do we really need a woman senator?" from members of the media.
Students in attendance were provided valuable lessons from Minnesota's senior senator, who currently serves on the Agriculture Committee and Judiciary Committee. Klobuchar advised students to take internships seriously, find a supportive group of people to provide a strong foundation and be persistent in pursuit of achieving their goals.
Klobuchar ended her remarks by comparing the future of women in politics with what she witnessed traveling to Iowa that day.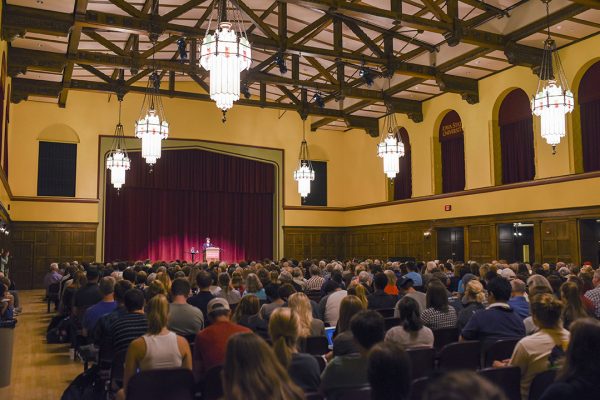 "When I looked out my window driving down here today, I saw opportunity … I want you to see this time in our history as an opportunity to show the world what America is really about … to show the people in this state that we care about a better way, and we're going to get there."
The Mary Louise Smith Chair in Women and Politics brings nationally known political leaders, scholars and activists to Iowa State once or twice a year to enrich the experiences of students and educate citizens about the role of women in the political process. The chair was established in 1995 to honor the Iowa native and longtime political and civic leader. Smith – the first woman to chair the Republican National Committee – was a mentor, friend and role model to many in the world of politics and civic, government and community affairs.
Published: September 11, 2017