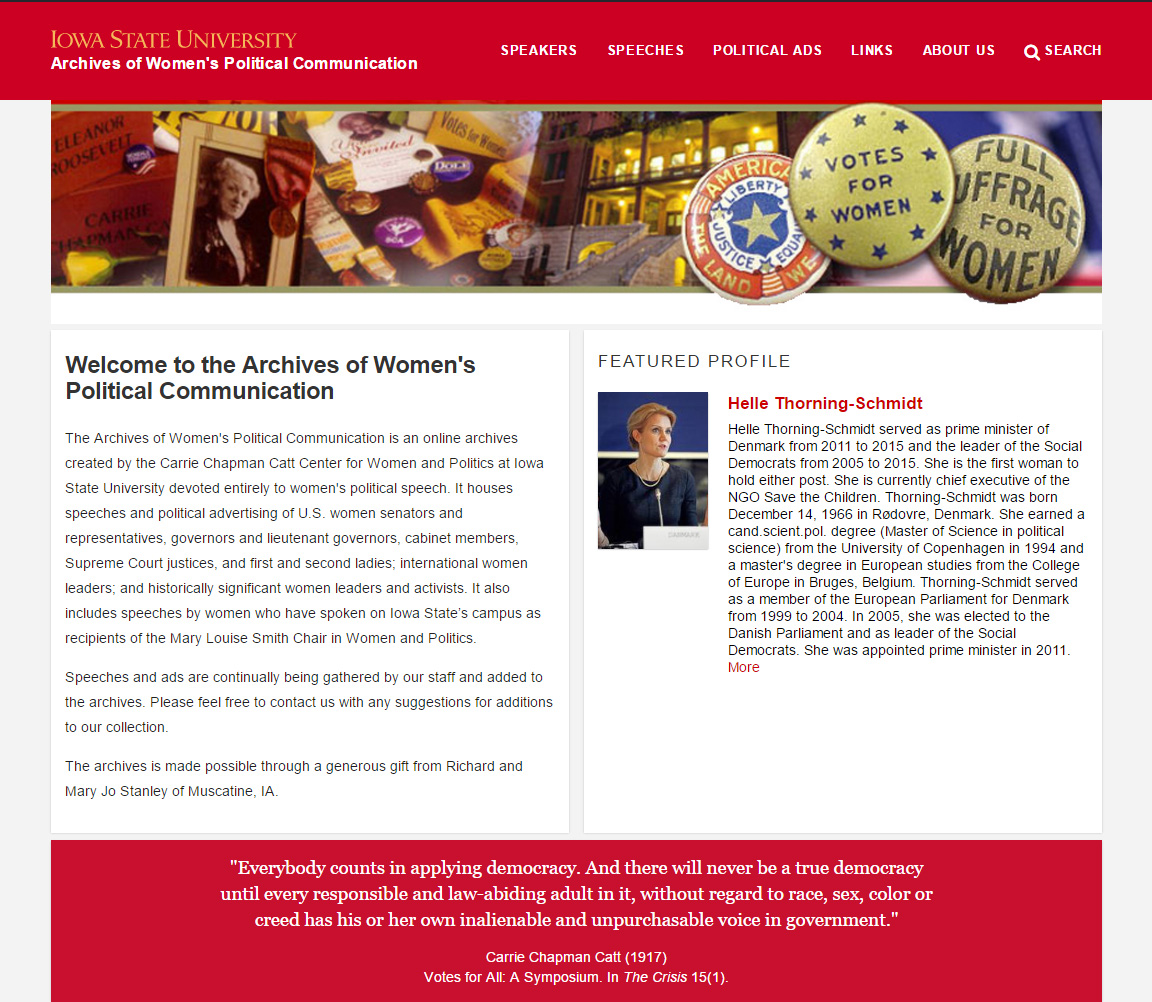 The Archives of Women's Political Communication website recently got a new look and web address.
This spring, Sue Cloud, communications specialist for the Carrie Chapman Catt Center for Women and Politics; Danielle Giles, undergraduate research intern for the Catt Center; and Will Stone, analyst/programmer for the College of Liberal Arts and Sciences, completed an update of the archives website. The website's new address is awpc.cattcenter.iastate.edu.
The archives houses speeches and political advertising of U.S. women senators and representatives, governors and lieutenant governors, cabinet members, Supreme Court justices, and first and second ladies; international women leaders; and historically significant women leaders and activists. It also includes speeches by women who have spoken on Iowa State's campus as recipients of the Mary Louise Smith Chair in Women and Politics.
Currently, the online resource houses 1,888 text speeches; 712 speech videos; 1,569 political ads; and the bios of 421 women political leaders, present and past.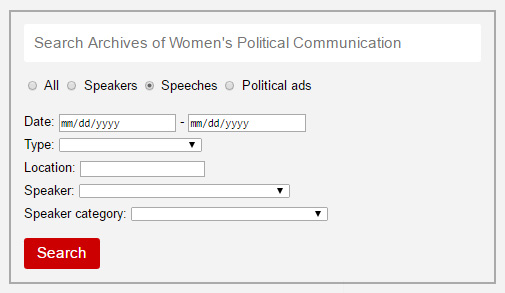 "The Archives of Women's Political Communication is accomplishing everything we hoped when it was established in 2006 with the support of Mary Jo and Richard Stanley of Muscatine, Iowa," said Dianne Bystrom, who proposed creating the online collection when she interviewed for the Catt Center director position in February 1996. "Through my own research, I recognized the need for such a centralized and easily accessible resource to study women's political communication."
The archives – which will continue to grow – is now the largest web-based collection of women's political communication in the world, said Bystrom, who became Catt Center director in July 1996. "It's being used by high school and college students in their research projects, including graduate students writing their theses and dissertations; high school, college and university faculty members in their teaching and research; independent researchers; and members of the public interested in learning more about women's political communication," she said. "These updates will allow even more people to easily use this resource, and I appreciate the hard work of Sue, Will and Danielle in proposing and completing this project."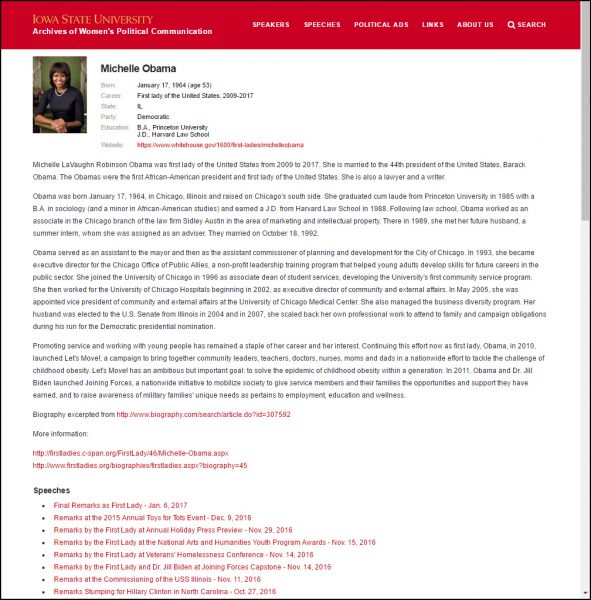 Visitors to the archives include students and professionals in political science, communication, journalism, women's studies, sociology, history and other fields as well as others interested in women's political communication, such as political candidates seeking guidance in developing their own communication strategies. The site averages more than 25,000 visits and 100,000 page views per month from nearly 200 countries around the world.
"This is the first significant redesign to the website since it was launched in 2006," Cloud said. "With this update, we wanted to make sure to retain the functionality our visitors use every day while offering several new features."
One of the biggest changes for the updated website is that the formatting and layout now adjust automatically for display on devices of any size, including tablets and mobile phones.
Also, the updated search functionality now lets users search for keywords in speeches, political ads and speaker biographies in a single search when "all" is selected, or perform a more refined search within each one of those groups when one of the other options is selected.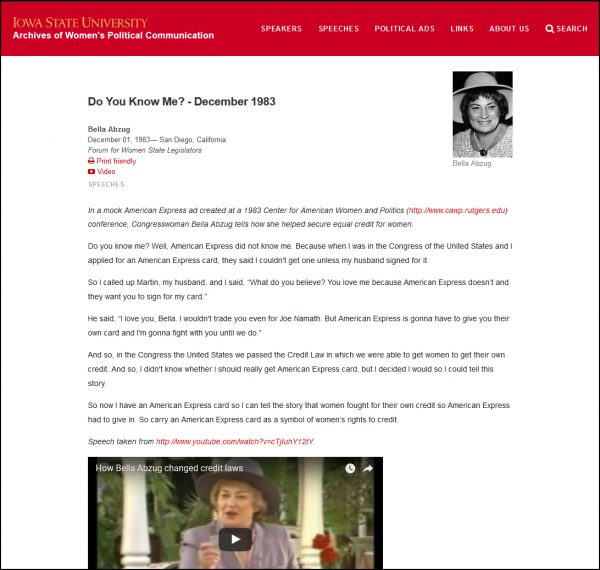 Each woman's profile includes a photograph; a short summary that includes her birth date, date of death if she has passed away, career path, political affiliation and education; and a biography with a link to her personal website, if available. Below the biography are links to their speeches and political ads housed in the archives.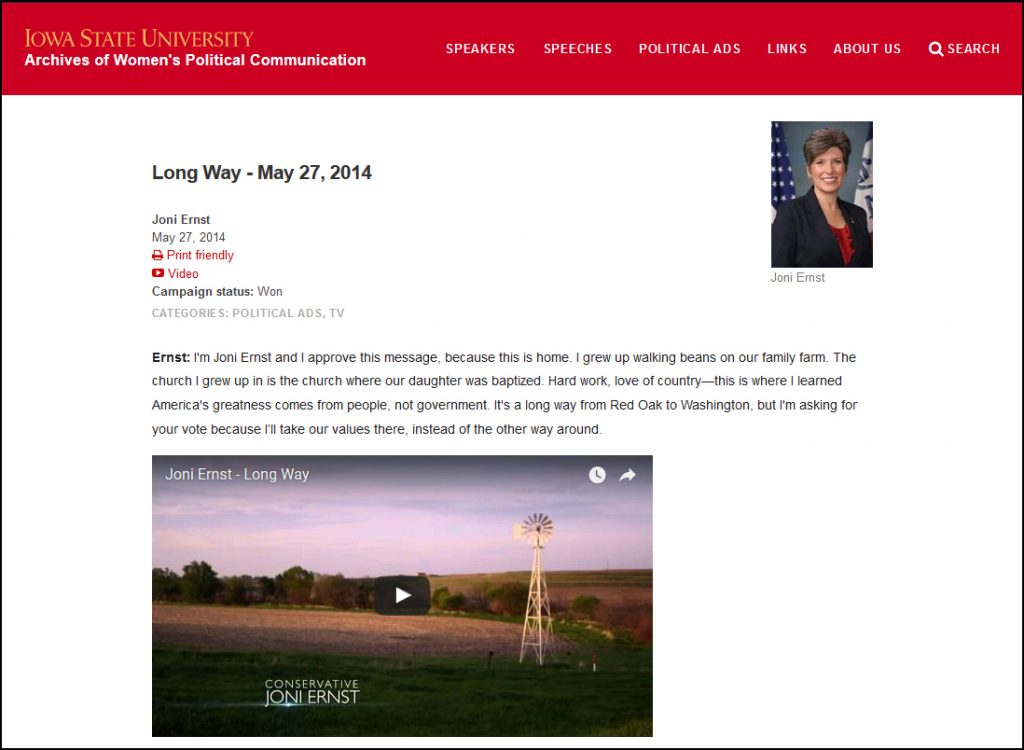 The pages for speeches and political ads display both a transcript and a video, if one is available. Users can now play videos of both speeches and ads directly on the page or, as on the old archives website, go to the Catt Center's YouTube channel to view them.
Another new feature of the updated website is the ability to print a transcript or save it to a file on the user's computer using the "print friendly" link at the top of the transcript.
Giles, a May 2017 graduate of Iowa State with a degree in speech communication and a certificate in leadership studies, was the Catt Center's archives intern for the 2016-2017 academic year. She spent many hours this spring testing the new website to ensure that the search functionality was working properly and that the speaker biographies, speeches and political ads displayed correctly.
"The new archives website is more advanced and its new layout gives it an updated look," Giles said. "Working closely with Iowa State's IT team and the archives advisory board, we were able to create a tool to help students, faculty and researchers around the world become better acquainted with the women leaders featured within the archives and their important political communications."
The links page was also updated to contain links to information on political advertising as well as links to other websites with political speeches by women as it had previously.
Speeches and ads are continually being gathered by Catt Center staff and added to the archives.
"Through the women's biographies, speeches and political ads, the archives educates and expands our knowledge of women political leaders," Giles said. "I hope that one day the archives will include some of the women who are using it today, when they make their own mark on the political world."
The archives is made possible through a generous gift from the Stanleys, who are longtime supporters of Iowa State University and the Carrie Chapman Catt Center for Women and Politics.
Please feel free to contact the Catt Center with any suggestions for additions to this collection by emailing cattcntr@iastate.edu.
Published: July 18, 2017