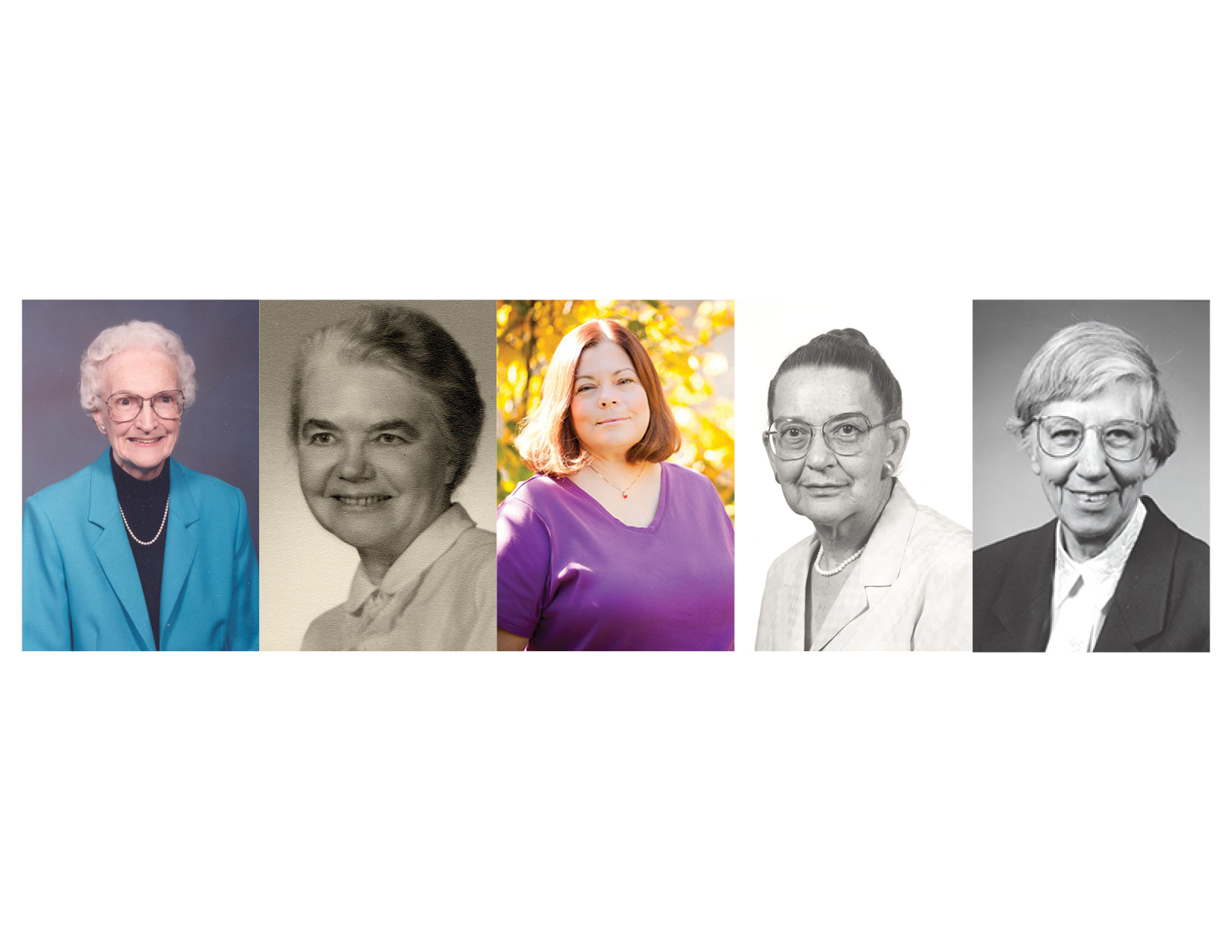 This issue of Voices features five women honored in the Plaza of Heroines who were among 14 individuals whose names were recently selected for houses in the new Geoffroy residence hall at Iowa State University.
If you are interested in purchasing a brick or a paver to honor a heroine in your life, fill out the online order form or contact the Carrie Chapman Catt Center for Women and Politics by calling 515-294-3181. To add or edit a narrative or photograph to the profile of a woman you have previously honored on the plaza, email the Catt Center at cattcntr@iastate.edu or mail your submission(s) to 309 Carrie Chapman Catt Hall, 2224 Osborn Drive, Iowa State University, Ames, IA, 50011-4009.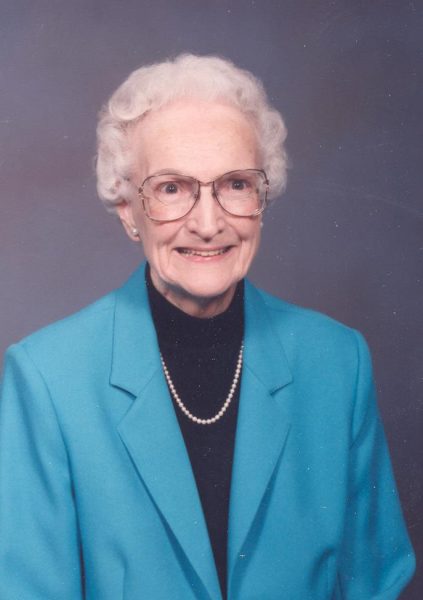 Dorothy Severin Kehlenbeck Bean
Dorothy Kehlenbeck Bean was the first Iowa State library curator and founder of the university's history collection.
In 1953, as Iowa State College approached its 100th birthday, ISU President James Hilton recommended that $2,500 be allocated to organize and file photographs and other documents relating to the college's history. Dorothy Kehlenbeck – the wife of Alfred Kehlenbeck, who was head of the college's modern language department – was hired to take on the task. What was intended to be a one-year commitment turned into a position that lasted until 1970, when she was appointed to the new position of university archivist of special collections. She held that position until retiring in 1972.
One of her first tasks was to devise a classification scheme for photographs of the college's 129 current or former buildings, its academic departments, student organizations and alumni. Other materials included the correspondence and papers of such famous ISU administrators and alumni as former President W.M. Beardshear, George Washington Carver and Louis H. Pammel.
She also had to find space for several unusual items – the death mask of Margaret Stanton; a Bible used by Orange Howard Cessna, chaplain of Iowa State and a member of the class of 1872; a compass used in the original survey of the college in 1858; a hammer used to build Old Main; and a baggage check from the old Dinky railroad that ran from downtown Ames to the campus.
She edited the first 100-year chronology of important events at Iowa State, a second chronology from 1958 to 1967, and an annual chronology from 1968 through 1972. She also recorded about 40 interviews with famous alumni and faculty members.
Born May 25, 1912, in Elberon, Iowa, she attended Coe College and married Kehlenbeck, then a German professor at the college. They moved to Ames, Iowa, in 1935. She returned to Coe to finish and receive her bachelor's degree in 1938. Following Kehlenbeck's death in 1969, she married Ralph R. Bean, administrative assistant to the dean of the College of Agriculture, in 1974.
Bean, who passed away on June 1, 1999, was honored by Eric and Barbara Abbott and the ISU Department of Foreign Languages and Literature (now World Languages and Cultures).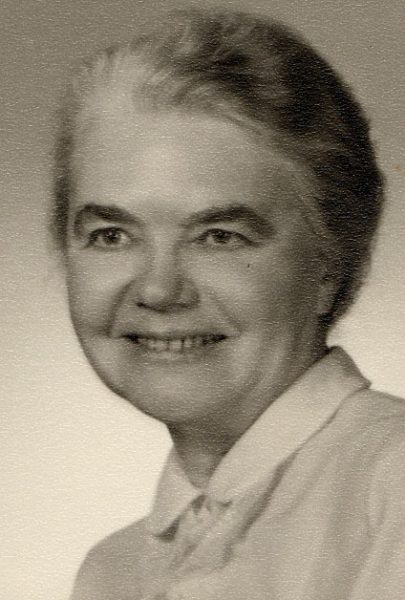 Elizabeth E. Hoyt
Elizabeth E. Hoyt was an economist, social scientist and Iowa State faculty member.
Born Jan. 27, 1893, in Augusta, Maine, she earned a Bachelor of Arts degree from Boston University in 1913, a Master of Arts degree in 1924 and a Ph.D. in 1925, both from Harvard University.
Hoyt was an instructor at Wesley College before coming to Iowa State as a faculty member in 1925. She spent 55 years at Iowa State. Hoyt also held a research position with the National Industrial Conference Board, where in 1915 she compiled a cost of living index that was later developed into the present Consumer Price Index.
In 1950-1951, Hoyt received a Fulbright award to conduct research on social conditions in Africa at Makerere College, Kampala, Uganda. A result of that experience was a program to upgrade libraries and, in the 1970s, a library in South Africa was named in her honor. She also participated in standard-of-living studies in Japan, China, Guatemala and the West Indies.
Hoyt authored five books and numerous professional papers. She was listed in the first edition of Who's Who of American Women in 1954. Other honors included the Distinguished Service Award from Radcliffe College in 1964 and the Faculty Citation from the ISU Alumni Association for outstanding and inspiring service on the university faculty.
Hoyt's career was best known for a lifetime of devotion to humanitarian economics. Her teaching was pioneering in the new field of consumer economics, where she touched the lives of thousands of students. Her research on levels and standards-of-living benefited people of many cultures in Africa, Central America and the United States. She always gave help generously to students, colleagues and friends with a keen mind guided by a warm heart.
In her will, Hoyt created the Elizabeth E. Hoyt Fellowship Fund at Iowa State University in 1982. The gift was designated to fund Iowa State's international efforts and particularly to help needy students from foreign countries study at ISU. Her interest in trying to provide educational experiences for people in underdeveloped countries continued until her death in 1980.
Hoyt was honored by the Iowa State Department of Economics.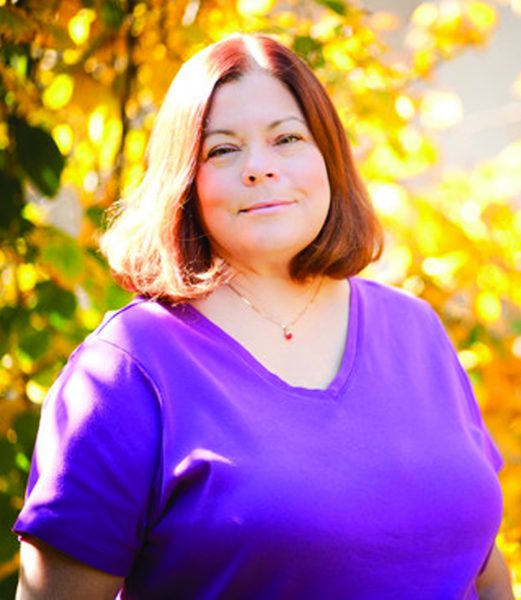 Barbara Mack
Barbara Mack was an Iowa State University alumna, newspaper reporter, attorney, journalism faculty member and assistant to the ISU president. She shattered glass ceilings, inspired women and gave generously to many people throughout her life.
Born in Des Moines in 1952, Mack put herself through college in three years, receiving a Bachelor of Arts degree with Phi Beta Kappa academic honors in journalism from Iowa State University in 1974. Long before college, Mack was at home in a newsroom. She started as a copy courier at age 16 with the Des Moines Register and Tribune, then rose to reporter in 1971 after graduation, blazing a trail for Register women covering court and crime news.
From those earliest days, Mack was passionate about First Amendment issues. She helped found the Iowa Freedom of Information Council in 1975. Her growing interest in the law drew her to Drake University Law School, where she received her Juris Doctor in 1977. From 1982-1986, Mack served as the Register's general counsel, making her the highest-ranking woman in the newspaper's corporate history and its youngest executive.
After overseeing the sale of the company to Gannett interests, she was counsel at the Davis Law Firm briefly before returning to Iowa State University in 1986 to join the faculty of the Greenlee School of Journalism and Communication. Mack left the school to serve as assistant to ISU President Martin Jischke from 1991 to 1994, when she returned to the faculty.
While at ISU, she taught classes ranging from basic to advanced and was a teacher, academic adviser, mentor and role model for thousands of students over a 25-year career. Mack also made it a personal priority to tutor students who needed to pass the fundamental language usage exam required for entry into the Greenlee School.
In 2000, Mack became one of the first Iowa State faculty members to receive a college Master Teacher Award. In 2011, she was selected for the ISU Alumni Association's Superior Service to Alumni Award, which recognizes a faculty or staff member who has demonstrated a commitment to establishing or furthering alumni relationships with the university.
She died on Aug. 23, 2012, and was mourned by family, friends and the many students who have taken her lessons to heart. Her legacy is a generation of young people, particularly women, poised to have positive impacts on Iowa and on the world beyond. In 2013, Mack was inducted posthumously into Iowa Women's Hall of Fame.
Mack was honored by four former students – Julie Harders, Christine Romans, Holli Hartman and Nicki Saylor, who credit her for much of their current accomplishments and future successes.
Charlotte Roderuck
Charlotte Roderuck was an Iowa State University food and nutrition faculty member, associate dean of home economics and director of the former World Food Institute.
Born on Dec. 2, 1919, in Walkersville, Maryland, she earned a Bachelor of Science degree in chemistry from the University of Pittsburgh in 1940, a Master of Science degree in organic chemistry from Washington State University in 1942, and a Ph.D. in biochemistry from the University of Iowa in 1949.
Roderuck was employed by the food and nutrition department at Iowa State as an assistant professor from 1948 to 1951, associate professor from 1952 to 1953, and professor from 1954 to 1977. She served as an assistant dean in the Graduate College from 1971 to 1972, the assistant director in agriculture research and home economics from 1973 to 1975, and as an associate dean of home economics administration from 1975 to 1978. Roderuck was appointed director of the World Food Institute at Iowa State in 1977. She was named the Mary B. Welch distinguished professor in home economics in 1972, and in 1988 she became professor emeritus of food and nutrition.
Roderuck belonged to numerous professional associations, including the American Institute of Nutrition, American Chemical Society, American Home Economics Association, Society for Nutrition Education, Society for Experimental Biology and Medicine, New York and Iowa Academies of Science, and the Iowa State University chapter of the Society for International Development.
She worked internationally in India, Nigeria, Honduras and Guatemala. She taught at the University of Baroda in India and was a member of the 1982 external evaluation panel for the Bean/Cowpea Collaborative Research Support Program in South America. In 1978, she received the Home Economics Alumnus Award from Washington State University.
Roderuck, who passed away on July 7, 2007, was honored by Pilar A. Garcia, who states that she endeavored to instill intellectual curiosity and scientific integrity among her graduate students.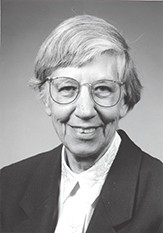 Lois Hattery Tiffany
Lois Hattery Tiffany was an Iowa State University alumna and botany faculty member informally known as "The Mushroom Lady" for her research focus.
Born on March 8, 1924, on a farm near Collins, Iowa, she received a Bachelor of Science degree in 1945, a Master of Science degree in 1947 and a Ph.D. in 1950, all from Iowa State University.
In May 1945, she married Fremont Henry "Hank" Tiffany. In 1950, she joined the faculty of the ISU botany department, facing the challenge of balancing a career with being a wife and mother at a time when blatant sexism was considered normal behavior. Tiffany persevered and over the years grew from a novelty in the eyes of many to become one of the most respected and highly recognized faculty members at Iowa State. She served as department chair from 1990 to 1996 and was named a distinguished professor in 1994 – the first woman scientist in the College of Liberal Arts and Sciences to be so named. Tiffany formally retired in 2002, but continued to teach, gratis, until 2005.
Tiffany authored or co-authored more than 100 journal articles on a variety of mycological topics, including Midwestern mushrooms, aflatoxin studies of both corn and soybeans, the morel survey, prairie plant diseases and the developmental morphology of the ascomycetes.
Her record of service includes more than 50 years of leadership in bringing women into full acceptance in the field of science. At the time of her honor on the plaza in 1996, 21 of her 34 graduate students were women.
Among her honors are being the first woman board member of the Iowa Academy of Sciences, the first woman president of the Iowa Academy of Sciences, the first woman member (with Charlotte Roderuck) of the Osborne Club, the first person to win the Iowa Governor's Science Medal for Teaching, the first person to win the Mycological Society of America William Weston Award for Teaching, and first distinguished VEISHEA professor. In 1991, Tiffany was inducted into the Iowa Women's Hall of Fame. In 1993, she was voted Iowa woman faculty member of the year by the Iowa chapter of the American Association of University Women.
Tiffany, who passed away on Sept. 6, 2009, was honored by her graduate students and the ISU botany department.
Published: January 9, 2017