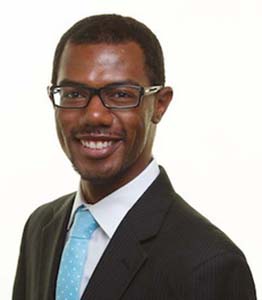 Cameron Beatty, who has taught courses for Iowa State's Leadership Studies Program for the past three years, has accepted a tenure-track faculty position as an assistant professor of higher education and student affairs at Salem State University in Massachusetts beginning with the fall 2016 semester.
Beatty, who earned a Ph.D. in higher education administration from Iowa State in August 2014, began teaching courses for the Leadership Studies Program as a graduate teaching assistant in 2013-2014. He was hired through a national search as a lecturer in leadership studies in 2014. As a lecturer, he taught for the program in the 2014-2015 and 2015-2016 academic years, helping to grow the program to 260 students enrolled in the spring 2016 semester.
"Cameron is a respected and productive colleague. And, he is highly regarded by students and faculty for his outstanding teaching abilities," said Dianne Bystrom, who established the leadership studies certificate and minor in her role as director of the Carrie Chapman Catt Center for Women and Politics. The Catt Center coordinates Iowa State's interdisciplinary Leadership Studies Program.
"We will certainly miss Cameron and his significant contributions to student leadership development at Iowa State," Bystrom said. "But, we congratulate him and wish him well in his new position."
During his tenure at Iowa State, Beatty taught almost every course in the leadership studies curriculum – LD ST 122, "Leading with Purpose," LD ST 270, "Campus Leadership Development," LD ST 322, "Leadership Styles and Strategies in a Diverse Society," LD ST 370x, "Special Topics in Leadership Studies: Exploring Global Leadership Perspectives," and LD ST 422x, "Leadership Capstone Seminar: Theory to Practice." He also co-taught the Dean's Leadership Seminar with Beate Schmittmann, dean of the College of Liberal Arts and Sciences, from the fall 2013 through the spring 2016 semesters.
In addition to teaching classes, Beatty was the primary adviser for students in the Leadership Studies Program in 2014-2015. He also helped plan and coordinate the Catt Center's new Global Leadership Study Abroad Program to Sweden, teaching courses and serving as the on-site faculty director in the summers of 2015 and 2016. Beatty currently is teaching LD ST 270 as part of the Academic Program for Excellence.
In 2015-2016, Beatty took on additional administrative responsibilities with the Leadership Studies Program, including the coordination of the first-year cohort of the Vermeer International Leadership Program. He taught two leadership classes for the 2015-2016 cohort; planned and coordinated leadership retreats, activities with the Vermeer Corp. leadership team, and a visit to Vermeer facilities in the Netherlands; and coordinated the application and selection process for the 2016-2017 VILP cohort.
At Salem State, Beatty will advise graduate students in the higher education and student affairs program in the School of Education. He will teach courses on the history of higher education, program evaluation and assessment, and research methods in higher education. Beatty will also serve on university-wide and School of Education committees.
"I am extremely excited about this new opportunity and continuing to advance my career," Beatty said. "Iowa State has been an amazing place to grow as a scholar, educator and adviser. Over the past few years, the Leadership Studies Program has grown and I am extremely proud of the students I have worked with and taught. It has been a great privilege to work with the other leadership studies faculty and Catt Center staff. I look forward to seeing the Leadership Studies Program continue to prosper."
Beatty earned a master's degree in higher education student affairs in 2010 and a bachelor's degree in sociology and African and African American diaspora studies in 2006, both from Indiana University. His doctoral dissertation focused on exploring the leadership identity development of students of color at a liberal arts college. Beatty has co-authored three journal articles on such topics as leadership education and first-year student success, factors influencing attrition, and black student leaders. He is the author or co-author of four book chapters and monographs on Latino student organizations as pathways to leadership, men and leadership, definitions of masculinity and student affairs research.
Active in university and professional organizations, Beatty frequently gives presentations to campus organizations and at academic conferences. His teaching, research and service have been recognized with numerous awards, including the 2016 Faculty/Staff Change Agent Award by Iowa State's Office of Multicultural Student Affairs, the 2015 Outstanding New Professional Award from the Association for College Student Educators International's (ACPA) Commission for Multicultural Affairs-Pan African Network, the 2014 Exemplary Social Justice Contribution by a Graduate Student Award from the ACPA's Commission for Social Justice Educators, and the 2014 Excellence in Research Award from Iowa State's Graduate College.
The Leadership Studies Program is hiring two lecturers to begin teaching and administrative duties in fall 2016. Our new faculty will be featured in the September 2016 issue of the Voices newsletter. Amber Manning-Ouellette, who joined Iowa State in August 2015, will continue as a lecturer in the Leadership Studies Program.
Published: July 11, 2016