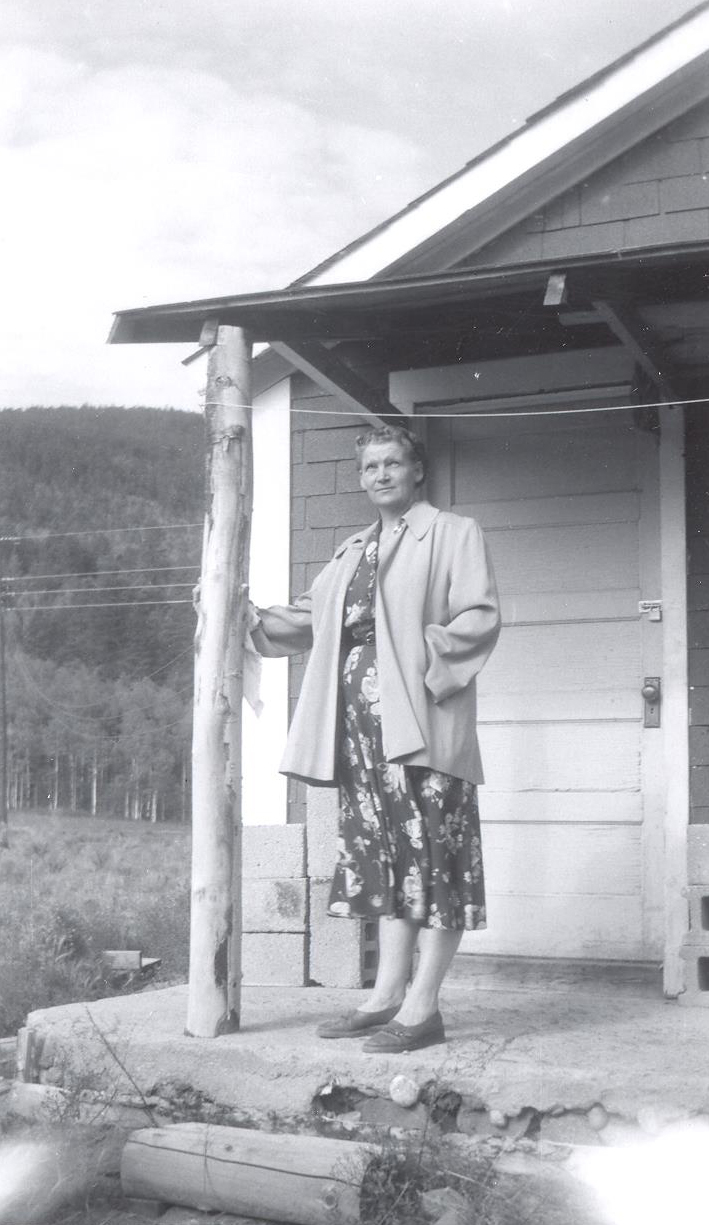 In this issue of Voices, three women who were young wives and mothers during the Great Depression – and whose strength and courage were an inspiration to their families and communities during that period and for many years to follow – are featured.
If you are interested in purchasing a brick or a paver to honor a heroine in your life, fill out the online order form or contact the Carrie Chapman Catt Center for Women and Politics by calling 515-294-3181. To add a narrative or photograph to the profile of a woman you have previously honored on the plaza, email the Catt Center at cattcntr@iastate.edu or mail your submission(s) to 309 Carrie Chapman Catt Hall, 2224 Osborn Drive, Iowa State University, Ames, IA, 50011-4009.
Esther Alice Forsberg Hergenrader
Esther Alice Forsberg Hergenrader was born April 28, 1911, in Higbee, Colorado. She quit high school at age 16 and married Henry "Tobe" Hergenrader on Aug. 30, 1927. As a farmer's wife, she not only cooked and cleaned for her husband but also for his brothers, who lived with them, and for the threshing gangs in the fall. In addition to working in the house, she helped farm. They lived through the Dust Bowl during the early 1930s. Her husband went on to work for the Works Progress Administration and then the Santa Fe railroad. He died of a heart attack when she was 48 years old.
Hergenrader worked as a sales clerk for many years at Woolworth's until retiring in 1977. She was a member of the First Baptist Church of La Junta, Colorado, all her life, holding many offices there and teaching Sunday school for numerous years. She had a red-and-white 1957 Chevy station wagon and served as a taxi driver to those in need, driving the elderly to appointments or to do their grocery shopping.
Hergenrader was the matriarch of a huge family with many grandchildren, great-grandchildren and great-great-grandchildren. When she was in her 70s, a thief stole her purse right off her arm and kept running. She chased him for a far as she could. There wasn't much money in her purse, but he had stolen all the pictures of her grandchildren.
She died on Feb. 9, 1995. She was honored on the plaza by her family, who describe her as a woman of "boundless energy, wonderful spirit and great wisdom" and say that her everyday actions as a homemaker and the way she led her life devoted to others made her a heroine in every sense of the word.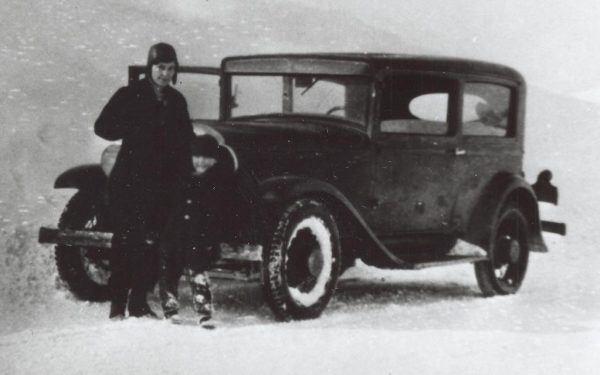 Nita Lillian Corl Hipple
Nita Lillian Corl Hipple was born in 1910. Her parents were involved in the early establishment of telephone service to the Midwest region. Her father laid thousands of miles of telephone line and trained local service providers, and her mother set up and managed several local phone companies in rural South Dakota, Minnesota, Nebraska and Iowa.
Hipple spent her early childhood in northwest Iowa. She moved to South Dakota while still a child to care for her maternal grandparents, who subsequently died in the 1922 influenza epidemic. She then moved to Huron, South Dakota, where she lived with her maternal aunt and helped raise a niece and two nephews.
Following high school graduation, Hipple worked as a secretary before marrying William Ivory Landsdowne and having a son. During the Great Depression, Landsdowne, unable to find work locally, left the family to search for work in Minnesota. Hipple remained behind with their son and found a job with the U.S. Postal Service. The family was never reunited. In 1935, she married Charles Hipple, a fellow postal employee, and they had a daughter. They were married only nine years when he died from a heart attack, leaving her to raise her two children alone.
A 30-year veteran of the postal service, Hipple began her career carrying airmail between the new municipal airfield and the downtown post office. The job required that she carry a gun. She was an excellent markswoman. Donned in snow pants and pilot headgear (scandalous apparel for a woman in public in the 1930s), Hipple often battled 20-foot snow drifts to get the mail through. Later, Hipple worked at the front counter of the post office.
Hipple died on Jan. 3, 1995. She was honored on the plaza by her granddaughter, Patricia Coral Hipple.
Florence Elizabeth Thuirer Harmon
Florence Elizabeth Thuirer Harmon was born Dec. 20, 1909, on her family farm near Spencer, Iowa. She graduated from Iowa State College in 1931 with a Bachelor of Science degree in home economics education. While at college, she played violin in the Iowa State Symphony, attended the Wesley Foundation at Collegiate Methodist Church and was a board member of the Young Women's Christian Association on campus. She was president of the Iowa State chapter of Kappa Phi for Methodist college women and president of the 4-H Club at Iowa State.
After graduation, she taught girls' physical education, orchestra and home economics at Larrabee Independent School District in northwest Iowa. On March 24, 1933, she married Wendell Harmon. That summer, the Harmons moved to a homestead near the Oregon coast where they felled trees, split logs, built a small cabin and lived on the land to fulfill the residency requirements of the Homestead Act. In 1935 they moved to South Dakota, where he was offered a job with the Civil Conservation Corps. He was later hired by the U.S. Forest Service as a forest ranger in Keystone and then at Spearfish Canyon near Deadwood, both in the Black Hills of South Dakota. She was the charter president of the first Deadwood Parent Teacher Association, taught Sunday school for many years and was a substitute teacher.
After her husband retired in 1968, they moved to Beavercreek, Oregon. They raised Christmas trees and managed the timber on their land. Harmon served on the board of the John Inskeep Environmental Learning Center, where she was instrumental in helping the fledging program become a success.
Harmon's four children honored her for "her pioneer spirit, her unconditional love, her hard work throughout life, her concern for those in need, her interest in current issues, her playfulness and her love of nature."
Published: January 11, 2016