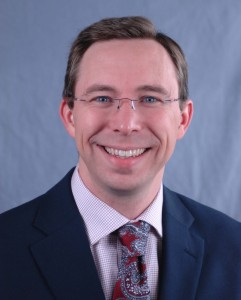 Clint Stephens, who helped substantially grow the curriculum and student enrollment in the Leadership Studies Program in his five years at Iowa State University, has joined Emporia State University in Kansas as an administrator and faculty member.
Beginning Aug. 18, Stephens serves as director of Emporia State's Leadership Studies Program, which offers an 18-credit-hour minor. He is also a tenure-track assistant professor there.
Stephens began teaching leadership courses offered through the Carrie Chapman Catt Center for Women and Politics in the 2010-2011 academic year as a graduate assistant. At that time, the program was named Community Leadership and Public Service and offered a 21-credit-hour certificate. In 2011-2012, he taught leadership courses as a pre-doctoral graduate assistant.
In 2012-2013, Stephens became the leadership program's first faculty member when he accepted a position as a lecturer. In addition to teaching leadership courses offered as part of the certificate, he coordinated the program as a scholar-in-residence at the Catt Center.
"Under Dr. Stephens' guidance, the Leadership Studies Program has expanded substantially in the past five years," said Dianne Bystrom, director of the Catt Center, which manages the interdisciplinary undergraduate program for the university. "Enrollment in the program increased from 18 students in fall 2010 to more than 200 students in spring 2015, three new faculty positions have been created, seven leadership courses are being offered, and the minor in leadership studies has been established."
After the 15-credit-hour minor was approved in October 2014, the names of the certificate and program were changed in February 2015 to leadership studies. The designator for leadership studies courses will change from CL PS to LD ST in the fall 2016 semester. Currently, 166 students are pursuing the leadership certificate, 10 are enrolled in the minor, and 77 students have graduated from Iowa State with a leadership credential on their transcript.
The Leadership Studies Program currently offers seven courses taught by Catt Center-affiliated faculty – CL PS 122, Leading with Purpose; CL PS 270, Campus Leadership Development; CL PS 322, Leadership Styles and Strategies in a Diverse Society; CL PS/WS 333, Women and Leadership; CL PS 422, Leadership Capstone Seminar: Theory to Practice; CL PS/WS 488, Research on Women and Leadership; and LAS 151/152, Dean's Leadership Seminar.
Faculty teaching these courses are Cameron Beatty, who joined the leadership studies faculty in 2013-2014 as a graduate teaching assistant and began an appointment as lecturer in 2014-2015; Kelly Winfrey, who served as a lecturer in leadership studies in 2014-2015 and began an appointment as an assistant professor of journalism and communication in 2015-2016; and Amber Manning-Ouellette, who joined Iowa State as a lecturer in August 2015.
In addition to these courses, Catt Center faculty and staff coordinate two new donor-funded initiatives – the Vermeer International Leadership Program and the Stanley Global Leaders – as well as a new global leadership study abroad to Sweden. Beatty will direct the academic and extracurricular activities for the 18 students selected for VILP in 2015-2016. In this year-long, in-depth leadership experience, students will learn how companies operate on an international scale. The program is sponsored by the Vermeer Corp., a global industrial and agricultural equipment company headquartered in Pella, Iowa. A new cohort of 18 students will participate every year over the first four years of the program for a total of 72 students.
Beatty also coordinates the Catt Center's global leadership study abroad program to Sweden. In summer 2015, Beatty and Winfrey led 20 Iowa State students in a four-week program that offered six hours of leadership studies credit. In summer 2016, Beatty and Manning-Ouellette will lead the study abroad experience to Sweden. To help support their participation in this study abroad experience, students can apply for a Stanley Global Leaders scholarship funded through a gift from Mary Jo and Richard Stanley of Muscatine, Iowa.
"We appreciate Dr. Stephens' hard work and dedication in growing our Leadership Studies Program, both in terms of the courses offered and students enrolled," Bystrom said. "We wish him well as he begins a new chapter in his career at Emporia State University. He left us well-positioned for continued growth and success in offering leadership development experiences for Iowa State students."
Published: September 14, 2015