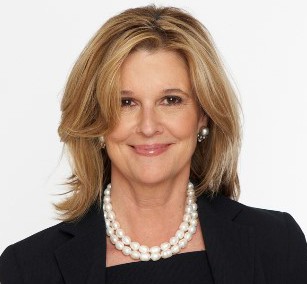 Kathleen Parker, a Pulitzer Prize-winning columnist for The Washington Post, will present a public lecture at Iowa State University on Nov. 12 as the fall 2015 Mary Louise Smith Chair in Women and Politics.
Parker will present "The Global Tide of Women Rising" at 7:30 p.m. in Benton Auditorium of the Scheman Building, Iowa State Center. Her visit to Iowa State is sponsored by the Carrie Chapman Catt Center for Women and Politics.
"Kathleen Parker has been on our wish list of speakers for several years," said Dianne Bystrom, center director. "She is highly regarded for her common sense approach to politics as well as her quick wit and humor. We've been in correspondence for the past two years, and I'm glad we were able to schedule a date for her visit."
Parker joined The Washington Post in 2006 and writes her nationally syndicated column twice weekly on politics and culture. The most widely syndicated columnist in the United States, her columns appear in more than 500 newspapers with a readership of approximately 80 million people. Parker is also a political analyst for MSNBC and a regular guest on NBC's "Meet the Press." In a retrospective study of political pundits' predictions, Parker scored the highest for accuracy. She is also a consulting faculty member at the Buckley School of Public Speaking in Camden, South Carolina.
Describing herself as "slightly to the right of center" politically, Parker addresses politics, culture and contemporary issues in her writing and speaking engagements. A columnist since 1987, she has worked for five newspapers – from Florida to California – and has written for several magazines, including The Weekly Standard, TIME, Newsweek, Town & Country, Cosmopolitan and Fortune Small Business. Parker serves on the board of contributors for USA TODAY's forum page, part of the newspaper's opinion section, and is also a contributor to the online magazine, The Daily Beast.
"My ambitious goal is to try to inject a little sanity into a world gone barking mad," Parker said. "I never set out to become a commentator and do continue to resist the label 'pundit,' but I found that keeping my opinion out of my writing was impossible. One can only stand watching from the sidelines for so long without finally having to say, 'Um, excuse me, but you people are nuts.'"
In 2010, Parker became co-host of CNN's "Parker Spitzer," along with former New York Gov. Elliot Spitzer. She left the show in 2011 to focus on her writing. Parker is the author of a book, "Save the Males: Why Men Matter, Why Women Should Care," published in 2008.
With a selection of political opinion columns, Parker won the 2010 Pulitzer Prize for Commentary for "her perceptive, often witty columns on an array of political and moral issues, gracefully sharing the experiences and values that lead her to unpredictable conclusions." She is also the 1993 winner of the H.L. Mencken writing award presented by the Baltimore Sun. The Week magazine named her one of the nation's "top five columnists" in 2004 and 2005.
Parker is married and has three sons. She divides her time between Camden, South Carolina, and Washington, DC.
Published: September 14, 2015