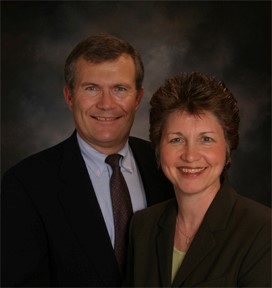 Sparked by their interest in entrepreneurship and their commitment to Iowa State University, Joanne and Charles (Chuck) Kuster of Johnston, Iowa, have endowed a new Legacy of Heroines scholarship through the Carrie Chapman Catt Center for Women and Politics.
The Joanne and Charles Kuster Legacy of Heroines scholarship will be awarded for the first time to a student interested in entrepreneurship during the 2015-2016 academic year. The scholarship will be renewable for one additional year if the recipient continues to meet the criteria of the award.
"For us, this scholarship is about building entrepreneurial attitudes in students where someone sees a spark," Joanne said. "Someone has to plant the seed, and then it has to be nourished over time before anything is produced," Chuck added.
"We wish to fan the flames on the entrepreneurial inclinations of ambitious students who are on a leadership track and can see a bigger picture. It's so easy for many students to get absorbed in the day-to-day college life and forget that this is only the beginning," Joanne said.
"We have a great need for student scholarships at Iowa State University, and we thank the Kusters for their generosity," said Dianne Bystrom, director of the Catt Center. "Last spring, we had more than 60 students apply for the then-20 available Legacy of Heroines scholarships for 2015-2016. In addition to financial support, Legacy of Heroines scholars receive leadership development and mentoring activities."
"What better way to find the next leaders than through the Catt Center's Legacy of Heroines scholarship program, where they are exposed to a variety of activities and have a chance to see their potential outside the classroom," Joanne said. "If we can help encourage another young entrepreneur to continue to open new doors, that's a great investment. These students need to be recognized and encouraged. A scholarship is one way to help," Chuck said.
Both Kusters are 1976 graduates of Iowa State University. Joanne earned a bachelor of science degree in journalism/consumer economics and Chuck graduated with bachelor of science degrees in agricultural journalism and agronomy. Since 1980, Joanne has been self-employed as an entrepreneur, business journalist, author and speaker. She is particularly active in the area of financial education, serving as chair of Money Smart Week Iowa since 2006, organizing investment conferences, writing and publishing educational inserts for Iowa newspapers, and developing financial education programs for a variety of businesses and organizations.
Chuck has provided strategic communications to dozens of businesses throughout his career, including 20 years in corporate communications for Pioneer Hi-Bred International (now DuPont Pioneer). His client list continues to extend from Fortune 500 firms to banks, crop insurance companies, software developers, food processors and the Gates Foundation. He is currently involved in several agricultural startup firms. The Kusters also co-own a custom publishing company, DynaMinds.
"Although we both became young entrepreneurs, there weren't any classes then to launch such a career," Joanne said. "The closest thing was volunteer extracurricular activities where we both had a chance to develop our creativity and business acumen, each as the editor for one of the university's student publications. That experience was a great lesson for developing and owning a product/business and one of our initial entrepreneurial steps."
Both Kusters have remained active with their alma mater. Joanne has served on the ISU Foundation's Women and Philanthropy Committee and has presented on financial literacy at several of its annual conferences. She also has served on the board of directors of the ISU Foundation and the Iowa State Alumni Association. Since 2002, she has served on the foundation's Board of Governors. Chuck was a charter member of the Greenlee School Advisory Council and is a periodic lecturer on business and leadership communications and corporate crisis communications.
Two of the Kusters three children – Mary Kuster Shell and Emily Kuster Vetterick – were affiliated with the Catt Center during their time at Iowa State. Shell, who graduated in 2006 with a bachelor's degree in food science, was a member of the center's Advancing Citizenship Together learning community, a Catt Associate and a Legacy of Heroines scholar. Vetterick, who earned a bachelor's degree in materials engineering in 2012, was a Catt Associate, Legacy of Heroines scholar and intern at the center.
In addition to the Catt Center, the Kusters have provided support to the Iowa State Alumni Association, Greenlee School of Journalism and Communication, and Women in Philanthropy and the Morrill Hall renovation.
Published: July 13, 2015